November 2015 New Toys — Dolls
The Disney Ice Castle Dollhouse by KidKraft is perfect for children who want to re-live the exciting scenes from Frozen with Ana, Elsa, Olaf, and the rest of their favorite characters. Is there more than one princess in the family? The Disney Ice Castle Dollhouse is large enough for multiple children to share in the fun and let their imaginations run wild. Everyone has plenty of space to recreate their favorite scenes with four rooms of play, all crafted with beautifully themed artwork from their favorite movie. This dollhouse has more than beautifully designed rooms of magic, the Ice Castle includes 11 pieces of custom furniture that fit perfectly into this magical world of make-believe! All furniture is crafted with beautiful, regal detail taken right from the magical kingdom!
ToyDirectory Product ID#: 37430
(added 10/26/2015)
.
Noelle has a fresh peppermint scent. From our award winning Groovy Girls collection. Soft 13" doll features embroidered facial features and hands. Outfit is removable and attaches with a Velcro-like closure on back. Scent Technology by Celessence - an innovative micro-encapsulation delivery system. Gently hug doll to release scent.
ToyDirectory Product ID#: 37413
(added 9/30/2015)
.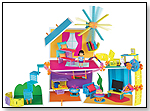 Girls can build their very own unique structures with the Roominate Chateau! Using the included building pieces that easily snap together, girls can tap into their imaginations to design two-level structures, bunk beds, balconies, a house on wheels, and other endless possibilities. Teaches important STEM skills: hands-on problem solving, spatial and fine motor skills, self-confidence, and creativity. Electrical circuits enhance designs so girls can watch their creations come to life with real movement, including spinning windmills, carousels, lamps, and more. Included in this 131-piece set are 8 wall/floor panels, 52 furniture building pieces, 32 connectors, 4 arches, 4 wheels, 2 axles, a motor, string of 4 lights, 2 switches, 2 battery packs, a screwdriver, doll, pet, and 20 sheets of craft paper. Requires 4 AAA batteries, not included.
ToyDirectory Product ID#: 37399
(added 9/30/2015)
.
Aurora's popular Sea Sparkles™ line features over 80 trend-setting styles of enchanting and trend-forward mermaid dolls and sea-friend plush that make a splash with families wherever they go. Their newest collection of 6 mermaids called Sea Shimmers™ have stylized long-flowing doll hair infused with shimmering mylar, sparkling crowns and new outfits.
ToyDirectory Product ID#: 37379
(added 8/25/2015)
.
This year marks the Centennial Anniversary of Raggedy Ann, the iconic rag doll beloved by generations. Aurora World is celebrating this eventful occasion by launching new, Special Edition Stars and Stripes Raggedy Ann and Raggedy Andy dolls. The handmade, 16" dolls feature all-American apparel: white stars against a dark blue background, combined with red. The 100th Anniversary is embroidered on Raggedy Ann's apron and Raggedy Andy's cap. Known for hair made of red yarn and a triangle nose, Raggedy Ann was created in 1915 as a doll and introduced to the public in the 1918 Raggedy Ann Stories, the first in a series of children's books featuring the character by American writer Johnny Gruelle. When a doll was marketed with the book, the concept had great success. In 1920 a sequel, Raggedy Andy Stories, introduced the character of her brother, Raggedy Andy, dressed in a sailor suit and hat.
ToyDirectory Product ID#: 37377
(added 8/25/2015)
.
Since 12/28/04 people have visited this page.

Advertisement: