---
Appletters Strengthens Core Learning for Reviewers
Clever Spelling Game a Healthy Hit With Moms and Kids
"Radina (12) said it was one of her favorite word games." — Kostadinka Lilova, mother

TDmonthly Magazine's Toy Testing Roundtable families munched their way to fun with Bananagrams' Appletters, a practical, portable spelling game. With several play variations to accommodate multiple ages and abilities, Appletters appealed to all the children who tested it. But it wasn't just the educational aspect that won the moms over; read on to find out what else they and the kids liked about Appletters.

Appletters by BANANAGRAMS
Age: 5 and Up
Gender: Boys and Girls
Category: General Games

TDmonthly rating: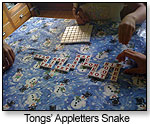 What It Is: An apple-shaped pouch with 110 tiles featuring red capital letters, Appletters offers a variety of play options to accommodate players' individual skill levels. Using a fun, entertaining format, the game works on spelling skills.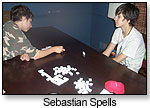 What the Moms Thought: "I adore the cloth zippered apple pouch!" raved Wilson. She liked the portability of the game and the clear directions. Summers said, "The tiles were high quality and could be used in many ways." Tong enjoyed the simplicity of the game and the compact design, and Wilson applauded the straightforward directions.

Lilova's favorite quality was the educational aspect of the game. Wilson was glad to see the game accommodate up to six players so a large group or her family of six could play together. She and Tong appreciated that the game appealed to a wide range of ages and skill levels.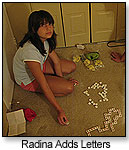 What the Kids Thought: "I liked being creative to make lots of words," said Ethan (8). His sister Lexi (6) agreed, "I like learning the words you could make with the letters." Tong observed that both enjoyed teaching the game to their friends. Radina (12) and Victor (5) liked creating "the snake made of words," Lilova noticed.

Abbey (5) "enjoyed using the tile to make words outside of regular game play," said Summers. Wilson reported, "Steven (9) felt it was a sly way to 'make kids do school' but was enthused to stun us with his vocabulary and spelling skills." Steven (9) found that the lack of a board opened up the possibilities for play.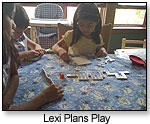 "Radina (12) said it was one of her favorite word games," commented Lilova. Estes observed that as Justin (13) and Sebastian (11) played the game, they were quite focused. Elise (10) enjoyed the variety of ways to play.

What the Kids Learned from this Toy: Wilson listed "spelling, vocabulary, planning and contingency strategy" as areas strengthened by playing the game. Summers reported that Abbey (5) "was able to practice spelling and playing with words — wonderful tools for beginning readers." In addition to spelling and creativity, Tong pointed out that the game works on memory recall and problem solving.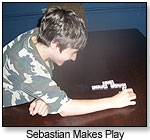 How to Improve It: Justin (13), Sebastian (11), Parker (7) and Preston (5) thought a worm design rather than a snake would be more consistent with the apple theme. Justin (13) wondered if making the tiles a bit larger would prevent their being knocked over easily. Summers wished the apple pouch were larger.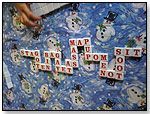 "Some parents might appreciate additional instructions on how to use this product in an educational rather than a competitive setting," noted Summers. "It's great for both!"

Would You Want Another Toy Like This? Justin (13), Sebastian (11), Parker (7) and Preston (5) told their mom Appletters was "easier to play than Scrabble and no game board is needed."

Roundtable participants are homeschool parent Audra Estes with Justin (13), Sebastian (10), Parker (7) and Preston (5); stay-at-home parent Crystal Summers with Abbey (5); research scientist Kostadinka Lilova with Radina (12) and Victor (5); homeschool parent Mildred Tong with Alyssa (10), Ethan (8), Lexi (6), Erik (3) and Henry (1); and homeschool parent Teresa Wilson with Tim (16), Andrew (14), Elise (10), and Steven (9).

Writer's Bio:
Susan Ledford is the writer, editor and publisher of the "Homeschool Resources Directory for S.C." She has been evaluating toys and games for
TDmonthly
's Roundtable reviews since 2005. She also is a homeschool veteran of seven years.
Read more articles by this author
THIS BANNER IS AN AD:
---
---