---
Plates and Pull-Alongs Make Babies Smile
Why Reviewers Loved These Infant and Toddler Toys
TDmonthly Magazine's Fall 2009 Awards celebrated several products that cater to the youngest toy fans — roly-poly caterpillars, teethers that keep it natural, cute plates with an innovative safety feature, and more. Read on to see why these products stood out.


RiNGLEY Knotted by RINGLEY NATURAL TEETHING TOYS
Age: 0 to 2
Gender: Boys And Girls
Category: Infant & Toddler

What It Is: Ringley is an all-natural baby teething toy that consists of a smooth wooden ring with a knotted, terrycloth strip attached. It can be used wet or dry, and placed in the refrigerator or freezer per baby's preference.

What We Thought: The size of the wooden ring is perfect for baby's hands and mouth — not too big or too small. One 5-month-old girl, just in the beginning stages of teething, seemed to like it. Her mother pointed out that one of the cool things about being able to put this teether in the freezer is that while the washcloth part will be cold, the wooden ring will not be as cold for baby's hands. Frozen plastic teethers can be a deterrent to babies' sensitive hands.

Why They'll Want It: This natural baby teething toy is a great take on the age-old practice of giving a baby a washcloth to chew on when he or she is teething. The teether is made from 100-percent organic cotton terrycloth and untreated organic maple wood, with no dyes or harmful chemicals used during manufacture — something that many moms find reassuring.

---

Boikido Wooden Shapes Train by BOIKIDO
MSRP: $39.99
Age: 1 and up
Category: Infant & Toddler

What It Is: This colorful wooden train consists of three parts that incorporate bright decorations, blocks, stacking rings and various shapes. It has a white rope attached so it can be used as a pull-along.

What We Thought: A 7-year-old girl, 4-year-old girl and 1 ½-year old boy were all eager to open this toy and play with it, and enjoyed spending time with the train together. "I was surprised at how long my older children played with it, and my baby boy enjoyed putting the blocks and shapes on and off the pegs," their mom said. The only downsides to this well-made wooden train are that its color palette tends toward the female spectrum, potentially limiting its buyers in the gift market, and it may be a bit high priced for some pocketbooks.

Why They'll Want It: It's created as a pull toy, but is easy to use in more static play as well, and could incorporate well with other pieces. The train is nicely presented, with an appealing color scheme, whimsical characterization of the blocks and figures included, and design that offers a clear opportunity for development through stacking, matching and simple construction.

---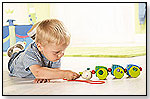 Cory Caterpillar by HABA USA/HABERMAASS CORP.
MSRP: $50.00
Age: 2 to 5
Gender: Boys And Girls
Category: Infant & Toddler

What It Is: Made of beech wood, this foot-long rolling caterpillar can be pulled along on its bright, lopsided wheels.

What We Thought: The suggested age range is 2 to 5. However, both of the reviewer's daughters (3 years and 5 months) had a ton of fun with it, and she was amazed by how many grade-school-age children wanted to play with it as well. The caterpillar's smiling face and decorative detail, including the bells embedded in the back two wheels, add spunk to the overall design.

Why They'll Want It: This pull toy is cute and attractive to kids of all ages. The price tag might make it a little difficult to purchase, but it certainly would make an ideal gift as the bright, classic colors and whimsical character have a universal appeal among boys and girls.

---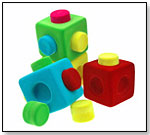 Rubbabu Rubbablox by PLASMART INC.
Age: 2 and up
Gender: Boys And Girls
Category: Plush

What It Is: This soft blocks are covered with a colorful flocking material and include smaller pieces that can be placed in the holes on the sides for interconnectivity.

What We Thought: "We love these toy blocks at our house," said one reviewer, who noted that when they trip over the soft, squishy blocks, they don't hurt their feet! The vibrant blocks have almost a velvety feel, and maintain a soft, yet firm, structure that supports use of the plugs included. One 3-year-old girl kept requesting, "Let's build a castle," prompting her parents to wish more blocks were included in each set, for a reasonable price.

Why They'll Want It: Blocks are a standard in childhood play, so it never hurts to have different variations of them around. The size and texture of Rubbabu Blox sets them apart in the market, gives them a decorative edge, and attracts enthusiasm from both toddlers and adults!

---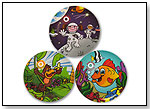 Safe Sizer™ Choking Prevention Plate by MIDWEST MONKEYS
MSRP: $4.99
Age: 0 to 4
Gender: Boys And Girls
Category: Infant & Toddler

What It Is: This decorative plate for babies and toddlers incorporates a half-inch diameter raised ring that serves as a reminder of the recommended maximum bite size for children under 4.

What We Thought: Not only does the plate give parents confidence and support safe eating habits for young children, but it also is a great, lightweight dish that may be used at any time. The plate's bright, cartoonish design elicited a smile from an 11 month old, and for something that's going to be used over and over, it's decently priced.

Why They'll Want It: This plate could potentially save lives, which is enough of a reason for many concerned parents to make the minimal investment in it. Apart from that, it's just a fun "special" plate for a child to have — something he can look forward to using when mealtime comes around. In addition to the Nature Series pictured, Midwest Monkeys has also introduced an Animal Series of three plates featuring muted pastels, so buyers have more styles to choose from.

Writer's Bio:
Julie L. Jones has written articles for both newspapers and magazines. Before joining the staff of TDmonthly Magazine, she worked as a communications writer and provided editorial support for a market research company.
Read more articles by this author
THIS BANNER IS AN AD:
---
---