ABC Kids Expo Welcomed More Buyers in '09. October 30, 2009 — All Baby & Child announced today that the ABC Kids Expo, held at the Las Vegas Convention Center in September, saw a 2.2-percent increase in buyer attendance this year, up to 5,984 from 5,855 in 2008. Overall attendance was slightly down, at 13,593 from 13,721. "We are thrilled that there was such a tremendous turnout for the show, especially in light of the economic conditions that affect all of us," Ken Goore, chairman of the ABC Kids Expo, said in a press statement.

Swine Flu Increases Educational Toy Sales in Korea. October 30, 2009 — Educational toys saw sales growth of 49 percent in year-over-year comparisons for Korea's online marketplace Auction, perhaps demonstrating that more families are choosing to homeschool their children instead of subject them to the spread of H1N1 virus at public schools. According to JoongAng Daily, science teaching aids and electronic books experienced even bigger increases, of 159 percent and 200 percent respectively. Home shopping channels on TV are also seeing tremendous growth.

The Canadian Group Plans Bella Sara Lineup. October 28, 2009 — Puzzle, game and novelty toy maker The Canadian Group has entered into a licensing agreement with Hidden City Games to produce trendy items under the Bella Sara brand. "We are nothing short of thrilled to bring our vision of Bella Sara to the North American marketplace. This partnership with Bella Sara enhances and extends our product offerings to the young female market through all channels of distribution," Barrie Simpson, partner of The Canadian Group, said in a press release.

Target and DGI Recall Halloween Flashlights. October 28, 2009 — The U.S. Consumer Product Safety Commission, in cooperation with manufacturere DGI LLC and importer Target, has announced a voluntary recall of about 610,000 Halloween Flashlights following eight reports of the items overheating and melting. The mini keychain flashlights and the standard-sized flashlights with stencils were sold at Target in August and September 2009 and can be returned to the store for a full refund.

Learning Express Shares Recommended Holiday Toys. October 27, 2009 — Learning Express, a franchise with more than 140 specialty toy stores across the country, is showcasing the following items on its "Top Toys of 2009" holiday shopping list: Gentle Giraffe on the Go by Cloud B, Crocodile Rocker by The Original Toy Co., Wooden Cupcake Set by Melissa & Doug, Twinkle Tiaras Sticky Mosaic Kit by The Orb Factory, Dodge Tag by Diggin, Groovy Scrapbook Kit by Alex, Magformers Carnival Building Set by Rainbow Products, Pentago by Mindtwister, Cap It Off Jewelry by Alex-Panline, and The Dangerous Book for Boys Classic Chemistry Kit by Thames & Kosmos.

Toys "R" Us Goes Upscale With FAO Schwarz Boutiques. October 27, 2009 — Toys "R" Us is trying a new approach this holiday season, making use of its recent acquisition of the FAO Schwarz specialty toy stores by opening FAO boutiques inside Toys "R" Us locations. Selections will not feature the most high-end toys available at FAO's website and flagship store in New York, but will offer some lower-priced items, such as yoyos, as well as a $65 floor piano. Lutz Muller, Klosters Trading analyst and TDmonthly contributor, told the Chicago Tribune he believes the addition of FAO Schwarz boutiques is a move to draw more traffic and give the Toys "R" Us image a boost.
CPSC Issues Warning for "My Baby Soother" Pacifiers. October 26, 2009 — The U.S. Consumer Product Safety Commission has issued a warning asking parents not to use "My Baby Soother" pacifiers after the distributor, T & L Trading, refused to recall the items. The nipples can detach from the base of the pacifiers and pose a choking hazard to infants and toddlers. About 16,500 of the pacifiers retailed at delis and grocery and discount stores in New York state from August 2007 through July 2009.
New York Artist Claims Bratz Copyright. October 23, 2009 — Carter Bryant, the former Mattel employee who designed the original Bratz dolls for MGA Entertainment said in testimony last year that his inspiration for the doll line was taken from a Steve Madden ad in Seventeen Magazine. Now, according to the Brooklyn Daily Eagle, artist Bernard Belair, whose doll-like figures were part of that shoe advertisement, has filed a lawsuit in Manhattan federal court against Mattel and MGA Entertainment, seeking copyright for the Bratz dolls. Read more on the Bratz saga.
ABA Fights Online Book Price Battles. October 23, 2009 — The American Booksellers Association has requested that the department of justice investigate Wal-Mart, Target and Amazon for advance pricing hardcover books at less than wholesale value online, a practice that the association says could harm the book industry overall by "devaluing the very concept of the book," ICV2.com reported.
"Dragon Ball" Cut From School Libraries. October 22, 2009 — The school district in Wicomico County, Maryland, has banned "Dragon Ball" manga series volumes from library shelves at its elementary through high school campuses after reviewing the books and recommending removal based on inappropriate content, ICV2.com reported.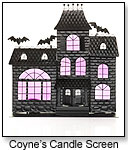 Coyne's Recalls Haunted House Candle Holders. October 21, 2009 — The U.S. Consumer Product Safety Commission, in cooperation with Coyne's & Company, has announced a voluntary recall of about 7,800 Haunted House Screen Tea Light Holders after three reports of window panes on the screen catching fire. There have been no injuries reported. The screens retailed at Yankee Candle stores and online between August and September 2009.
Target Pulls Halloween Flashlights for Overheating. October 21, 2009 — According to a report in the Chicago Sun-Times, Target has removed from its shelves two varieties of plastic toy Halloween flashlights that have stencils to project pictures of witches and bats after receiving reports of the products overheating. In one case, a woman discovered smoke in her 3-year-old daughter's room as the bottom portion of the flashlight was melting and burning through a pillow on the bed. Visit www.cpsc.gov for official recall notices.
Hasbro Shares Drop, Profits Rise After 3Q Sales Decline. October 19, 2009 — Hasbro's stocks fell 3.7 percent Monday after a third quarter in which revenue saw a decline of 1.7 percent, totaling $1.28 billion, far less than analysts collective predictions of $1.33 billion. Bloomberg reported that girls' toys fell 6 percent and preschool items saw a drop of 2 percent, but overall net income rose 99 cents a share, or nearly 9 percent, thanks to sales of Transformers and other toys for boys.
South China Toy Exports Fall 7%. October 16, 2009 — Although toy exports from Guangdong Province, China, hit their highest numbers for the year last month, a year-over-year comparison shows a decline of 7 percent for the southern region. Toy shipments to the United States from January through September were valued at $1.57 billion, about 16 percent less than the same period last year, Bernama reported.
Man Fears Heart Attack From Toy Spider Sightings. October 16, 2009 — A Yorkshire man severely afflicted by arachnophobia called Halloween store displays "thoughtless" after collapsing earlier this month when seeing fake spiders in a shop window. Physicians have warned the man, 54-year-old John Stafford, that such a sighting could cause a fatal reaction, leaving him with plans to remain indoors this Halloween.
Mattel's Quarterly Earnings Drop 3.5%. October 16, 2009 — Sales of Barbie, American Girl and other toys under Mattel's umbrella fell several percentage points in the third quarter, hurt by slowed consumer spending and harsh foreign-exchange rates. The Wall Street Journal reported that the toymaker's overall sales were down 8 percent, and earnings saw a 3.5-percent decline, totaling $229.8 million.
Mattel Settles Lead Recall Lawsuit. October 14, 2009 — Mattel Inc. has settled a lawsuit Tuesday issued by consumers affected by the company's recall of 21 million Chinese-made toys in 2007 due to excessive lead levels and small parts. Bloomberg reported that the settlement, which allows for "tens of millions of dollars in monetary relief," will give consumers who acted on the recall either $10 or 50 percent of their submitted voucher amounts, whichever equals more.
Charisma Brands Acquires Adora Dolls. October 13, 2009 — Charisma Brands LLC, with a portfolio that includes Paradise Galleries, Penny Brite and Kewpie dolls, has acquired Adora Dolls, which was founded by David Lin and Frank Ren almost 10 years ago. Adora dolls are currently sold in more than 1,500 retail outlets worldwide. "Charisma has a fine reputation and I believe they will continue to be very successful with Adora as they build upon what we started," Lin said in a press release.

NPD Survey Slows Toy Slide on Holiday Gift Scale. October 13, 2009 — Toys are still the second most popular item consumers plan to purchase as gifts this Christmas, behind apparel, but an NPD survey showed shopper intention to buy toys as gifts declined 3 percent, from 37 percent in 2008 to 34 percent now. Movies and books ranked next on the list of the "Top 10 Items Consumers Plan to Buy as a Gift," followed by electronics. Based on data from nearly 2,000 interviews, 11 percent of consumers plan to spend more this holiday season, 59 percent plan to spend about the same, and 30 percent plan to spend less — up from 26 percent last year.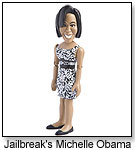 First Lady to Hit Toy Market as Action Figure. October 12, 2009 — President Barack Obama isn't the only one in the First Family to get an action figure fashioned after himself. First Lady Michelle Obama will launch in three different dress styles next month, courtesy of Jailbreak Toys. Her action figure is 6" tall with six points of articulation.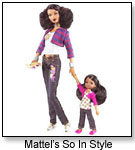 Mattel Launches New Line of African American Barbies. October 8, 2009 — Mattel's new "So In Style" line of three black Barbie dolls in chocolate, caramel and light brown skin tones is being met with both praise and criticism, the Associated Press reported. The dolls come with little sisters that they mentor, and are characterized by their interests and career aspirations. While their skin tones and facial features are appreciated for their reflection of the black community, some critics are concerned that all the dolls feature long hair — something that isn't always attainable for African American girls without severe straightening or addition of a weave.
Target Vows to Match Rival Prices for Holidays. October 7, 2009 — Target Corp. has reduced some toy prices by as much as half to counter Wal-Mart's holiday campaign offering $100 toys at $10 each, offering specific discounts on Barbie, G.I. Joe and Fisher-Price's Little People. Reuters also reported that Target is focusing on its "Pay Less" tagline and has committed to matching lower-advertised prices locally at stores across the nation.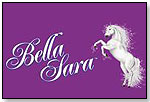 Hidden City Games Launches Premier Bella Sara Animated DVD. October 6, 2009 — Hidden City Games has released the first animated DVD in the Bella Sara series, according to a press release. The G-rated "Bella Sara™ Tales: The Adventure Begins" features Emma, Bella and goddess Sara in a magical world of horses, including a 16-minute movie and an 11-minute game. It's packaged with a Bella Sara poster and a collectible card pack, Bella's Ball, as well as secret codes girls can transfer to online adventures at the Bella Sara website.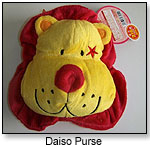 Daiso Recalls Toys for Excessive Lead and Phthalates. October 6, 2009 — The U.S. Consumer Product Safety Commission, in cooperation with Daiso California LLC, has announced a voluntary recall of about 130 Children's Toys, Purses and Pen Cases. Surface paint on the purse and pen case zippers and on the balancing toys has been found to have excessive levels of lead, and an inflatable baseball bat has high levels of DEHP, in violation of the phthalates standard. The products were sold at Daiso stores in California from March 2008 through May 2009.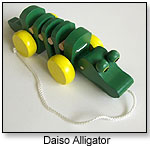 Daiso Recalls Wooden Toys for Choking Hazard. October 6, 2009 — The U.S. Consumer Product Safety Commission, in cooperation with Daiso California LLC, has announced a voluntary recall of about 430 wooden toys because small pieces can come off and pose a choking hazard. The recall covers Penguin Handbell, Pull Doll, Alligator Pull Toy and Dog, Cat, Rabbit and Mice Rolling Animals, which were sold at Daiso in California from December 2008 through May 2009.

TIA Defers ToyCon Until 2011. October 6, 2009 — The Toy Industry Association Board of Directors voted yesterday to bypass the annual leadership conference in 2010 and hold the next ToyCon in May 2011. The decision came after a recommendation based on companies' needs to be conservative in travel and general expenditures during the recession, as well as the ToyCon committee's desire to reinvent the conference "to make it even more relevant to multiple audiences," ToyCon Chair Arette Passas said.
SKU Recalls See Drop in Third Quarter. October 5, 2009 — The TIA reported that recalls of toys during the third quarter of this year declined by about one-third, seeing 7 SKUs recalled as compared to 13 recalled for the same period in 2008. Roughly 3 billion toys are sold in the United States annually; thus far, 6,879,710 items (or 0.14 percent) have been recalled in 2009.

Walton and Lasseter to Join Toy Hall of Fame. October 5, 2009 — The Toy Industry Association has announced that John Lasseter, chief creative officer of Walt Disney Company and Pixar Animation Studios, and the late Sam Walton, founder of Walmart Stores, will be welcomed into the Toy Industry Hall of Fame during a special induction ceremony at the Toy of the Year Awards Saturday, Feb. 13, 2010, in New York City. Lasseter has received two Academy Awards and directed "Toy Story," "A Bug's Life" and "Cars." Walton, who passed away in 1992, created what was to become the world's largest retailer and supported the rapid expansion of toy departments at Wal-Mart Supercenters.
Jada Toys Replaces Buttons With Touch Sensors. October 2, 2009 — In a new, patent-pending line of Marvel Super Heroes vehicles, Jada Toys introduces Touch Tech , which replaces large buttons used to trigger sound, light and action features of toys with high-tech touch sensors that accomplish the same in a more aesthetic design. The collection of 18 Super Hero Squad toys is available at mass retailers for $7.99 to $19.99.
Toys "R" Us to Hire 35,000 for Holidays. October 2, 2009 — Looking for a job? In keeping with temporary holiday hires for the past two years, Toys "R" Us Inc. is bringing on an additional 35,000 employees for the Christmas season, adding to its current workforce of 70,000, the Orlando Business Journal reported. The company has 848 U.S. stores.
TIA Launches Toy Safety Certification Program. October 1, 2009 — The Toy Industry Association officially launched the Toy Safety Certification Program on Thursday, putting forth a system by which toy manufacturers can apply to ensure their products meet CPSIA standards and are reviewed by certification parties accredited by the American National Standards Institute. According to a press release, the program is designed to streamline testing and will make certification reports available to the U.S. Consumer Product Safety Commission as well as U.S. Customs and Border Protection. It may also cut down on redundancy in testing requirements, as many mass retailers have agreed to accept TSCP certification. The TSCP Electronic Certification System, aimed at helping toymakers and importers meet Certificates of Conformity requirements under the CPSIA, was released back in February.
CPSC Fines Target $600,000 for Lead Violation. October 1, 2009 — Target is paying a $600,000 civil penalty issued by the U.S. Consumer Product Safety Commission to settle allegations that the retailer knowingly imported and sold toys with high lead content. Target denies that it had knowledge of breaking the federal law with the Chinese-manufactured toys — 500,000 of which were recalled between November 2006 and September 2007, the Associated Press reported.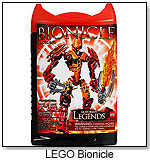 Wal-Mart Offers 100 Toys at $10 Each. September 30, 2009 — Wal-Mart is trumping last year's 10 for $10 each holiday toy program, this time rolling out a list of 100 toys available at $10 each through Christmas, CNNMoney reported. The collection of toys includes well-known brands such as Hasbro's Transformers, Mattel's Barbie, VTech, LEGO, and Mattel's Hot Wheels.