---
Safe and Eco-Friendly Shine at ABC Kids
Baby Expo Sees Fewer Booths But Notable Innovations
"I'm pleasantly surprised at how many small retailers are at such a big show." — Kathy Link, Imagination Creations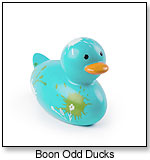 Folkmanis was one of the many toy vendors at this year's ABC Kids Expo in Las Vegas — a show that over the past several years has progressively attracted an audience beyond the traditional juvenile products market.

"There are more exhibitors and more toy companies, which is the main reason I decided to jump in. Seven years ago, it wasn't nearly as big. Not too many trade shows are growing," Dan Folkmanis, who attends about 30 trade shows per year, told TDmonthly Magazine.

Although the show has repeatedly been ranked as one of the 50 fastest-growing trade shows in the country by Trade Show Week, it did see a downturn of more than 200 booths this year — 3,303 versus 3,569 in 2008. The pre-registered number of retailers held steady, though, with more than 2,600 stores for a total of over 5,800 buyers.

"I'm pleasantly surprised at how many small retailers are at such a big show," said Kathy Link of first-time exhibitor Imagination Creations.

She sold more infant items than she had expected, and at high price points — even her knit hat combos that run $70 at retail did well.

Melissa Moog, CEO of Itsabelly Baby Planners and president of The National Baby Planner Association, noticed a larger turnout in the "Naturally Kids" sector of the expo.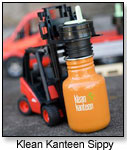 "There is a huge surge of companies focused on creating non-toxic and eco-friendly feeding, diapering, toy, baby gear and skincare products," she told TDmonthly.

Some of Moog's favorites included Boon Inc., Earth Mama Angel Baby's non-toxic bodycare products, Klean Kanteen's stainless steel baby bottles, Dandelion's corn-based tableware, and Kid Basix's Sippy to Straw Bottle.

Eco-friendly items are becoming more important in the juvenile products industry, but Melissa Heller, co-owner of Let's Go Strolling, finds that "parents talk organic but don't necessarily pay organic. The more traditional [items] still outsell the green."

Green Toys, nevertheless, picked up "exposure to new markets" — in particular, baby boutiques that only invest in a few toy lines for their stores, according to the company's Cameron Passmore.

And HaPe Intl. opened new accounts with baby and juvenile department stores who appreciated the company's environmental focus, according to Consultant Robin Lehnert.

"We'll definitely be back. The traffic has been very strong," she told TDmonthly.

Unfortunately, strength in numbers didn't expand to all areas. Toy booths tended to be hit or miss, sometimes depending on the recommended age range of the products offered.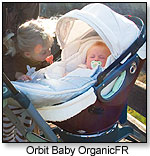 Although Aeromax was seeing its pre-existing customers, come day three, VP of Sales and Marketing Mel Davis was admittedly "a little disappointed in the traffic."

Companies like Wikki Stix, with a product that's been a best seller in independent stores but is for older than the toddler set, struggled to find an audience at ABC Kids.

For shoppers seeking key baby items, however, there were bundles of gear at every turn.

Heller found that while it seems impossible for another nursing cover to enter such a saturated market, other areas that are also up against stiff competition thrived on novelty. As she put it, "The companies that were innovative were very, very innovative."

"Orbit Baby has a fantastic product to start [and] didn't really need to do anything," she told TDmonthly, "and yet they're still revolutionizing their own product" with seating changes and other innovations.

Valco Baby, Baby Jogger and Phil & Ted's were among other stroller companies she thought did a fantastic job of introducing new features and contributing to a broadening need in today's market — products with multifunctional capabilities that keep a parent from having to buy additional items for consecutive children.

Safety was another hot theme at this year's show, according to Moog, who believes retailers need to be more informed about the products they're selling due to CPSIA standards. Partially as a result of the legislation, more manufacturers have created products that are free of PVC, BPA, phthalates and other toxins, and are including package labels that reflect that makeup.

Also, view video demos of products from ABC Kids 2009!







This 11-oz., two-in-one sippy to straw bottle is equipped with a stainless steel body, a thermo plastic rubber sleeve for insulation and grip, a straw-shaped spout to support physical and speech development, removable handles, a tapered waist with ribbing, a dust cap, a travel plug to prevent leakage, and a straw and straw adaptor to easily convert the Safe Sippy2 as a child grows.

.

AD
---






.

AD
---






Made of food-grade stainless steel, this 12-fl.-oz. sippy cup features a cap and spout constructed from BPA-free polypropylene, has a large mouth for simple cleaning and to hold ice cubes, and is 100-percent recyclable. It is available in seven colors, plus natural Sport.

.

AD
---






.

AD
---






This clinically tested castile soap is made with pure, organic ingredients and is free from phthalates, artificial preservatives and synthetic surfactants. It comes in three sizes: 50 ml, 160 ml (shown) and 1 liter.

.

AD
---






.

AD
---






This light blue mermaid set features a two-piece swimsuit and mermaid fins.

.

AD
---






Every little "Casey Jones" will love the chance to take the controls wearing this great Jr. Train Engineer gear. The durable "poly/cotton" fabric is comfortable and long-wearing. This outfit includes the matching engineer's cap, matching leather-feel gloves (not with 18 month) and red bandana. Also available in small and large adult sizes ($63.95) and infant size (18 mos, $33.95, gloves not included).

.

AD
---






.

AD
---
THIS BANNER IS AN AD:
---
---