---
Amazon: E-book Pricing, Sales Tax, and Growth
Can anything slow the growth of this e-commerce warrior?

Update from May 3, 2012, based on latest Amazon reported earnings:

Amazon put in another stellar performance for the first quarter. Sales compared to first quarter 2011 rose by more than 33% worldwide. Looking at the numbers a little more closely, a few interesting bits emerge. For instance, the North American market outpaced international in terms of growth – 36% versus 31%. The Merchandise segment continued to dwarf the Media Segment in terms of size and growth – the former clocked in at $7.975 billion and grew by 42% whereas the latter stood at $4.710 billion and up by 19%.

One of the main differentiating factors is Kindle and its accessories. The Kindle is not sold outside North America and is by far the most successful product in Amazon's palette. According to the company, "throughout December, customers purchased well over 1 million Kindle devices per week."

In real terms, the product is still relatively small if compared to the overall Amazon sales figure of $48 billion last year. While Amazon does not release sales numbers for the device my retailer panel numbers suggest that the Kindle in all its manifestations and with all its accessories sold last year about US$ 1 billion. It is very clearly the most important future growth generator in the future particularly once the product is rolled out throughout international.

However, there are a few problems as well. One is that the Nook, Kindle's major competitor, is holding its own. At this point in time, the Kindle has approximately 55% of the E-Reader market and the Nook the balance. There are now two efforts underway to give the Nook a major competitive advantage. One is Target's decision not to carry the Kindle any longer and to restrict its offering to the Nook. The second is that Microsoft just took a hand in the cat fight between the two devices. They made a deal with Barnes + Noble, the manufacturer of Nook, to invest $605 million over five years in Barnes' Nook E-Reader and college business so as to stop Amazon and Apple from totally cornering the tablet computer market. Not so coincidentally this entry was made just half a year before Microsoft launches its touch-enabled Windows 8 operating system and the provision of a Nook app on their Windows tablet will allow them to compete with the iPad and the Kindle.

Given the fact that Amazon's key competitive advantage – the fact that they do not have to collect sales tax in the majority of the States – is coming under increasing pressure and is likely to disappear in the near future, these steps designed to stunt the company's growth in the E-Reader business are assuming an inordinate degree of importance.

— end of May 3, 2012 update

An Amazon is defined as a tall, aggressive, strong-willed woman. This aptly describes the company of the same name. There is little doubt about its size. With an estimated $65 billion in sales this year, Amazon is expected to be in the top 40 of Fortune's 500 largest American Companies this year.

There is also little doubt about its aggressiveness. The best way to demonstrate just how aggressive this Amazon can be is to look at their performance with the Kindle. The Kindle is basically an E-book reader. The device was first released on November 19, 2007, and today has the leading position in the E-Book market, with an estimated market share of nearly 50%.

Amazon followed this up with the Kindle Fire, a tablet computer. The device—which includes not only access to movies, TV shows and Kindle's E-Books but also to the Internet and email – was first marketed on November 15, 2011. Three months later, at the end of February 2012, the Kindle Fire had captured a share of more than 50% of all Android tablets. In comparison, Samsung's Galaxy range commands only 15%, Motorola's Xoom less than 10%, and the remainder of the pack remain essentially in the single digits.

Amazon's aggressive position is even more extreme in the case of E-Books themselves. Today, Amazon has a market share somewhere north of 90%. This was last year challenged by Apple and others who maintained that Amazon was monopolizing the segment by pitching its offerings at unrealistically low prices – e.g. $9.99 per book. Apple hence organized what they called Agency Model pricing, whereby the company allowed each publisher to set its own retail price and to keep 70% of the proceeds – the remaining 30% being Apple's commission. There was a small caveat to this – Apple insisted on a "most favored Nation" clause whereby the retail price so tabled by the publishers could not be higher than the lowest retail price offered by another retailer for the same book.


This in essence meant that the publishers had two choices. One was to go for Amazon's $9.99 level, which meant that they could pocket only the 70% of this price, e.g. $6.99. This was not practical, since their costs are clearly higher than this price. The other choice was to gang up on Amazon and to force the company to raise its price from the $9.99 level to something more realistic like $13.00.

All the major publishers told Amazon to either accept this deal or to do without their books. For a while, Amazon had no choice but to cave in, but they did have words with the Department of Justice on something called "price fixing" and "restricting price competition".

The end effect is that the Department of Justice launched court cases against these publishers and the majority of them have already agreed to mend their sinful ways. The only hold-outs today are Apple, Penguin and Macmillan. However, for all intents and purposes, the case is over and Amazon has won.

A similar campaign against Amazon has just seen the light of the day – the Universal Pricing Policy. What happened was that Amazon sold flat panel television sets that the brick-and-mortar retailers – all spelled BESTBUY – could not match, and hence lost market share to Amazon. What happened was that the consumer used the BestBuy stores as a show room, checked out the various models, and then ordered the item from Amazon at a much lower price.

As a result, the manufacturers saw the retail prices of their products sink to a unsustainable level, and they were afraid that this would lead to a collapse in their sales once Amazon had gained a total monopoly. As of the beginning of April, all leading manufacturers warned all retailers, including Amazon, that they would not get the new 2012 models unless they adhered to the retail prices published by the manufacturers.

As of the date of this article, Amazon has not followed these instructions and the company is in fact unlikely to do so according to one of my sources. I suspect that Amazon management will again pick up the phone and talk to their friends at the Department of Justice.

These efforts by the competition have done little to stop the Amazon rollercoaster. This is how their sales have developed over the past six years: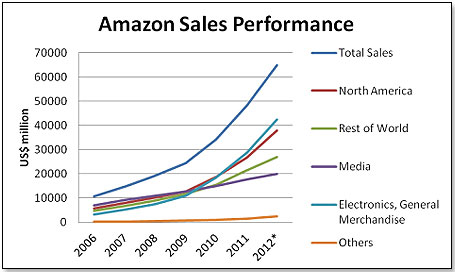 Note: Media category includes books, music, and videos and video games. Electronics and General Merchandise comprises all the other products that Amazon sells – Kindle, Flat Panel Tvs, Toys etc.. The Other category includes non-retail activity, such as co-branded credit card activities; marketing and promotional activities; and other seller sites.

The total digital business in the United States is estimated at $226 billion this year [as per Becky Quick, Fortune Magazine, April 9, 2012] and is expected to grow to $327 billion by 2016. Not only does this give Amazon a market share of 16.8% this year, it also virtually guarantees them a 20% growth rate per year even without gaining more market share. And gain market share they will.

Whatever the case may be, there is little doubt in my mind that Amazon will continue to grow at the expense of its competitors.

The Toy Category is a good case in point: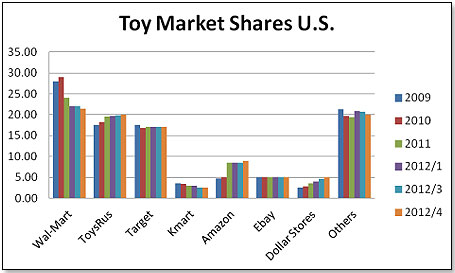 There are two main reasons for Amazon's success. One is that they totally dominate [with Ebay] the digital market place. This is how Google recorded the hits on the various websites:




The other reason is that Amazon has a built-in competitive price advantage, in that they do not need to add sales tax for a major portion of their business. If you buy from a retailer that does not have a physical presence in your State you do not have pay, and the retailer does not have to collect, the normal State and local taxes. In fact, Amazon only collects these taxes in five of the 50 States. And according to Vertex Inc., the average sales tax rate nationally now stands at 9.60%.

In addition, Amazon has a major cost advantage by dint of its cost model. There are virtually no incremental costs that arise by dint of rising volumes except for the fulfillment part. I compared the retail prices of a variety of popular toys between ToysRus and Amazon and this is how it came up:


| | | | | | |
| --- | --- | --- | --- | --- | --- |
| Category | Company | Product | AmazonUS $ | ToysRUsUS$ | ToysRUswith tax US$ |
| Action Figures | Hasbro | Avengers Gamma Green HulkSmash Fist Combo | 23.07 | 19.99 | 21.91 |
| Action Figures | Hasbro | Transformers BumbleBee L | 20.98 | 27.98 | 30.67 |
| Action Figures | Hasbro | Transformers BumbleBee S | 7.97 | 8.99 | 9.85 |
| Action Figures | Jakks | Monsuno Core Lock | 9.99 | 10.99 | 12.05 |
| Building | Hasbro | Kre-O Transformers Optimus | 9.99 | 8.99 | 9.85 |
| Building | Lego | Lego Friends City Park Café | 29.95 | 39.99 | 43.83 |
| Fashion Dolls | Mattel | Barbie Tawny Horse | 24.99 | 42.99 | 47.12 |
| Fashion Dolls | MGA | Bratz Catz Doll Sasha | 19.99 | 19.99 | 21.91 |
| Games | Hasbro | Monopoly Electronic | 24.98 | 27.99 | 30.68 |
| Games | Hasbro | Sorry | 17.12 | 17.99 | 19.72 |
| Games | Lego | Ninjago | 24.89 | 20.99 | 23.01 |
| Girls | Hasbro | Littlest Petshop Ultimate PetCollection | 23.00 | 19.99 | 21.91 |
| Learning | Leapfrog | Leappad Explorer | 97.75 | 99.99 | 109.59 |
| Learning | VTech | Mobigo | 47.49 | 59.99 | 65.75 |
| Outdoor | Hasbro | Nerf Vortex Lumitron | 24.98 | 31.99 | 35.06 |
| Preschool | Hasbro | Sesame Elmo 15' | 16.95 | 20.99 | 23.01 |
| Preschool | Mattel | Imaginext Triceratops | 16.99 | 17.99 | 19.71 |
| Vehicles | Mattel | Hotwheels w Cars Gift Pack | 21.99 | 21.99 | 24.10 |
| Total | | | 463.07 | 516.81 | 566.42 |

Note 1: Amazon ships free if you either are a Premium member [annual fee $79.00] or you buy at least $25 at a time [not all items qualify].

However, the tax freebie which Amazon enjoys may be coming to an end. A very recent development in Texas may well be a harbinger of things to come. This is what KUHF Houston public radio had to say about this on April 27:


For years, Texans have been buying things on Amazon tax-free. Lawmakers recently closed a loophole that allowed online retailers to get around collecting sales tax. Lauren Willis with the Texas Comptroller of Public Accounts says that previous negotiations with Amazon didn't go anywhere. "We resumed talks about probably two, to two-and-a-half weeks ago. And they agreed, starting July 1st, to start collecting those taxes." The State of Texas is still calculating exactly how much extra revenue it can count on, once Amazon starts collecting sales tax. A University of Tennessee study found that untaxed sales over the Internet have cost states $52 billion in lost revenue over the last six years.


Friends of mine at the various big box retailers tell me that they firmly believe that the days of Amazon's tax freebies are coming to an end. Will this stop Amazon? I rather doubt this.

Writer's Bio:
Lutz Muller is a Swiss who has lived on five continents. In the United States, he was the CEO for four manufacturing companies, including two in the toy industry. Since 2002, he has provided competitive intelligence on the toy and video game market to manufacturers and financial institutions coast-to-coast. He gets his information from his retailer panel, from big-box buyers and his many friends in the industry. If anything happens, he is usually the first to know. Read more on his website at www.klosterstrading.com.
Read more articles by this author
THIS BANNER IS AN AD:
---
---