Tools:








2012 ASTRA Preview: 28 Toy Makers Share Products for Specialty
Toy Manufacturers Give Specialty Toy Store Owners a Sneak Peek
• ASTRA Marketplace & Academy will take place 6/10-6/13 in Baltimore, MD.

• Preview 28 products that will be shown at ASTRA, below

• Manufacturers are showcasing products they think will do best specifically in the specialty market

• The absence of mass-market retailers means indie toy stores take the spotlight at ASTRA.

Manufacturers exhibiting at the ASTRA Marketplace & Academy specifically showcase the products that they feel will do best in the specialty market. With that in mind, TDmonthly Magazine asked ASTRA exhibitors to share with us the products they are most excited to present to specialty retailers at this year's show. You can see these products, from 28 manufacturers, below.

Specialty retailers have told TDmonthly for years that they love the ASTRA show. Smaller in size than Toy Fair in New York, ASTRA is a great networking event for specialty store owners. Even better, with the absence of mass-market retailers, manufacturers' booths and ASTRA's educational seminars are geared toward the specialty toy market.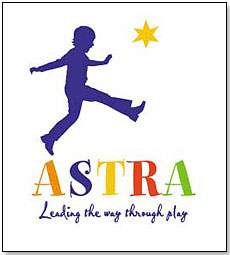 Spotlight on Specialty
Gwen Ottenberg, owner of Imagine That Toys in Wichita, Kans., told TDmonthly that, "ASTRA is one of the few places where you actually get to talk with the people who make decisions- whether that's owners of other toy stores you can look to advice, or manufacturers and sales managers. You're not competing with the big guys like at Toy Fair- you get to know people on a more personal level than you ever do at the other trade shows."

Stay tuned for our coverage of the 2012 ASTRA Marketplace & Academy in June, and in the meantime, get a preview of the products that manufacturers will be showing, below.

The 2012 ASTRA Marketplace & Academy will take place from June 10-13 in Baltimore, MD.







Made of safe, uniquely shaped, brightly colored and highly textured dense foam, this toy is designed for purposes beyond fun. Made for one or more players, it teaches agility and consequence while developing Fine/Gross Motor Skills, Reasoning, Logic, Hand-Eye Coordination, Socialization, Tactile Sensory Development, Color Matching and is an easy to grasp toy. Highly textured pieces make it easy for small hands, as well as Special Needs hands, to grip. As opposed to toys that ask players to retain balance while removing pieces, this is a stack and balance toy. Launch date: June 2012.

.

AD
---






.

AD
---






Bring the playground to the back yard with the Kiddi-o® Parallel See Saw. For added safety this See Saw keeps children parallel to the ground at all times. High back seats provide extra support and spring loaded stoppers underneath allow an easy landing. Launch date: May 2012.

.

AD
---






Build some sweet structures. Stretches creativity, problem solving and fine motor skills. Includes chunky, durable candy pieces in a variety of fun, familiar designs plus Activity Guide with illustrated, step-by-step building directions. Largest piece measures 7"L x 1⁄2" in diameter. Launch date: January 2012.

.

AD
---






.

AD
---






Marble Copter is a brand new outdoor light up helicopter toy. Fling the Marble Copter up to 50 feet in the air using the launching wand, and watch as the copter lights up, glows in the dark, the light reflects off the hologram wings, and helicopters to the ground. Great nighttime fun for kids 8 and up. Launch date: May 2012.

.

AD
---






Create a stuffy plushy pillow. Use the stylus to punch pretty fabric and make this fun and easy fabric-by-number craft. Add funky foam pieces and sparking jewels to complete the fluttering friend. This no mess craft teaches number and pattern recognition and creates a finished product that is sure to brighten up any little girls' room. Launch date: March 2012.

.

AD
---






The fun of matching and the challenge of puzzles. There are puzzles and there are memory games...but only Puzzle Match™ combines these two timeless play patterns in one unique, patent-pending game designed for kids ages 3 to 6. Puzzle Match offers a unique challenge unlike any traditional memory game: Rather than searching for two identical images, kids have to find two halves of a whole image, such as the bottom and top of a seahorse. Once the interlocking pieces are found, they can be assembled into a giant, beautifully illustrated scene. Launch date: May 2012.

.

AD
---






The new Mark-My-Time Digital eReader Light combines the unique features of a back-lit LCD screen, time of day clock, cumulative timer to 100 hours, adjustable LED light, countdown timer with alarm and auto light shut off. This tool makes it simple to monitor daily reading minutes on eReader displays. Easy to use with any hardback or paperback book. Launch date: June 15, 2012.

.

AD
---






The HABA doll family keeps growing and growing. We now have 15 dolls in our family in all sizes for all ages. Uncomparable to anything else on the market these dolls are value priced. Washable dolls with Chenille hair, soft bodies and beautiful fashion accessories. Yui is one of new dolls that is wearing a Japanese Kimono and carrying a fan. Launch date: February 2012.

.

AD
---






.

AD
---






Fishing Camp is a game where both children & adults can play & learn fun facts about Fishing. The game is designed to grow with the player, starting at level one questions, which are primarily identification of fish and fishing tackle. As the players increase in their knowledge about Fishing, they grow into the higher level questions. A fun & educational game where parents & children can play to see who catches the first fish and gets back to the docks. Game includes: 1 game board, 200 game cards(400 questions, and 100 fun facts), 1 decoder, 8 game characters, 1 die, 16 level cards, and 1 GPS card. Launch date: 2012.

.

AD
---






.

AD
---






.

AD
---






Children can direct their own stories from one of four magnetic story backgrounds: Fairytales, Robot's Landing, Animal Cottage, and Forest Adventure. Theater directors-in-training can move their magnetic figures around the scene to help tell their own original story. Launch date: January 2012.

.

AD
---






Each blankZ toy is a plush animal that acts like a canvas for any child's imagination. Each set includes 1 blankZ toy, 5 blankZ markers, and 1 blankZdrop Card to be decorated and placed behind the finished creation. The blankZ can be colored, washed, then colored again, allowing for hours of fun. Series one features 7 animals including a pig, elephant, bear, rabbit, and seal. Launch date: February 2012.

.

AD
---






.

AD
---






.

AD
---






.

AD
---






.

AD
---






Kids need to try to stack this pair of sailors without tipping the boat. The life ring spins from one side to the other when the weight is off center. All posts are elasticized for added safety. Launch date: January 2012.

.

AD
---






Toobalink is the only construction toy that uses paper towel tubes and toilet tissue tubes as a main building element. A Toobalink set comes with all the pieces necessary to build a wide variety of connectors, which are then used to hold the tubes together to build large scale structures. Each Toobalink kit comes with 39 pieces, including brand new tubes so that kids can get building right away. Kids love it because they can collect more tubes to build bigger, better structures and parents love it because the extra building material is FREE. Made in the USA. Launch date: June 2012.

.

AD
---






.

AD
---






.

AD
---






Old-school and new-school technology collide in this plug n' play portable speaker dock kids build themselves. Rock the house or take the show on the road. Kids learn basic electronics by investigating how speakers and amplification work. Docking station works with iPod, iTouch, and other audio devices. Launch date: September 2012.

.

AD
---






Made in Italy, the Gymnic Line's NEW Raffy the Rabbit helps children to learn balancing and coordination while hopping on their Raffy. The same as our popular Rody Horse, but it is a Rabbit. Inflates according to size and weight of child (inflation by adult). Is surface washable with soap and water. Base is available for transforming to a Rocking Raffy the Rabbit. Raffy is available in 2 colors. Launch date: November 2012.

.

AD
---






.

AD
---
Catalog Request Form
THIS BANNER IS AN AD:
---
---