---
Obituary: Richard O'Brien, Toy Expert and Author
"Collecting American-Made Toy Soldiers" Considered "Bible" of the Hobby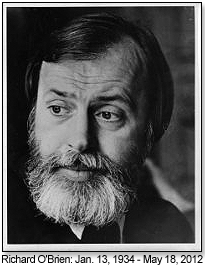 May 18, 2012. Richard O'Brien, author and expert on collectible toys, died in a North Carolina hospice today at age 78.

Though O'Brien had a varied career as a press agent, gag writer, author of syndicated comic strips, and novelist, he was primarily known as an expert in collectible toys and as the author of ''Collecting Toys'' – now in its 12th edition. O'Brien originated the series and edited the first 8 editions. When he sold the copyright to Krause Publications, he stipulated that the series continue to bear his name. Since known as ''O'Brien's Collecting Toys'' (the current editor is no relation) the series also includes ''O'Brien's Collecting Toy Cars & Trucks'' and other toy-related collectibles.

Born in Flushing, New York on January 13, 1934, O'Brien grew up in Manhattan, Brooklyn, and Sayville, Long Island, where his family lived behind Marek's Dry Goods store on Railroad Avenue, owned by his grandmother, during the Great Depression. He was graduated from Erasmus High and Brooklyn College and served in the United States Army.

Origins in Comedy

O'Brien was a New York press agent from 1960 to 1977, with the last ten years spent as head of his own agency. He had an instinct for comedy, and as a result several comedians gravitated toward him. He was responsible for kicking off the careers of Woody Allen, Bill Cosby, Joan Rivers and Flip Wilson. Other humorous long-term clients were Victor Borge, Fannie Flagg, Dick Cavett and Rodney Dangerfield. Eventually, he began to realize the gags he ghost-wrote for newspaper columnists under the names of non-comedian clients were good enough to become a paying proposition.

Since March, 1968, O'Brien had a continuing job as gag writer and idea man for Woody Allen. He also wrote for Rivers, both for nightclubs and her early afternoon talk show. For Borge he wrote comedy essays; sometimes alone, sometimes in collaboration with the veteran funnyman.

The comedy writing led to O'Brien's first book, "Jaws Jokes", written with his son Sean and longtime friend Bill Kaufman. "Publicity: How to Get It" was his next, and his swan song as a press agent as he began to make a living from writing. He published dozens of novels, many of which were translated into multiple languages.

Early Fascination Became Career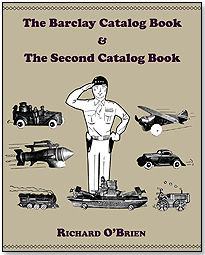 O'Brien's lifelong fascination with toy soldiers resulted in his doing the first edition of "Collecting Toys," which enabled him to begin researching the American toy-soldier companies as well as investigate the history of general toymakers. The book, both a reference and a price guide, became a standard in the field, O'Brien continuing to expand each of the seven succeeding editions. The first contained 319 pages. The eighth ran 766. Eventually, he added books on trains, toy cars and trucks and several on toy soldiers, including the mammoth "Collecting American-Made Toy Soldiers," which remains the Bible of the hobby. He also authored the coffee-table book "The Story of American Toys."





On hearing of O'Brien's terminal illness, Rusty Kearn, publisher of Playset magazine wrote, "(Y)ou and your works will live forever in the hearts and annals of this great and wonderful hobby. You know as well as I how much depends upon knowledge and pictures and new works to further new interest; you have done more than any other to build up...scholarly knowledge and research into the hearts of thousands and thousands of us collectors everywhere."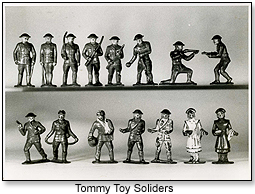 In 1979, after having successfully written gags for seven syndicated and magazine cartoonists, he created and wrote the comic strip "Koky" for the Chicago Tribune-Daily News syndicate, illustrated by Mort Gerberg. He also created and wrote the less successful "Suzy" with Bob Vojtko as the artist. Both strips have been reprinted in their entirety by Ramble House.

Also published by Ramble House was a collection of articles O'Brien did on his investigations into the origins of toy soldier companies and the artists who sculpted the toys, ''Researching American-Made Soldiers." Several of these articles were reprinted on TDmonthly.com: The Women Behind Toy Soldiers, Parts I II and III, as well as Solving the Mystery of Composition Soldiers, Parts I and II.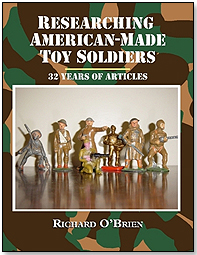 O'Brien retired first to Beaufort, South Carolina, where he gained some notoriety as the oldest surfer on Hunting Island. He most recently lived in Tryon, North Carolina, with his wife of fifty-three years, the former Mary Ann Shelton of Jacksonville, Ala. He is survived by her and their four children, Alison, Sean, Rebecca and Julie, and eight grandchildren, Cabot Lee, Talia, Malynne, Jeremiah, Jacob, Gabriel, Callum, Evangeline and step-granddaughters Lianna and Alexandra.

For a more complete bio and list of his novels, please see:
http://www.amazon.com/Richard-OBrien/e/B000APA53W
Researching American-Made Toy Soldiers
by
RAMBLE HOUSE
Other products from RAMBLE HOUSE
Shop for It!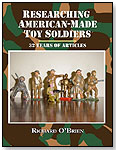 MSRP: $16.00

Age Range: 12 and upSpecialty: Yes (as of 2012)Gender: Boys And Girls





Richard O'Brien was fascinated with toy soldiers from a young age and in the 1970s he had a chance to do some research into the history of American-Made toys. He became an expert in the field and had numerous articles on the subject published in magazines, all of which are very hard to find. Now he's collected the best of them into this 270-page book showing exactly what was published. It's a must-read for anyone interested in collecting metal or wooden toy soldiers. There are hundreds of photographs and facsimiles of old magazines.

BUY IT HERE: http://www.ramblehouse.com/researching.htm

ToyDirectory Product ID#: 34253

(added 5/18/2012)

.

AD
---
The Barclay Catalog Book & The Second Catalog Book
by
RAMBLE HOUSE
Other products from RAMBLE HOUSE
Shop for It!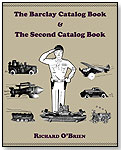 MSRP: $16.00

Age Range: 12 and upSpecialty: Yes (as of 2012)Gender: Boys And Girls





Richard O'Brien was fascinated with toy soldiers from a young age and in the 1970s he had a chance to do some research into the history of American-Made toys. He became an expert in the field and had numerous articles on the subject published in magazines, all of which are very hard to find. He collected two "catalog" books that were very helpful to collectors and because of being out of print they are extremely hard to find and expensive. Not any more. Both of the catalog books are here in one volume.

BUY IT HERE: http://www.ramblehouse.com/barclaycatalog.htm

ToyDirectory Product ID#: 34252

(added 5/18/2012)

.

AD
---
THIS BANNER IS AN AD:
---
---