---
Watch Toy Videos of the Day (5/7/2012-5/11/2012)
We want you to see the toys we see, so you can determine if they're right for your store! Check this space every weekday to see brief video clips of new and specialty products.

In the spotlight today? Snuggle up to sales with Snugglebags™ from SNUGGLETIME
Wholesale Price: (Log in to view)
Dropship Available?: (Log in to view)
Ships From: (Log in to view)
Terms: (Log in to view)
MSRP: $12.99
Age Range: 3 and up
Made in: United States
Gender: Boys And Girls
This two-in-one mini sleeping bag will keep kids' favorite stuffed toys warm and snuggly. Cushy and convertible, these durable sleeping bags serve as a perfect slipcover to keep plush toys ultra cozy and ultra clean. Launch date: November 2011.
ToyDirectory Product ID#: 33272

(added 12/8/2011)

.

AD
---
Wholesale Price: (Log in to view)
Minimum Order: (Log in to view)
Minimum Reorder: (Log in to view)
Dropship Available?: (Log in to view)
Ships From: (Log in to view)
Terms: (Log in to view)
MSRP: $18.00
Age Range: 5 and up
Specialty: Yes (as of 2011)
Made in: China
SKU or Item #: GMMOSA
Gender: Boys And Girls
Containing 72 soft felt triangles in 9 colors, a flocked game board, and 50 illustrated cards, teach color, form, and design to kids without their knowing that they are learning the fundamentals of design. The instructions offer increasing challenges, from Elementary Figures to Negative Space to Perspective to Translucency and Representational Imagery. "Mosaics offers a highly sophisticated introduction to the basics of art and design for children," Regina Gelin, sales and marketing rep at eeBoo, told TDmonthly. Launch date: February 2012.
ToyDirectory Product ID#: 33309

(added 12/9/2011)

.

AD
---
With 9 interactive functions, Kidoo Pets show kids how to nurture, play, and love while having fun. These 18 inch plush toys are designed in France. Kids show signs of caring and nurturing in the earliest years of their lives. As they play, sleep, pet, snuggle, and feed their Kidoo Pet, children develop a strong bond. Teaches kids how to take care of their pet; teaches kids what pets don't like; teaches kids to be patient and loving.
ToyDirectory Product ID#: 33992

(added 3/26/2012)

.

AD
---
A rolling pin, cookie cutters, and felt "dough" make baking seem real. Flip the shapes over and they're already decorated. Made of Wood, Water based paint, Felt, Aluminium alloy.
ToyDirectory Product ID#: 34004

(added 3/26/2012)

.

AD
---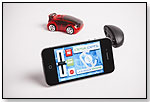 Wholesale Price: (Log in to view)Dropship Available?: (Log in to view)Ships From: (Log in to view)Terms: (Log in to view)

MSRP: $29.99

Age Range: 8 and upSpecialty: Yes (as of 2012)Made in: ChinaGender: Boys And Girls





Features 4 modes, Smartphone control mode, maze navigation mode with infrared obstacle detection and demo mode and battle mode. Recharged from USB port by integrated USB flip out USB connector. Fast and furious control using a Smartphone for drift and power slide maneuvers. Shoot at an other Carbots and hear the machine gun sound as your phone vibrates and your opponent. Carbot does spins and swerves from side to side. Shipped with dual transmitter iDesk Pet Universal Remote Control Smartphone adapter (Android and iOS) for increased control distance. Each Carbot three different user selectable frequencies (A,B,C) allowing for up to three Carbots to race and battle. Launch date: August 2012.

— "This little guy not only runs rings around their TankBot from earlier, but continues to give you the choice of autonomous control or letting your smartphone (iPhone/Android) take the lead as to where it can go and how it's going to get there...the little guy moves so fast (good set of wheels working) that I started to run after it at one point...the CarBot is an affordable cool little RC vehicle that you can control or let go off on its own. The battery lasts for plenty of time before a quick USB recharge is needed too." - Review and 4.5 star rating from Marshal Rosenthal at

GadgetReview.com

.

ToyDirectory Product ID#: 33680

(added 2/13/2012)

.

AD
---
THIS BANNER IS AN AD:
---
---