---
Summer Lovin': Outdoor Toys that Fuel Fitness and Creativity
TIA Trend Experts Share 16 Outdoor Toys for Summer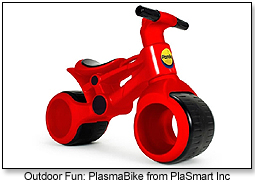 With the unofficial start of summer just a few weeks away, families are gearing up for a long season off from school filled with sun-splashed days, action-packed getaways and weekend barbecues in backyards across the country.

Experts from the Toy Industry Association (TIA) report that toymakers are doing their part to ensure that families have plenty of options when heading outside to play, offering a wide range of active and creative toys for kids of all ages.

"There are so many wonderful products that encourage everyone – from toddlers to adults – to run, jump, bike and bounce their way through the summer months!" said TIA trend expert Adrienne Appell. "In addition to active toys, there is a variety of creative play toys that let imaginations run wild."

It is essential to pay close attention to age-grading on toy packaging to ensure that children receive age-appropriate playthings, added Appell. "Selecting age-appropriate toys and keeping toys labeled for older kids away from younger children is important year-round," said Appell. "Children are inquisitive and fast, so active adult supervision during play is crucial."

Toddlers and tykes who want to be a part of the action will have tons of fun with toys that stimulate their senses and teach them important developmental skills. Some examples include:

Sights 'N Sounds Splash Table (International Playthings) – this splash table is also a floating water park, private island and canal for kids to strain, sail and squirt.

The Build 'N Go Wagon (Mega Bloks) – a classic item that encourages creativity and movement.

Cat Ride On (Mega Bloks) – a 3-in-1 dump truck that helps young ones transition from crawling, to walking, to riding.

PlasmaBike (PlaSmart) – encourages balance and coordination for children as young as 18 months.

Black T-Bar Steering Maxi Kick Scooter (Kickboard USA) – durable, 3-wheel base makes balancing a breeze for kids age 3+. Lightweight and easy to carry, maneuver and steer.

As kids get a bit older, they'll want to engage in more interactive play and showcase their creative talents for the whole neighborhood to see. Here are a few ideas:

Splash Golf Set (Prime Time Toys) – there won't be a dull – or dry – moment as kids and parents improve their hand-eye coordination by scoring with the added challenge of water-soaked balls.

Batters Up! Tee Ball Set (Manhattan Toy) – a great way to learn how to play one of America's favorite sports.

Kickin Putt (Begin Again Toys) – combines the fun of soccer, kickball, golf and more; a great idea for backyard tournaments.

3D Kaleidoscope Giant Chalk (Crayola) – classic chalk with awesome 3D and kaleidoscope effects.

Jr. Space Explore Inflatable Shuttle (Aeromax) – kids can journey to "space" whenever they want to. Includes a genuine-looking instrument panel with gauges.

Super Miracle Bubbles: Bubble Turbine (Imperial Toy) – lets both kids and adults create humongous bubbles and perform a variety of bubble tricks.

Tweens who have a "need for speed" will love zipping around the park or having races with their friends this summer. Parents will appreciate the active nature of these toys which also keep kids fit and agile. Some hot picks for summer 2012 include:

Ready, Set, Pogo! (Alex Toys) – kids will bounce high, fast and far with this active toy.

Razor Flash Rider 360 (Razor) – brand new for 2012, this revamped version of the classic three-wheeler turns and drifts on dual inclined caster wheels. Includes a spark bar so kids can spin and spark!

MLS Light Up Soccer Goal and Ball Set (Franklin Sports) – this soccer set encourages active play even when the sun goes down. Features a goal with glowing edges and a red light-up soccer ball.

Fuze Wheel Writer (Skyrocket Toys) – these LEDs mount directly on the spokes of a bike, flashing as the wheels spin to create more than a dozen different images, including a working speedometer.

KAOS Nemesis Wrist Launcher (Imperial Toy) – reinvents the traditional water balloon, allowing players to comfortably launch water balloons up to 100 feet.

"Retailers will want to keep safety in mind, and stock their shelves with the appropriate protective gear for some of these outdoor products," said Appell. "Helmets, knee pads and elbow pads will help to ensure that kids are playing safely."

These are just some of the fantastic outdoor toys available for kids of all ages. For round-the-clock toy safety and trend information, visit ToyInfo.org.

Learn more about these toys below, and don't forget to check out more outdoor toys in TDmonthly's Top-10 Most-Wanted Outdoor Toys







.

AD
---






Kids can learn the basics of America's Pastime with this sturdy yet gentle foam batter's set. Launch date: January 2011.

.

AD
---






Junior explorers can hop on this inflatable space shuttle and blast off for both indoor or outdoor adventures. Ideal as a floating ride-on, this handsome shuttle boasts genuine looking instrument panels, gauges, a built-in portal view of Earth and the red & white stars & stripes of the U. S. of A. Kids will enjoy incorporating into play the clear window view of Earth and the international space station as seen from outer space. After touring the stars and the moon, move the furniture and make way for a shuttle landing that boasts a 45" wingspan and spreads 43" in length. Designed for a weight limit of 90 pounds.

.

AD
---






KAOS Nemesis reinvents the traditional water balloon fight by taking it to a whole new dynamic level of "getting soaked." Kids and adults can kick-up the level of insanity with an extreme water balloon fight. Each KAOS Nemesis launcher is designed to comfortably launch water balloons up to 100ft with a simple flick of the wrist. The KAOS Nemesis has a large scoop top for quick reloads and comes with 25 Balloons.

.

AD
---






These LEDs mount directly on the spokes of a bike, flashing as the wheels spin to create more than a dozen different images, including a working speedometer.

.

AD
---






.

AD
---






.

AD
---






The new Super Miracle Bubbles Bubble Turbine is guaranteed to provide kids and adults with the seamless ability to create humongous bubbles and a variety of spectacular bubble tricks. Includes Instructional Booklet and Super Miracle Bubbles Premium Plus Solution in 100% recyclable bottle.

.

AD
---






Kids can create their own outdoor art, then view it in awesome 3D and Kaleidoscope effects. Dual-ended Crayola® 3D Kaleidoscope Giant Chalk makes it a cinch to create fabulous 3D art. Giant chalk lasts a full seven times longer than regular chalk sticks.

.

AD
---






This outdoor game combines the fun of soccer, kickball, ying discs, and golf. The Kickin' Putt 2 player game is complete with 2 kick around golf balls and the ying scoring disc. Toss the scoring disc to set the hole, and get ready for a game of soccer meets golf. The scoring disc is made in the USA from wheat based plastic and the kick around golf balls are made from natural rubber.

.

AD
---






Shoot for a Hole-in-One in the pool! Complete golf set for the pool or backyard. Includes One Extendable Splash Golf Club; Three Splash Golf Balls; Floating Splash Target.

.

AD
---






.

AD
---






.

AD
---






.

AD
---






The Sights N Sounds Splash Table is great entertainment for toddlers 18 months and older. Lights, sounds and plenty of action are in store on this light-weight table that lets kids scoop, strain and spin. This kids water table is great for warm summer days, or can be used inside as well.

.

AD
---






The MLS Light Up Soccer Goal and Ball Set encourages active play even when the sun goes down. This complete soccer set features a goal with glowing edges, and a red light up soccer ball. Now, kids can play their favorite sport with excitement day or night. Includes stakes to hold the goal securely in the ground, light up goal, light up ball, and 1 3V battery. 6 AAA batteries also required, not included. Goal measures 37.5 inches x 24 inches.

.

AD
---
THIS BANNER IS AN AD:
---
---