---
7 Tips to Make Retail Displays Work For You
Using display areas effectively can rake in extra sales.
There are a lot of ways in which displays can be a silent salesperson. The trick is to keep in mind these seven basic, yet essential, tips:

1. Change your displays monthly

You've got to keep your customers guessing – a little, anyway. Move your displays around every couple of week – and always move them when new merchandise comes in. Since the fairly new products will still be selling, switch your displays two weeks after their arrival. Move one display from the front to the middle of the store, and another display from the middle of the store to the back.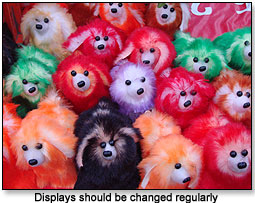 2. Try a little tenderness

In merchandising, as in life, the best things are things you want, not what you need. So give your customer that as well. Put the fanciest, newest, most expensive, dream-worthy items in the most prominent place in your store. Be sure to have several levels of height and enough products so that the customer can pick up and touch these desired items without having to totally dismantle your beautiful display.

3. Never, never, never, EVER build a monochromatic display.

Generally speaking, you should group items by product use, or in a scheme of two or three colors – you're looking for something that makes the display look like a logical group. Unless you run a grocery store, your grouping shouldn't be entirely made up of one product. That's warehousing, not merchandising. You can create a display by product use, such as all items related to brewing and drinking tea, for example. Or display by color, but make sure you use another strong color to pop out against the primary shade. Think white and red or red and black. Avoid monochrome displays because, although possibly chic, human eyes quickly get the point and move on – frequently without buying.

4. Don't ever put up a sign that says DO NOT TOUCH.

Don't even do that in a glass store! You might as well be putting up a sign that says DO NOT BUY. Displays are supposed to get messed up. Think of your displays like your kitchen table –if there are never any crumbs, it means no one has been eating. Don't fear customer interaction with your goods; just make sure to straighten up constantly.

5. Trust in lagniappes.

Lagniappe – pronounced lon-yop – is the New Orleans term for "little surprise." A merchandising lagniappe would be using a fun but unrelated prop in a display, such as a soup bowl with a sweater collection, or a stuffed animal with your kitchenware display. While adding a prop to every display is overkill, the possibility should always be in the back of your mind.

6. Light up your display like it's a meteor shower.

You'll probably have to adjust overhead lighting to do this. But if you have a particularly dark display with no way to highlight it from above, consider moving it to an existing light source or light from below with small portable spot lights. Remember, proper lighting can make your merchandise seem wondrous.

7. Put tags on everything.

You know how much you hate asking how much something is? Your customers are just like you, so make sure all of your stock is priced. No one wants to have to ask a clerk how much something costs.

Writer's Bio:
Bob Phibbs is the Retail Doctor®, a best-selling author and speaker who has helped thousands of independent businesses compete. His new book, The Retail Doctor's Guide to Growing Your Business has received praise from both Inc. magazine and USA Today and can be found at your local bookstore or ordered at http://www.retaildoc.com/guide. He and his work have been featured in the New York Times, the Wall Street Journal and Entrepreneur magazine. Questions? Contact Bob at info@retaildoc.com.
This article was reprinted with permission of the author, Bob Phibbs, aka The Retail Doctor®.
Read more articles by this author
THIS BANNER IS AN AD:
---
---