Move Over, Dr. Seuss: Hot Deals and Trends in the Licensed Book Market
By Tamara Schuit
November 2003



Licensed books have been around since the days of Beatrix Potter, the largest international literary licensed merchandise program to date, with more than 200 companies worldwide licensing the merchandise. But with franchises such as Disney and NASCAR entering the licensed book arena, today's market is broader and more profitable than ever.

Publishers such as Bendon Publishing International, Abrams Publishing, Penguin Putnam, Disney Publishing Worldwide and Simon and Schuster all hold licensing agreements with such sought-after entities as Garfield, Cabbage Patch Kids, Babar, Hello Kitty, Bob the Builder, and Lizzie McGuire. In a market where estimated sales peaked at $1.95 billion in 2000, these properties translate into big earnings.

Licensing Trends: If the Spirit Moves Youth...

According to a recent article in Publishers Weekly, licensing is on the rise in the Christian publishing segment and is at its strongest among children's titles. Over the last five years, more trademark holders have been pitching spiritually themed properties to Christian and mainstream publishers, while more Christian publishing houses are licensing out their own brands.

In the past, the Christian publishing segment found itself competing against high-profile, intensely marketed entertainment properties for licensees' and retailers' attention, as well as the general market retailer perception that Christian products were a niche category.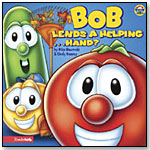 VeggieTales
According to Kimberly Sullivan, president of licensing agency Z Strategies, mainstream retailers were also often wary of Christian product. But VeggieTales (acquired by ZonderKidz in 2001) and Jay Jay the Jet Plane (licensed by Tommy Nelson) changed all that. Leaving scripture out of the mix, these tales instead rely on their strong moral values and have shown enormous success in both the general and Christian markets.
Hot licensing deals
NASCAR book sales accelerated as soon as they hit the market and have shown no signs of slowing. In the first 45 days the books were in the market, Bendon Publishing International reported sales of $1.6 million. Bendon is expected to release another 23 titles by the end of 2003. Bendon will be producing several children's books aimed at ages 5 and under, and NASCAR is in negotiations with another publisher to produce books for the 7-to 11-year-old market.

Bob the Builder
Bob the Builder
Consumers have purchased almost 11 million Bob the Builder books since their U.S. debut in July 2001. Licensed from HIT Entertainment, Random House, Simon & Schuster, Publications International, Simon Spotlight, Golden and Hinkler Books are all releasing new Bob the Builder titles this year.

Lizzie McGuire and Kim Possible
Based on the popular Disney Channel television series, Disney Publishing Worldwide has more than 2.5 million Lizzie McGuire books in print, with a new series scheduled to be released in the fall and a series of original mysteries due out in 2004. Disney's Kim Possible series has 500,000 books in print and a new deal with Wal-Mart to promote the books.

WizKids
Known best for its popular line of collectible miniature games, WizKids recently announced plans to expand its in-house publishing group into a new division called WizKids Publishing. Books based on WizKids intellectual properties such as Mage Knight ™, MechWarrior® and Shadowrun® MechWarrior: Technology of Destruction shipped in October. According to President of WizKids Publishing Mort Weisman, the company's goal is to give fans more depth, details and experiences that they can share about the characters and worlds that the games introduce. WizKids plans to continue their relationships with ROC, a division of Penguin Putnam, and Del Rey, a division of Random House.

Garfield
Don't count the fat cat out just yet. With a 25th anniversary book in stores and a live-action/computer-animated feature film due out in December 2003, the character appears to be as popular now as it was 10 years ago. In fact, it's been said to be one of the few licensed properties that appeals to every age group. It's also a hot property to watch for in 2004.

---