Complex anime and manga plots keep American fans begging for more. Toy manufacturers, publishers and film makers have responded to this growing market by generating a wide variety of intriguing products.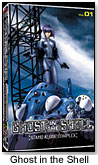 Popular DVD Titles

"Ghost in the Shell," a hugely popular anime series headed by cyborg police officer Motoko Kusanagi, recently released its "Stand Alone Complex" (Anchor Bay Entertainment (ToyDirectory); $24.95) series. Volumes 1-3 were released in the second half of 2004, and shows 4-6 are scheduled for U.S. release in the first half of 2005. Based on the manga of acclaimed Japanese comic book artist Shirow Masamune, these DVDs will be in high demand.

Like many anime movies, "Samurai Girl: Real Bout High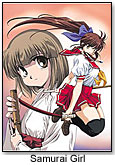 School" (Tokyopop; $29.99) began in comic book form before becoming a long-running TV series in Japan. Actress Melissa Joan Hart ("Sabrina the Teenage Witch") was just inked by Tokyopop to play the role of Samurai Girl in an upcoming Hollywood movie, so expect DVD sales of the TV show to heat up.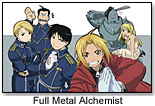 Other notable DVDs which should score high with retailers in 2005 include "Full Metal Alchemist" (Funimation; $29.95), a series which follows the adventures of two brothers trained in the ways of alchemy, and "Hellsing" (Geneon Entertainment; $21.95), where a secret agency protects the Queen of England from ghouls. Youngsters will enjoy watching "The Prince of Tennis" (VIZ LLC; $29.95), a series about Ryoma Echizen, a hot-shot, 15-year-old tennis player, and his teammates.
Anime-Inspired Action Figures
For years now, anime and manga influences have poured over into the action figure market. This year, expect "Full Metal Alchemist" (FMA) 6" figures (Square Enix; 3-pack for $44.99) and mini 3.5" figures ($5.99 each) to be a hit upon their holiday arrival and well into 2005; FMA was released on the Cartoon Network in November and its DVD series debut is in early 2005. The FMA figures come with hats, weapons, and removable jackets.

Hellsing´s 4.5" fully-articulated and highly detailed figures will come six in a pack ($39.95) next March. From "The Dragon Ball Z" anime series, the 9", spiky-haired Prince SS Vegeta and friends (Jakks; $14.99) won´t stay long on toy shelves. "Ghost in the Shell" cyborgs ($11.99) come with removable jackets, boots, and weapons.
A Deluge of Other Products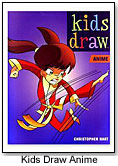 "Kids Draw Anime" (Watson-Guptill Publications; $10.95) and "How to Draw Anime & Game Characters" (Japan Publications; $13.99) will have kids etching traditional big-eyed, spiky-haired anime characters in no time at all.

Also, anime-inspired winter hats are available from ADV Toys ($14.99), displaying half of the anime character´s face. Two hats are patterned after "Excel Saga" characters Menchi and Puchuu. Saizo, the always-mad pig from "Peacemaker," and Jonathon, the baby seal from "Kaleido Star," round out the head gear.

Many popular anime movies can be found in video game form as well. Both "Full Metal Alchemist" and "Hellsing" will produce sure-fire hits when they´re released as video games in February. The first anime series, "Tetsuawan Atom" (The Mighty Atom), released in 1963, became "Astro Boy" when it was imported to the United States. This cartoon brought laughter to many pre-Nixon households and the Astro Boy video game continues to amuse pre-teens to this day.

For more information on anime and manga, please take a look at For Fans, Anime is a Way of Life.