---
10 Manufacturers on the Challenges Faced in the Toy Industry
Trying to bring a new toy to market can be intimidating, especially if you don't know what challenges you may have to face. That's why TDmonthly asked manufacturers about the obstacles they've had to overcome on the road to success. See their answers below.

Keep an eye out for full-length interviews with many of these companies in future issues of TDmonthly; any previously published interviews are linked to the respondents name.

What obstacles have you had to overcome on the road to success?

Betty Morris, president, Shrinky Dinks ® (K & B Innovations, Inc.): We knew nothing about the industry: State Requirements, Copyrights, Patents, Trademarks...We talked to all kinds of people who were willing to give us direction. At one point, we hired a consultant. We had our office in my dinning room and kitchen. After two years of working out of my house, Kate and I rented some office space and hired a secretary part time and then full time. This helped a lot.

Jon Capriola, creator, Laser Pegs Ventures LLC: "…Experience is what you get when you don't get what you want…therefore, knowing I had tons of experience I overcame money issues by achieving patent rights to a new innovation, and distribution [issues] by partnering with the right toy rep companies to introduce and resell my item.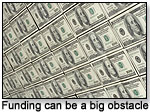 John Shelley, creator, Bag-O-Loot: Deciding how to market Bag-O-Loot was the most important thing we had to figure out. Our shiny gold bag is a great attention getter, and when piled high in the floor display, it looks like a heap of gold bricks. At Christmas, they were flying out the doors. The other obstacle, which is ongoing, is how to get the word out to more people and more stores about how great the game really is. We have a very limited advertising budget, and those dollars must be spent wisely.

David Schreiber, president, Uncle Skunkle Toys, Inc. : Quite a few years ago, there was a company that decided it could sell my games without my permission and without compensating me for the right to do so. The whole event was very challenging for me, both personally and professionally. Finally, I had to ask myself what it was worth, and what was my objective?

Pat Gesualdo, president/CEO of D.A.D. (Drums and Disabilities): The most significant obstacle to overcome was fighting a severe battle with a disability as a child. I had a severe battle with Dyslexia, but the doctors thought I might have had Cerebral Palsy, because I had no fine motor skill or coordination, I had braces on my legs from my heels to my knees because I had issues with my heel chords. I stuttered severely, and couldn't speak in sentences. I was diagnosed at 9 years old, and thankfully, through drumming, I completely alleviated my disability by the time I graduated High School.

Wendy Bryan, creator, I Heart Guts: We've had a few gut-wrenching setbacks over the years. Our first big challenge was getting our plushes tested and compliant with CPSIA regulations, which became mandatory just after we'd made a batch of plush. We got them tested and, ironically enough, they were all kid-safe except for the uterus. We were mortified and had to recall the product, but everyone thought the "uterus recall" was so funny that we actually got a lot of press and many new customers discovered us this way. Another recent unpleasantry included an import problem – one of our shipping containers was accidentally picked up before US Customs completed all of its exams. That landed us with a $14,000 fine, which we we able to bring down to $2,500, but only after hiring an expensive lawyer. Lesson learned: make sure your broker and freight forwarder are awesome.

Dror Rom, founder, elogIQ: The major obstacles I faced were to make the mechanisms [of my product] as flawless as possible and to patent the products in a way that will protect them in the best possible way.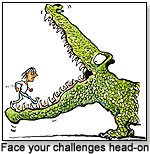 Bill Stephenson, creator, Spy Alley Partners: The most significant obstacle I have overcome was getting someone to believe in the game and getting it produced. I spent 10 years trying to talk to game companies to show them my product. A few times I had small companies interested but then they changed their minds. The funny thing is that when I look back at those companies, they are no longer in business. I overcame the obstacle by forming my own company to manufacture the game.

Steve Hurd, creator, Westwork Designs: An obstacle that everyone shares is the cost. But since I didn't have a background in this industry, the biggest obstacle has been learning about it on my own.

Michelle Berman, Zazoo Kids: The most difficult obstacle was the cultural and language barrier with my factory oversees. This problem has been solved by using a China based American company in Shenzhen to over see inspection and development. A second challenge has been gaining distribution. The only way to get out there is to "get it out there" literally. Hitting the phones, networking and attending tradeshows have all been important.

Writer's Bio:
Justina Huddleston graduated Magna Cum Laude from Emerson College with a BA in Writing, Literature, and Publishing in 2009. After graduating she was the on-site director of the Boston Children's Museum gift store for a year, selling educational, developmental, and creative activity toys that tied in with the museum's exhibits. Justina also interned at children's book publisher Candlewick Press before moving from Boston to Los Angeles, where she is now Editorial Director of
TDmonthly Magazine
.
Read more articles by this author
THIS BANNER IS AN AD:
---
---