---
Toys in the News: 5-28-10
SUBMIT your news to TDmonthly.
See previous toy industry news.

Toys 'R' Us seeks to raise $800 million in IPO (MarketWatch). May 28, 2010 — Toys "R" Us Inc., which went private in a 2005 purchase by a private-equity consortium, plans to return to the public markets, aiming to raise $800 million in an initial stock offering.

Maxfield and Oberton Recall Buckyballs. May 27, 2010 — The U.S. Consumer Product Safety Commission and Maxfield and Oberton LLC, of New York, N.Y. have announced a recall of 175,000 units of Buckyballs High Powered Magnets Sets sold prior to March 2010. The sets of 216 rare earth magnets labeled "Ages 13+" violate federal toy standard F963-08, requiring that high powered magnets not be sold for children under the age of 14, as they pose a choking hazard and risk of intestinal injuries. Buckyballs sold after March 2010 have been labeled "Keep Away From All Children," however, sets purchased before can be returned to Maxfield and Oberton for a full refund.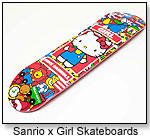 Sanrio and Girl Skateboards Team Up for Hello Kitty's 35th Anniversary (Collect3D). May 27, 2010 — Sanrio is celebrating the 35th anniversary of its iconic Hello Kitty character with a limited-edition skatewear collection.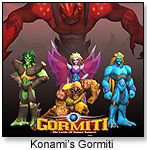 Konami Unveils "Gormiti" Screenshots. May 27, 2010 — Konami Digital Entertainment Inc. has revealed screenshots from the upcoming action puzzle game, "Gormiti: The Lords of Nature!" Available for Nintendo's Wii and DS systems and based on the Cartoon Network series, the game aims to challenge players with jigsaw and sliding tile puzzles. According to a press release, the screenshots showcase special moves and attacks, as well as views of the scenery. "Gormiti: The Lords of Nature!" will launch in late 2010.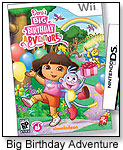 Nickelodeon and 2K Play Fête Dora the Explorer's 10th With Expanded Video Game Lineup. May 27, 2010 — Nickelodeon and 2K Play have announced the launch of three Dora the Explorer video games, in honor of the popular program's 10th anniversary. Dora's Big Birthday Adventure will be available for Wii, Nintendo DS and PlayStation 2 systems. Dora's Cooking Club, designed to teach preschoolers math and cooking skills, will be available exclusively for the Nintendo DS, as will the building game Go, Diego, Go! Mega Bloks Build & Rescue. All three games will feature voice actors from the Nickelodeon series.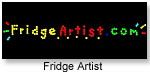 Fridge Artist Makes Charitable Contributions with Magnetic Colors. May 26, 2010 — Fridge Artist LLC has announced its Magnetic Colors mosaic art kits are being donated to schools and hospitals for use in art therapy programs and underprivileged schools. The company will also donate one percent of its profits to support water quality projects in developing countries, with the intention of scaling up to 50 percent of profits funding the cause of providing safe water in lesser developed communities.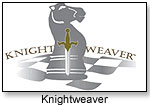 Gamewright and Knightweaver Games Reach Exclusive Publishing Deal. May 26, 2010 — Gamewright has obtained exclusive worldwide publishing rights for Knightweaver Games' Patchwork. Knightweaver's Patchwork is an award-winning card game of strategic pattern matching, and while game play will not change, Gamewright will publish the game as 'FlipSide'. FlipSide is scheduled for release in late 2010 / early 2011.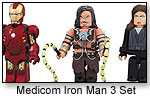 Medicom Unveils Iron Man 2 Figure Set (Collect3D). May 26, 2010 — Medicom Toy has announced the release of its Iron Man 2 Kubrick Set, which features War Machine, Black Widow, a redesigned Iron Man suit, and a miniature likeness of Mickey Rourke as Whiplash.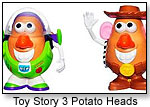 Hasbro Rolls Out Special Edition Toy Story 3 Potato Heads. May 26, 2010 — Hasbro has expanded its Mr. Potato Head line in honor of the upcoming release of "Toy Story 3." The new toys, dubbed Woody's Tater Roundup and Spud Lightyear, can be dressed up as Toy Story's Woody and Buzz Lightyear characters and will retail for $9.99.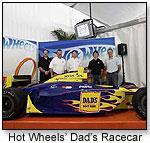 Hot Wheels Reveals Custom Father's Day IndyCar with Dad's Root Beer, Dreyer & Reinbold. May 26, 2010 — This Wednesday Mattel's Hot Wheels label, joined by Dreyer & Reinbold Racing, Dad's Root Beer and driver Mike Conway, unveiled a custom-designed full-size racecar at the Indianapolis Motor Speedway. The Father's Day-themed vehicle will next be showcased at the Iowa Speedway, where it will compete in the IZOD IndyCar Series race on June 20. The car is decorated with a custom Dad's Root Beer-themed paint scheme and signature Hot Wheels flames. A 1:64 scale toy version will be available for purchase at both speedways.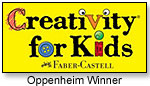 Creativity For Kids Receives Nine Gold Seal Awards. May 26, 2010 — Creativity for Kids has announced that nine of its products have been awarded Gold Seals from Oppenheim Toy Portfolio. Gold Seal recognition went to four craft kits in their preschool line and three paper & memory craft kits, as well as two additional kits selected by Oppenheim Toy Portfolio as fun activities. The award-winning craft products from Creativity for Kids include Crayon Rubbings, My First Scissors Kit and Pop-Up Scrapbook.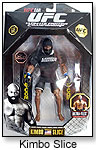 JAKKS Pacific Debuts Action Figures at UFC Fan Expo. May 26, 2010 — JAKKS Pacific, Inc. will debut Wave 4 and Wave 5 of its line of Ultimate Fighting Championship (UFC) action figures and reveal a Limited Edition Kimbo Slice action figure available this weekend only, at UFC Fan Expo in Las Vegas, Nevada. According to a press release, the 2010 line of toys includes well-known UFC fighters Chuck Liddell, Rampage Jackson and Lyotto Machido, and will be showcased at the JAKKS UFC Fan Expo booth (#1161) featuring autograph-signing from top UFC fighters Randy Couture and Clay Guida. JAKKS will also release an exclusive Limited Edition action figure of UFC mixed martial artist Kimbo Slice for purchase by expo attendees while supplies last. The UFC Fan Expo begins Friday, May 28, at Las Vegas' Mandalay Bay Convention Center.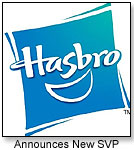 Simon Waters Joins Hasbro as SVP, Global Licensing (License! Global). May 26, 2010 — Hasbro has named Simon Waters as senior vice president of global licensing. Waters joins Hasbro from The Walt Disney Company, where he served most recently as vice president, global franchise development and strategic marketing.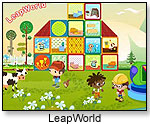 LeapFrog Introduces Virtual Learning World. May 25, 2010 — This Tuesday LeapFrog Enterprises Inc. launched its online learning application LeapWorld. Available on the Leapster2 handheld device, LeapWorld offers exclusive online math, reading, science and social studies activities that automatically update to match children's skill levels. LeapWorld also allows players to earn tokens that can be used to create and customize characters and virtual environments. After a limited October 2009 release, the program is now available to all Leapster2 users via the LeapFrog Connect Application.


Turbospoke Bicycle Exhaust System Revs Up for Summer. May 25, 2010 — After a new launch at Toy Fair 2010, Turbospoke has re-emerged just in time for summer fun. Turbospoke upgrades any child's bike with tuneable plastic sound cards and a megaphone exhaust to create the rev of an engine while pedaling. Turbospoke is carried by more than 350 retailers throughout North America and is exclusively distributed by Schylling Associates.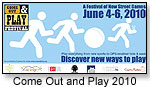 Come Out and Play Festival Moves to Brooklyn. May 25, 2010 — The street game festival Come Out & Play will be sponsored by the Brooklyn Lyceum and take place in the Park Slope and Gowanus Canal neighborhoods of Brooklyn, New York, June 4-6. The festival has moved to Brooklyn for 2010, as part of the festival tradition of exploring creative play and gaming within a particular space. This year's festival will feature a life-size labyrinth, a live-action version of Atari's Kaboom!, a version of tag called Humans v. Zombies, scavenger hunts and many more creative and outdoor activities.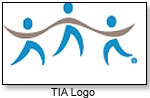 Toy Industry Association Announces Opposition to Proposed New York Legislation. May 25, 2010 — The Toy Industry Association, which in April successfully fought a Connecticut bill allowing the state to ban chemicals in toys, is now working to stop a similar proposition in New York. According to a press release, TIA has now urged toy companies to support regulation of chemicals at a federal level, arguing that individual state laws would make testing and compliance more difficult and costly for manufacturers.

Think-ets Inspires Competition at Virginia Elementary School. May 25, 2010 — Bedford Hills Elementary School's media specialist, Barbara Mehler, developed the 'Think-ets Competition' to encourage imaginative play and stimulate a higher level of critical thinking among students. Mehler introduced K-5 students to Think-a-Lot Toys' memory game "What's Missing?" and began the contest for students between second and fifth grade, working in pairs in tournament-style where the best-of-three winner advances to the next level, and the overall winner receives their own version of the game. Mehler intends to carry on the competition with more of Think-ets brain-building games, such as the logic and strategy game "Who's Last?".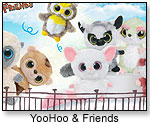 Aurora Joins with Toonzone Studios for "YooHoo & Friends" Animated Series. May 24, 2010 — Aurora World Inc. has partnered with Toonzone Studios to produce an animated series for its popular plush line YooHoo & Friends. According to a press release, the series, which aims to deliver an environmentally friendly message to children, will feature the voice of rapper Flavor Flav.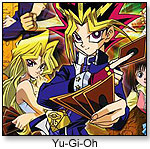 Konami Rolls Out "Yu-Gi-Oh! Gold Series 3" Trading Card Game. May 24, 2010 — Konami has announced the release of the latest game in its "Yu-Gi-Oh!" series. Comprised of 18 "Gold Rares" and 32 additional cards, the upcoming editon of "Yu-Gi-Oh! Gold Series 3" will be available in 25-card sets starting June 23.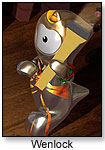 2012 Olympic Games Announces Licensee Line-Up, Characters (License! Global). May 24, 2010 — The London Organising Committee of the Olympic Games and Paralympic Games has so far appointed 34 licensees who will ultimately produce approximately 10,000 pieces of merchandise.


JAKKS Pacific to Hold Formal Investor Presentations at Upcoming Conferences. May 24, 2010 — Joel Bennett, Executive Vice President and Chief Financial Officer of JAKKS Pacific will present at the Piper Jaffray 30th Annual "Unplugged" Consumer Conference on Tuesday, June 8, in New York City, at 2:30 p.m. EDT. The company announced Mr. Bennett will also present the following day at the Morgan Joseph 2010 Best Ideas Conference in New York City, where a formal investor presentation is scheduled for 3:30 p.m. EDT. Both presentations will be available via live webcast and online archive at http://investors.jakks.com.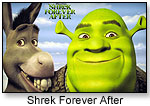 DreamWorks Acquires Merchandising Partners for 'Shrek Forever After'. May 24, 2010 — DreamWorks Animation has announced a number of licensing agreements for the production and distribution of consumer products inspired by their latest release, 'Shrek Forever After.' DreamWorks has signed Playmates as master toy partner, to offer a variety of Shrek toys ranging from figures, plush, dolls and role play. The blockbuster franchise will also have a line of classic film-themed games and puzzles from Hasbro, such as Shrek Operation. According to License! Global, Penguin has been tapped to produce a range of storybooks, Activision will publish video games, and Rubie's Costumes will launch 'Forever After' Halloween costumes.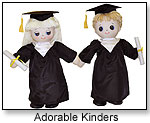 Granza Releases Adorable Kinders Keepsake Graduation Dolls. May 24, 2010 — Granza Inc.'s Adorable Kinders line has introduced the 2010 Keepsake Graduation dolls in honor of this year's class of graduates. The keepsakes are available in any choice of doll character, black satin graduation cap and gown, imitation diploma, panty or boxer shorts, socks and black shoes. The Graduation ensemble is also available separately and fits all Adorable Kinders dolls, as well as most other 18" dolls.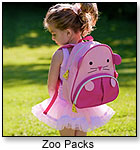 Skip Hop Debuts Frog and Zebra Zoo Packs and Lunchies. May 21, 2010 — Skip Hop Inc. announced Friday in a press release that it has added two animal shapes, Frog and Zebra, to its Zoo Packs and Zoo Lunchies lines. The kid-friendly backpacks and lunchboxes retail for $20 and $13 respectively and are also available in Owl, Bee, Dog, Monkey, Mouse and Penguin styles.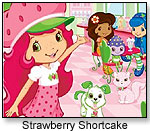 CPLG Introduces New Products for Caillou, Strawberry Shortcake (License! Global). May 21, 2010 — Copyright Promotions Licensing Group has announced new product launches for several of its properties, including Richard Scarry's Busytown, Caillou and Strawberry Shortcake.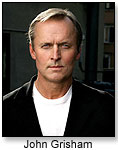 Dutton Gears Up for Grisham's Children's Debut (Publisher's Weekly). May 21, 2010 — "Theodore Boone: Kid Lawyer," John Grisham's first youth novel, will be released by publisher Dutton's Penguin label on May 25 with a 1 million-copy first printing.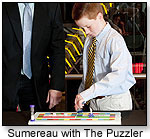 Brian Sumereau, 11, Wins By Kids for Kids Invention Dimension Competition. May 21, 2010 — By Kids for Kids announced Friday that 11-year-old Brian Sumereau of River Vale, New Jersey has won its national Invention Dimension competition, a collaboration with JAKKS Pacific and Toys'R'Us. According to a press release, Sumereau won $2000 in prizes for "The Puzzler," which combines logic puzzles with board games. He will also be flown to JAKKS Pacific's California headquarters for an opportunity to pitch his game to JAKKS' product team.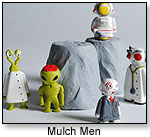 U2 Guitarist's Daughter Debuts Mulch Men (Irish Examiner). May 21, 2010 — Arran Evans, daughter of U2 guitarist The Edge, is set to launch her toy range Mulch Men.



Learning Resources Chairman to Discuss CPSIA on '60 Minutes'. May 21, 2010 — Rick Woldenberg, Chairman of Learning Resources Inc., will be featured as part of a 60 Minutes segment on the Consumer Product Safety Improvement Act of 2008 (CPSIA) phthalates ban. The segment, "Are They Safe?", will air Sunday, May 23 on CBS, and can be viewed after the broadcast on the 60 Minutes website.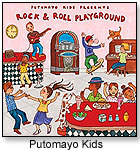 Putumayo Kids to Release Classic Rock Style Album. May 21, 2010 — Award-winning children's music label Putumayo Kids will release an album that gives a nod to the roots of rock and roll. Packaged with an informative, illustrated read-aloud booklet, Rock & Roll Playground tracks were inspired by the history of the genre and were recorded by established and up-and-coming artists. Rock & Roll Playground is set to release on June 29 and will retail for $14.98.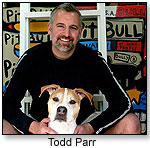 Author Todd Parr Creates Segment for "Sesame Street" (License! Global). May 20, 2010 — Children's author Todd Parr will collaborate with the creative team behind "Sesame Street" to produce an animated segment designed to help children deal with their fears.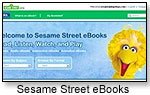 Sesame Street eBookstore Launches. May 20, 2010 — Sesame Workshop and internet delivery service provider Impelsys have launched a subscription-based Sesame Street eBookstore. Featuring enhanced interactive titles such as ABC Book, Abby in Wonderland, and Grover's Guide to Good Eating, the eBookstore offers subscribers unlimited access to more than 100 eBooks for an annual fee of $39.99 ($24.99 introductory price through July 4). Titles are available in 19 subject areas to date and a rotating selection of five e-books are available free of charge at ebooks.sesamestreet.org/free.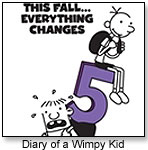 Fifth Wimpy Kid Book Release Announced. May 20, 2010 — Jeff Kinney's bestselling Diary of a Wimpy Kid series will roll out its fifth installment this fall. Amulet Books has announced the fifth Wimpy Kid book will be released Tuesday, November 9. According to Publishers Weekly, promotional events surrounding the book release and its title will be revealed during the summer.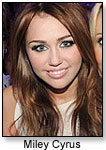 Wal-Mart Recalls Miley Cyrus Jewelry Over High Cadmium Levels. May 20, 2010 — Wal-Mart announced Wednesday that it is removing a line of Miley Cyrus-brand jewelry from shelves after tests conducted for the Associated Press discovered the necklaces and bracelets have high levels of cadmium. Exposure to cadmium, in the longterm, may contribute to bone softening, kidney failure and cancer, as well as impeding brain development in children. The products launched in December 2009 and are to be removed from stores immediately.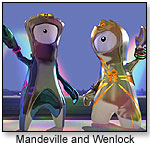 2012 Olympic Organizers Prepare For Mascot Toy Launch (The Guardian). May 20, 2010 — Wenlock and Mandeville, the London 2012 Olympic and Paralympic mascots, have officially been unveiled.

W

arner Bros. Partners with Icon Heroes for Thundercats Collectibles. May 20, 2010 — Warner Brothers Consumer Products has licensed Icon Heroes to produce collectibles inspired by the cult classic animated series, Thundercats. The line of high-quality collectibles will include the original characters, vehicles and environments of the beloved Thundercats cartoon and will be released amid speculation of the Warner Brothers Studios film project. According to a press release, the six-inch static, non-articulated action figures will be branded "Staction Figures", and will consist of finely sculpted figures perched atop a highly detailed environment base, with Lion-O, Jackal Man, and Jaga featured as the line's debut releases. In addition to the statuettes, Icon Heroes will also produce vehicles and diorama sets, including the Thunderclaw and the iconic Cats Lair.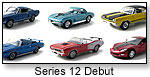 GreenLight Collectibles Limited Edition Replicas Featured at Mecum Auction. May 20, 2010 — GreenLight Collectibles has created die-cast replicas of select high-profile vehicles to be featured at Dana Mecum's 23rd annual Original Spring Classic Auction, May 19-23, at the Indiana State Fairgrounds. GreenLight regularly showcases auction block vehicles in its Auction Block Series, whose twelfth installment will include die-cast models of prominent Mecum auction sales that will be sold by Mecum as part of a new licensing/distribution agreement. GreenLight Collectibles Auction Block Series 12 will debut at the Mecum Auto Auction and are available for sale at www.mecumgear.com and select retail outlets beginning in May.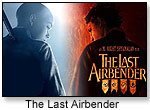 "The Last Airbender" Adds Candy Partner. May 20, 2010 — According to a press release, Paramount Pictures and Nickelodeon Movies have partnered with Bazooka Candy Brands to support the upcoming release of M. Night Shyamalan's "The Last Airbender." The merchandising deal includes film-themed packaging on Baby Bottle Pop, Jumbo Push Pop and Juicy Drop Pop candies. The items will launch this month. "The Last Airbender" hits theaters on July 2.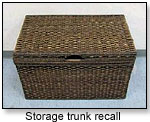 Target Recalls Storage Trunks After 18-month-old Suffers Brain Damage. May 20, 2010 — The U.S. Consumer Product Safety Commission and Target Corporation have recalled 350,000 woven storage trunks that pose a risk of strangulation hazard to small children. Two injury reports cited the storage trunks' lids suddenly closed on children, one of which reportedly suffered brain damage after the lid came down on the back of her neck pinning her throat. The brown or natural colored storage trunks are made of woven rattan, abaca or banana leaf with standard hinges, and were sold exclusively at Target stores and Target.com since February 2009. Consumers who have purchased one of the 14 models of storage trunks recalled are urged to return them to Target for a replacement or full refund.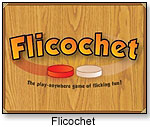 Adventureland Games Releases Flicochet. May 20, 2010 — Game designer Phil Harding's Adventureland Games has released Flicochet, a dexterity game for two to six players. A simple and strategic flicking game that can be played on any flat surface, Flicochet is similar to bocce or pétanque, bowling games played outdoors in which players try to throw balls close to a target ball on the ground. Harding has published a limited first-run release of Flicochet of only 100 units, available now.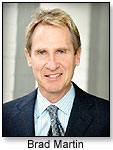 Moving Picture Books Debuts Former Saks CEO Brad Martin's "Myles' Pesky Friends." May 19, 2010 — According to a press release, Moving Picture Books has released "Myles' Pesky Friends," a book and DVD by Brad Martin, the former CEO of department store Saks Incorporated. The story, set in Granada, follows the relationship between a four-year old boy, Myles, and the creatures that inhabit his vacation home. "Myles' Pesky Friends" is offered in book, animated DVD and digital download formats.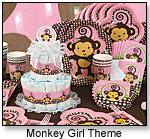 BabyShowerStuff.com Debuts Monkey Boy and Monkey Girl Baby Shower Themes. May 19, 2010 — According to a press release, BabyShowerStuff.com, an online retailer of baby shower décor and party favors, has introduced two new shower themes featuring a baby monkey with a curly tail. "Monkey Boy" wears blue, while "Monkey Girl" wears pink. Each features a full array of tableware as well as matching baby shower favors, invitations and baby gifts.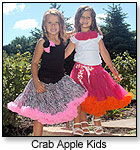 Crab Apple Kids Debuts Designer Children's Wear. May 19, 2010 — Crab Apple Kids has launched an online store for designer children's and baby clothing. The retailer carries more than 75 brands including, but not limited to, Biscotti, BT Kids, Cach Cach, Corky & Company, English Roses, Hartstrings, Haute Baby, Indygo, Kapital K, Kate Mack, Katie Rose, Kidorable, Knuckleheads, LeTop, Little Maven, Me Me Me, Nano, and Oopsy Daisy Baby. Crab Apple Kids also offers gift items, accessories and housewares among their extensive, yet affordable selection of child, toddler and baby products.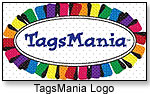 TagsMania Launches Toy Line for Infants and Toddlers. May 19, 2010 — TagsMania has officially launched its line of distinctive products for infants, babies and toddlers. TagsMania has rolled out five different products: the TagBall and TagRattle, as well as the Tagacuda, Tagasaurus and Tagsdale plush toys currently available for pre-order. The TagBall consists of 150 fabric loops and has a soft strap for baby's wrist, stroller handle, baby seat or shopping cart, and the TagRattle is a gentle rattle with a soft handle. TagsMania toys feature tags fully-integrated into the design of the products and are coming soon to specialty retailers.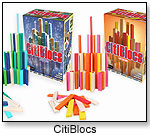 CitiBlocs Receives Award from National Parenting Center. May 19, 2010 — CitiBlocs has earned the National Parenting Center Seal of Approval for its multi-award winning eco-friendly wooden building blocks. The pieces are uniformly cut blocks of the same size and plank shape, made using only the highest quality pine from certified sustainable forests. The Cool Colors and Hot Colors CitiBlocs Sets are new for 2010 and have been awarded the seal of approval for Spring 2010.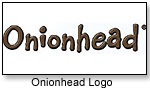 Onionhead & Company Announces Release in Time for BookExpo America. May 19, 2010 — Onionhead & Company returns to BookExpo America on May 26 with a new title, "The Adventures of Onionhead in Space." The company continues to teach social/emotional development in a non-threatening, self-empowering and humorous way with this 108-page full color illustrated storybook, as Onionhead travels through the solar system discovering universal truths and exploring emotions. The full line of Onionhead tools for learning about emotions and "peeling feelings" will be featured at the BookExpo exhibit.



T-talk Debuts Bluetooth Doll. May 19, 2010 — T-talk International has introduced its Bluetooth Doll, an animated plush toy that incorporates Bluetooth innovation. The plush operates as a normal hands-free Bluetooth device, but also dances throughout phone conversations. The item is compatible with car and USB chargers, and comes in dog, tiger, lion, bear, rabbit, donkey, and sheep versions.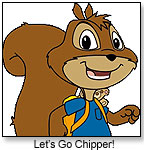 IAGmedia Launches "Let's Go Chipper!" iPhone Application. May 19, 2010 — According to a press release, IAG Media has introduced a "Let's Go Chipper!" iPhone application, based on the award-winning eco-educational book and DVD series. Available for download on iTunes, iTouch or iPhone, the program includes animated and live action videos, e-books, games and music for young children.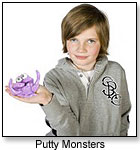 Firebox Develops Contest Winner's Putty Monsters. May 19, 2010 — Online retailer Firebox has announced the launch of Putty Monsters, the brainchild of 12-year-old Firebox Inventor contest winner Tom Spring. Putty Monsters are currently in production and will be a collectible toy combining Thinking Putty with an online community where people can share their creations.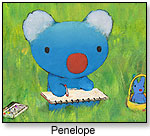 4Kids Picks Up Penelope Preschool Property. May 19, 2010 — 4Kids Entertainment International will oversee the worldwide licensing program for the preschool property Penelope outside of France and Asia. Penelope the blue koala is the title character of best-selling books by Anne Gutman and Georg Hallensleben, whose 48 titles published by French licensor Gallimard Jeunesse have been translated into 14 languages and have given rise to a television series and more than 700 licensed products, which include toys, plush, apparel, stationery and back-to-school items in addition to Penelope pop-up books, soft cover and gift books.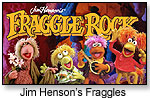 Ignition Licensing Reboots Henson's Fraggle Rock. May 19, 2010 — The Jim Henson Company's Fraggle Rock series has been revamped by master licensee Ignition Licensing, with vintage iconography and retro designs for the character lineup and the Fraggle Rock brand. The U.S. merchandising program includes a Fraggle Rock Forever fashion and jewelry collection that launched in December 2009, while in the U.K., the brand has licensed Manhattan Toy Company for plush and puppets, Rasta Imposta for dress up, Fashion U.K. for apparel and Hype for greetings cards. According to License! Global, Ignition is currently in discussion with partners for Fraggle Rock licensed products in gifting and collectibles, stationery, apparel and accessories, publishing and housewares.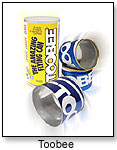 Toobee International Donates All Profits to Charity. May 18, 2010 —Greg Stromberg, CEO of Toobee the Amazing Flying Can manufacturer Toobee International, announced in a press release Tuesday that the company will now be giving 100 percent of profits to international children's charities. Recent recipients include CannedWater4Kids, an organization dedicated to bringing clean water to children worldwide.


Prestige to Introduce Garanimals Infant Soft Toys (Kids Today). May 18, 2010 — Toy manufacturer Prestige Toy Corp. has signed on to produce a line of infant soft toys for apparel brand Garanimals. The 30-item collection will feature characters, prints and color palettes inspired by Garanimals' infant apparel, and will feature toys for both boys and girls.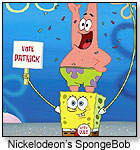 Nickelodeon Nabs International Licensees for Outdoor Toys May 18, 2010 — According to a press release, Nickelodeon Consumer Products has secured several outdoor toy licensees for summer. The latest international partners include Simba Toys for SpongeBob SquarePants body boards and water squirters (Germany, Austria and Switzerland), NV Corporacion for SpongeBob SquarePants traveling and picnicware (Spain and Portugal), K-Ractermania for SpongeBob SquarePants beach bags and camera cases, and Industrial Juguetera for "Dora the Explorer" bikes, battery-powered cars and play tents (Spain and Portugal).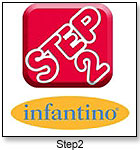 Step2 to Conduct New Product Review at INPEX 2010. May 18, 2010 — The Step2 Company will conduct a new product review Friday, June 18, at InventHelp's Invention and New Product Exposition (INPEX) 25th anniversary show in Pittsburgh. Inventors are encouraged to submit new and innovative infant, toddler and preschool products to representatives from Step2 and its subsidiary Infantino for consideration in their new product lines. The event will be held June 16-18 at the Monroeville convention Center and details on America's largest invention trade show can be found at www.inpex.com.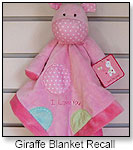 Rashti & Rashti Giraffe Blanket Recalled for Choking Hazard. May 18, 2010 — The U.S. Consumer Product Safety Commission has announced a recall of roughly 44,000 Giraffe Security Blankets distributed by New York firm Rashti & Rashti exclusively to Target stores throughout 2009. The security blanket is pink and embroidered with "I Love You," and features a giraffe plush head whose horns are adorned with balls that can detach and present a choking hazard. Rashti & Rashti is offering a full refund for the product.



Bead the Message Makes a Difference Through Charitable Giving. May 18, 2010 — Bead the Message participated in two charitable events in April, most recently sponsoring the first annual Girl Power Expo in Washington, DC on April 24, an event empowering tween girls with information on hygiene, nutrition, wellness, fitness, fun, and entertainment. On April 6, Bead the Message provided Secret Message bracelets and necklaces for children suffering from life-threatening illnesses and their families at Give Kids the World in Kissimmee, Florida. Give Kids the World provides free week-long fantasy vacations for these children and their families at their whimsical 70-acre, non-profit resort village, and has welcomed more than 90,000 families from 65 countries.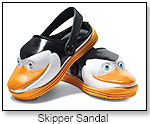 Weboo Releases Dreamworks' Penguins of Madagascar Sandal. May 18, 2010 — Weboo Footwear has designed the official Dreamworks' Penguins of Madagascar Skipper sandal for the most watched kid's television program. The sandal bears the likeness of lead penguin Skipper and is available now at www.webooshoes.com or by visiting Nickelodeon's Penguins of Madagascar website.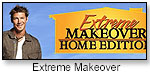 Nominate Your Toy Store for "Extreme Makeover." May 18, 2010 — A family-owned toy shop could be the next deserving recipient of a dream-come-true overhaul from Ty Pennington and his crew on ABC's "Extreme Makeover: Home Edition." Nominations should be submitted to KristinaCasting (a) yahoo.com by May 21, and must include the following: names and ages of each household member; name, location and overview of the toy store; a description of challenges within the home and/or business; why the family is deserving or serves as a positive community role model; photos of the family, home and business, highlighting problematic areas; and a contact phone number.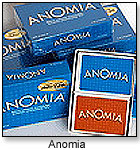 Anomia Honored with 2010 Mensa Select Award. May 17, 2010 — Anomia Press' flagship game, Anomia, received a Mensa Select Seal at the 2010 Mensa Mind Games convention in April. The Mensa Mind Games competition gives game manufacturers a chance to compete in one of the most respected and recognizable national games competitions and have their games reviewed by the high-IQ society's most avid game-players. Anomia is one of only five games selected to receive the top honor in 2010.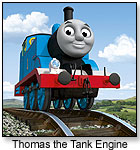 HIT Entertainment Celebrates Thomas & Friends' 65th Anniversary. May 17, 2010 — HIT Entertainment's top-rated preschool brand, Thomas & Friends, will celebrate 65 years with coast to coast celebrations with partners Celebration Foods, Minor League Baseball and Six Flags Amusement Parks, and many "Day Out With Thomas" events. Thomas & Friends title nights with 22 Minor League Baseball (MiLB) teams will occur between May 15 and June 30 and include activities, prize giveaways and a special sneak peek of upcoming Thomas & Friends movies. Celebration Foods is exclusive Thomas partner for these MiLB title nights and will offer free Carvel ice cream cake samples and coupons to fans attending games, as well as running free consumer offers at select regional grocery stores. Six Flags Entertainment will host Thomas birthday parties at park locations with Thomas Towns, featuring entertainment, activities for kids, visits from Sir Topham Hatt, Controller of the Railway on the Island of Sodor and special giveaways of Thomas goodies. Global partner Mega Bloks is donating a giant replica of Thomas made out of Mega Bloks to every Thomas Town for a prize challenge for park guests to guess how many blocks make up Thomas, and select parks will screen the all-new DVD, Thomas & Friends: The Greatest Stories, as part of the 65th Anniversary celebration. The 15th annual Day Out With Thomas grassroots tour is themed 'The Celebration Tour' for 2010 and will mark the 65th anniversary with special celebratory events in more than 45 cities with heritage railroads in the United States and Canada.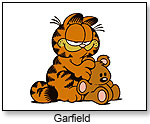 Garfield Brand Expands Worldwide (License! Global). May 17, 2010 — Paws Inc. recently signed on a number of new global licensees for Garfield. These include Core Velocity for puzzles and activity bags (North America), Factory Entertainment for trading cards and bobbleheads (North America, Europe, Asia, and Australia), Kamalu for novelty books and paper products (Canada, U.S.), Mahar Manufacturing for plush (worldwide), Sound & Light Animatronics for animated plush toys (worldwide), and The Hundreds for skateboards and vinyl toys.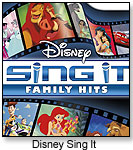 Disney Rolls Out Interactive Karaoke Game. May 17, 2010 — According to a press release, Disney Interactive Studios has announced the June 2010 release of a new interactive karaoke video game. "Disney Sing It: Family Hits" features songs and videos from 20 classic Disney films, alongside vocal tips from the Princess and the Frog's Anika Noni Rose. "Disney Sing It: Family Hits" will be available for both the PlayStation 3 system and the Wii console.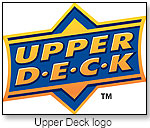 Upper Deck Signs Multi-Year Deal. May 17, 2010 — The Upper Deck Company has recently lost significant trading card contracts with the National Football League, Major League Baseball and World of Warcraft, however, the company is showing signs of recovery with a multi-year agreement with Major League Lacrosse.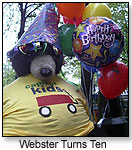 Capitol Kids Announces 10th Anniversary Event. May 17, 2010 — Madison, Wisconsin's Capitol Kids will celebrate 10 years in business on the Capitol Square with a special 10th Birthday Party for Webster the Bear on Saturday, May 22. Special events include horse-drawn hay wagon rides, a prize raffle, and music by local children's entertainer, Dave Landau. All items at Capitol Kids will be 10-percent off in recognition of this milestone, and 10 percent of the day's sales will be donated to the Madison Foundation for Public Schools.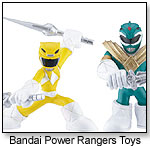 Bandai Continues as Master Toy Licensee for Power Rangers. May 17, 2010 — Bandai America Inc., the manufacturer of Power Rangers toys since 1993, announced in a press release that it will continue as the brand's master toy licensee under a new deal with Saban Brands. Saban, the original Power Rangers franchise developer, recently re-acquired the rights to the brand from The Walt Disney Company.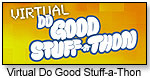 Toy Industry Foundation and My Stuff Bags Foundation Launch Virtual Do Good Stuff-a-Thon. May 17, 2010 —
Fresh from the success of their Do Good Stuff-a-Thon earlier this month, the Toy Industry Foundation and My Stuff Bags Foundation have continued the event online with the
Virtual Do Good Stuff-a-Thon.
Participants can fill duffel bags with toys, clothing and other items to donate to children in foster care. Donations start at $10 and are tax deductible.


Schleicher Joins The Goldberger Company Executive Team. May 17, 2010 —
The Goldberger Company has announced the appointment of industry veteran Bob Schleicher to Vice President of Sales and Marketing. Schleicher brings toy sales and marketing experience to the Goldberger management team by way of Mattel Inc., Tyco Toys and Tonka Toys.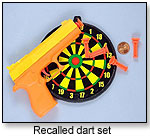 Dart Guns Recalled Due to Asphyxiation Deaths. May 17, 2010 —
The U.S. Consumer Product Safety Commission and Family Dollar Stores Inc. have announced the recall of 1.8 million toy dart gun sets distributed by New Jersey firm Henry Gordy International Inc. The "Auto Fire" toy target set presents an aspiration hazard when the one inch plastic toy dart is placed inside the mouth and inhaled, obstructing the airway. Two asphyxiation deaths have been linked to the dart gun set and consumers are urged to discard the toy immediately or return the set to a Family Dollar store for a full refund.


I Can Do That Games to Publish MythBusters Game. May 17, 2010 —
Discovery Communications has selected I Can Do That! Games to develop
"MythBusters: The Game"
, based on the popular Discovery Channel series. The science-themed trivia game will be published by the ZimZala Games arm of I Can Do That! Games with a fall 2010 North American launch.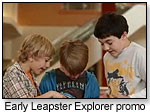 LeapFrog to Release New Touchscreen Device (Engadget). May 15, 2010
—
LeapFrog CEO Jeffrey Katz
has announced a new touchscreen e-book reader and game console, the
Leapster Explorer.
Retailing for $69.99, the Linux-based device will allow kids to connect to networks, download applications, and play games. Parents can monitor children's activity using LeapFrog's Learning Path software. The product is scheduled to hit stores in early July.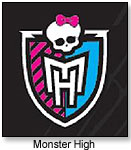 Mattel Launches Multimedia Franchise, Monster High. May 14, 2010 —
Mattel has rolled out its multimedia property,
Monster High
, to include dolls, apparel, books, an interactive website, and a movie. Teen novelist Lisi Harrison will write six Monster High books featuring the teenage children of monsters like Medusa, Dracula and Frankenstein, the first of which is availa
ble now. Specialty retailer Justice will launch an apparel line, while Party City will carry Halloween costumes for the brand. According to Dow Jones Newswires, Universal Studios also has a Monster High movie musical in the works.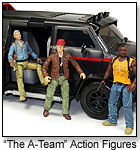 Jazwares, Inc. Rolls Out A-Team Action Figures (MTV). May 14, 2010 —
Florida-based toy company Jazwares Inc. has unveiled its new
A-Team action figures
inspired by the upcoming film. The retro toys come in a small poseable version and a la
rger 1
2"
t
alking model. "The A-Team" movie hits theaters June 11.


NRF Announces Rising Retail Sales, Imports for April and May. May 14, 2010 —
The National Retail Federation announced Friday that April retail sales increased by 4.6 percent from 2009 to 2010, with April sales increasing 0.5 percent over March. March and April sales combined saw growth of 5.6 percent over the same period last year. The firm also reported that import carg
o volume at major U.S. retail container ports is expected to rise 10 perc
ent in May, with double-digit growth anticipated into the fall.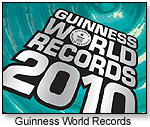 Carson-Dellosa Secures Guinness World Records License (License! Global). May 14, 2010 — Guinness World Records
and distribution partner Carson-Dellosa have announced plans to launch a range of Guinness World Records-themed educational products. The products are set to hit stores in January 2011 and will include creative writing card sets, plus reading and math books.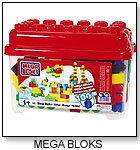 Mega Brands Reports First Quarter Profit. May 14, 2010 —
In a recent press release,
Toy manufacturer Mega Brands Inc. announced a first-quarter profit of $98.21 million on Friday, up from a loss of $25.92 million a year ago. The company benefited from a gain in debt settlement and saw a 13-percent increase in net sales, largely due to the success of its
MEGA BLOKS, Thomas & Friends, Halo Wars
and
Iron Man 2
product ranges.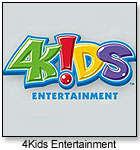 NYSE Delisting 4Kids Entertainment (License! Global). May 14, 2010 —
The New York Stock Exchange has started delisting 4Kids Entertainment (KDE), as the company's market capitalization did not sustain the required $15 million minimum in 30-day trading. If 4Kids does not request a review within 10 business days, or if the stock is suspended from trading, the company will likely be
gin trading on the over-the-counter market.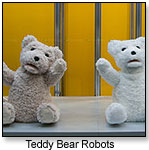 Fujitsu Presents

Teddy Bear Robot. May 13, 2010
—
A robotic teddy bear is currently undergoing real-world testing for an eventual global retail launch. Developed by technology firm Fujitsu Laboratories, the bear smiles when smiled at, laughs when tickled, and tracks movements with its nose-mounted camera.

Thirteen

sensors located all over

the bear's

body

help determine

300 behaviors as it interacts with its surroundings. The bear was on display at Fujitsu's annual forum event this week.
Photo from Akihabara News


UK Sees 11% Growth in 1Q Toy Sales. May 13, 2010 —
The NPD Group announced an 11-percent increase in first-quarter UK traditional toy revenues. Building Sets and Plush categories saw respective increases of 65 percent and 77 percent, while the less-traditional Action Figures, Vehicles and Youth Electronics categories saw respective declines of 10 percent, 5 percent and 31 percent. The quarter's top-selling toys included
Ben 10, Lego City, Star Wars, Thomas and Friends
and
Transformers.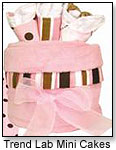 Trend Lab Baby Introduces Mini Cakes. May 12, 2010 — Trend Lab LLC
has announced the June addition of
Mini Cakes
to their baby shower gift line. The Mini Cake set includes a velour receiving blanket wrapped around three bibs, all in coordinating modern patterns, packaged with a ribbon, platter and gift bag. A bath set featuring a patterned hooded towel and matching washcloths is also available.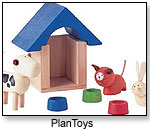 Zemis Adds Eco-Friendly Plan Toys. May 13, 2010 —
Luxury retailer Zemis has added green playthings from
Plan Toys
to its online store. Best known for its sustainable designer accessories, Zemis recently expanded its offerings to include toys, electronics, books and film.


Imagine Nation Books Recalls RC Helicopters for Overheating. May 12, 2010 —
The U.S. Consumer Product Safety Commission, in cooperation with distributor Imagine Nation Books Ltd./Books Are Fun, has announced a voluntary recall of about 46,000 "Fly Dragonfly" (also called "Queen Bee") Remote-Controlled Helicopters because the rechargeable battery can overheat, causing fire and burn hazards. The firm received 49 reports of overheating, six of which involved flames and one that caused property damage, and no injuries have been reported. The product was sold at book and gift fairs at schools, hospitals and offices from August 2009 through January 2010. Consumers should stop using the helicopter and contact Imagine Nation Books for a full refund.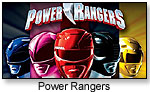 Saban Recovers Power Rangers from Disney. May 12, 2010 —
Saban Capital Group has reacquired
Power Rangers
from The Walt Disney Company as the first property for the fledgling Saban Brands. The series was eventually deemed too violent by Disney standards and has been bought back by Saban, who debuted the Mighty Morphin Power Rangers in 1993 and led the property to become the top franchise for its target demographic of young boys from 1993 to 1997 while generating more than $5 billion in licensed product and promotion revenue. According to The Hollywood Reporter, Power Rangers has aired in more than 60 countries worldwide and its 18th season will air on Nickelodeon in 2011.


CCFC Announces Worst Toy of the Year Award Winner. May 12, 2010 —
The Boston-based Campaign for a Commercial Free Childhood, an organization focused on the impact of media brands and toys on children's well-being, has announced the winner of its annual TOADY Award (Toys Oppressive And Destructive to Young Children) in a press release after the collection of nearly 5,000 votes online. Nickelodeon gaming site,
AddictingGames.com
, has been given the 2010 Toady for Worst Toy of the Year for its easily accessible games with violent and sexually explicit content. The gaming site has been criticized for its click-through access via sites targeted at younger audiences such as Neopets.com, Nick.com and NickJr.com. However, The New York Times Media Decoder noted that AddictingGames.com has had a long history without changing its model and that the number of offensive games available on the site is a small portion of the free games it hosts.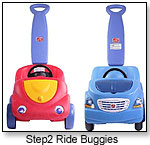 Step2 Recalls 2.5 Million Ride-on Toys. May 12, 2010 —
The U.S. Consumer Product Safety Commission, in cooperation with importer Step2 Company, has announced a voluntary recall of about 2.5 million
Push Around
and
Whisper Ride Buggies
because the handle can detach from the buggy. There have been 28 reports of detachment, 26 of which caused minor scrapes and scratches and two of which required professional medical treatment. The buggies were sold at mass and specialty stores from August 1999 through March 2010 for $29 to $59. Consumers should stop using the buggies and contact Step2 at 866-860-1887 for a free repair kit.


Education.com Releases 2010 Summer Reading Guide. May 12, 2010 —
The
2010 Summer Reading Guide
was published by Education.com on Wednesday, during Children's Book Week. Developed in collaboration with parents, teachers and school-aged children, Education.com editors select between five and seven books for each grade level to appear in the guide, from preschool through high school. As noted in a press release, the Education.com Summer Reading Guide primarily lists recently published books that are age and literacy proficiency appropriate, have exciting topics and interesting adventures, but also include picks slated for a theatrical release.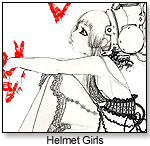 D'Errico Launches HelmetGirls Apparel Line. May 12, 2010 —
Urban pop-artist and designer toy maker Camilla d'Errico of d'Errico Studios has launched a T-shirt line featuring the designs of her popular property
, HelmetGirls. According to License! Global, the tees will be manufactured by All Pacific Apparel and are currently rolling out to Hot Topic stores nationwide.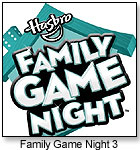 EA to Release Hasbro Family Game Night 3. May 12, 2010 — E
lectronic Arts' EA Play label is developing
Hasbro Family Game Night 3
for the Wii, Xbox 360 and Playstation 3, slated for release this fall. The game features the popular Hasbro board game titles
Clue, Yahtzee, Mouse Trap, Twister,
and
The Game of Life
; and has added multiplayer capability, online play, as well as Mii and avatar integration to its third installment
of the series.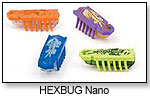 Innovation First Sues Urban Trend for Intellectual Property Infringement. May 11, 2010 —
Innovation First Inc.
filed an intellectual property infringement lawsuit against Urban Trend, LLC Tuesday in the United States District Court for the Northern District of Texas. Urban Trend has allegedly violated the Lanham Act and committed copyright infringement, ethical misconduct, and trade dress infringement by mirroring the design, color scheme and naming conventions, as well as the form and content of sales materials for use in advertising the
HEXBUG Nano Micro Robotic Creatures
designed and sold by Innovation First. The company holds many impending design and utility patents for the HEXBUG Nano and will continue to actively pursue manufacturers, distributors, sales representatives and retail outlets who profit by offering knock-offs.
READ MORE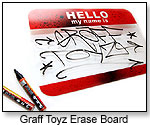 Graff Toyz Makes its Debut. May 11, 2010 —
Longtime Boston graffiti artist Jay Bellicchi, formerly known as Remote, has created
Graff Toyz,
a line of graffiti-inspired erase board toys. The laser-cut, velcro-mounted boards are available in cloud, subway car, and nametag shapes, and each board comes with two water-based paint markers.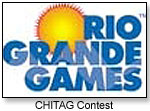 Rio Grande Games to Sponsor Design Contest at CHITAG. May 11, 2010 —
Jay Tummelson of Rio Grande Games (RGG) will oversee a game design competition at the Chicago Toy and Game Fair this year, for which the winning designs will be published by RGG. Four finalists were selected for publication last year and contest rules and details on how to enter have been posted on BoardGameGeek by CHITAG contest organizers.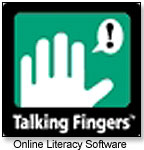 Talking Fingers Launches Online Editions of Literacy Software. May 11, 2010 —
Talking Fingers, Inc. has announced the release of new Online Editions of award-winning educational software programs,
Read Write & Type
and
Wordy Qwerty
. Funded by the National Institute of Child Health and Development, these online learning programs are based on current research about how the young brain learns and are available for only $35 for a year.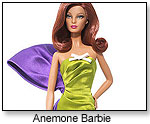 Mattel and Christian Louboutin Introduce Anemone Barbie (StyleIt). May 11, 2010 —
This week Mattel launched
Anemone Barbie,
a collaboration with designer Christian Louboutin.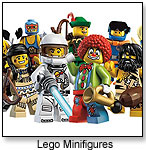 LEGO Releases Individual Collectible Minifigures. May 11, 2010 —
Lego has rolled out its very first series of 16 individual
collectible minifigures
, with designs including a Cheerleader, a Caveman, a Circus Clown, a Zombie, a Demolition Dummy, a Magician, Deep Sea Diver, a Nurse, a Ninja, a Spaceman and more. The individually packaged minifigures will be sold for $1.99 and packaged in a small pouch that does not reveal which of the 16 collectibles is inside. The collection has released in Europe and will be available in North America in June, with a second series of 16 newer designs to follow in the fall.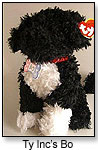 Bo Obama Beanie is a Top Seller for Ty Inc. May 10, 2010 —
Ty Inc. has introduced a
Bo Obama
stuffed toy as part of the company's Beanie Babies line. The shaggy likeness of the black-and-white Portuguese water dog is retailing for $10.99 at select stores, including the Clinton Library gift shop in Little Rock, Ark., where it has sold well since its recent arrival. The company had previously released dolls named Sasha and Malia, which were discontinued early this year.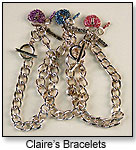 Claire's Recalls 19,000 Charm Bracelets Due to Cadmium Risk. May 10, 2010 —
The U.S. Consumer Product Safety Commission, in cooperation with importer Claire's Boutiques Inc. and manufacturer Dae Yeon Industries Corp., has announced a voluntary recall of about 19,000
"Best Friends" Charm Bracelet S
e
t
s because the heart lock charms contain high levels of cadmium. The bracelets were sold at Claire's stores from February 2009 through January 2010 for about $12 and should be removed from children. They can be returned to Claire's for a refund or replacement product.


4Kids Entertainment Reports Dismal 2010 First Quarter Results. May 10, 2010 —
Children's entertainment and merchandise licensing company
4Kids Entertainment, Inc.
, reported net revenues for Q1 totaling $4.2 million, down from $9.3 million in first quarter 2009. The company recorded a net loss of $3.5 million, or $0.26 per diluted share, compared to a net loss of $2 million, or $0.15 per diluted share, for the same period the previous year. The quarter ended with 4Kids holding $9.3 million in cash and $11.7 million in investment securities, with its market capitalization falling under the $15 million required to remain listed on the New York Stock Exchange. In addition, the company announced that a third party has shown interest in acquiring 4Kids at a premium.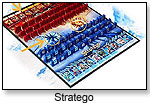 Royal Jumbo Replaces Hasbro with Spin Master as North American Stratego Partner. May 7, 2010 —
The Netherlands-based Royal Jumbo has announced it will not renew its
Stratego
license agreement with Hasbro, instead appointing Spin Master as partner for the production, sales and marketing of the Stratego brand in North America. According to a press release, Spin Master will begin distribution of the battlefield strategy game franchise in 2011.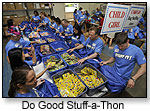 TIF Second Annual Do Good Stuff-a-Thon Draws 125 Volunteers. May 7, 2010 —
The Toy Industry Foundation (TIF) and My Stuff Bags Foundation
"Do Good Stuff-a-Thon
" was held Friday in Westlake Village, Calif., where numerous volunteers from the toy and youth entertainment industry joined public servants and organizers to fill 5,000 bags for distribution to youth advocate and rescue agencies. While Hasbro, iToys and Schoenhut Piano Company donated items for inclusion, representatives from Disney, Educational Insights, Funrise, Jakks Pacific, Mattel, Pacific Play Tents and The Piggy Story assisted with the stuffing of toys, toiletries, handmade blankets and more, to be distributed nationwide to organizations that rescue abused and neglected children.


BABIES Storm Theaters on Mother's Day. May 7, 2010 —
The documentary feature
"Babies" (Focus Features)
directed by award-winning filmmaker Thomas Balmès, from an original idea by producer Alain Chabat, is set to open Mother's Day weekend at theaters nationwide. The film simultaneously follows four babies around the world, from birth to first steps. The children are Ponijao, who lives with her family near Opuwo, Namibia; Bayarjargal, who resides with his family in Mongolia, near Bayanchandmani; Mari, who lives with her family in Tokyo, Japan; and Hattie, who resides with her family in the United States, in San Francisco. Toy stores near theaters playing the "aw!"-inspiring flick might consider a babies-themed event or display to ride the wave of warm and fuzzy feelings.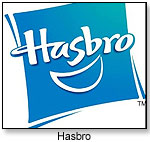 Hasbro, EA to Release 3-D Monopoly Video Game. May 7, 2010 —
Electronic Arts' EA Play label is developing a
3-D Monopoly game
for the Wii, Xbox 360 and PlayStation 3, in honor of the 75th anniversary of the Hasbro classic. Slated for a fall release,
"Monopoly Street"
will feature a cityscape in which players can build their virtual finances, as well as a more traditional 3-D version of the board game.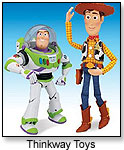 Mania.com Lists Hottest 2010 Summer Movie Toys. May 7, 2010 —
Robert Trate of Mania.com has ranked the toys with blockbuster movie tie-ins for summer 2010. The top-three, must-have summer movie toys are: (3)
NECA's 7"
Jonah Hex
action figure;
(2)
Thinkway Toys' 12"
Buzz Lightyear
loaded with 65 phrases and more; and (1) the
Iron Man Deluxe Helmet
by Hasbro, which features JARVIS' voice, lights, battle sounds, and a visor that goes down at the touch of a button. See also "How 'Transformers' Resonates in Movies and Toys," by analyst and TDmonthly contributor Lutz Muller.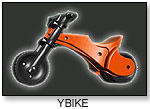 South African YBIKE Debuts at Fat Brain Toys. May 7, 2010 —
The
YBIKE
and
YBIKE Extreme
, designed in South Africa to aid child development, are now available in the United States at Fat Brain Toys. According to a press release, YBIKES have been noted for increasing the growth rate of motor skills and sensory integration in children, and a cited research study indicated that children who play on the balance bikes for 20-30 minutes twice a week perform better at tasks requiring dynamic and static balance and leg coordination.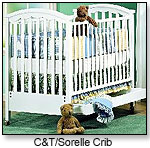 C&T/Sorelle Recalls 170,000 Drop-Side Cribs. May 6, 2010 —
The U.S. Consumer Product Safety Commission, in cooperation with distributor C&T International/Sorelle, has announced a voluntary recall of about 170,000 drop-side cribs, because the side can detach, posing risk of entrapment, strangulation and suffocation to infants and toddlers. C&T/Sorelle and the CPSC have received 104 reports of drop-side and slat detachments, resulting in injuries (bruises and abrasions) to six infants. Manufactured in Italy, Latvia, Brazil, China and Vietnam, the cribs retailed at children's product and other stores from January 2000 through March 2010 for $300 to $600 (also distributed under Golden Baby name prior to 2003). Consumers should stop using the cribs immediately and contact C&T/Sorelle at (877) 791-9398 to receive a replacement kit or voucher.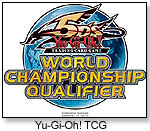 Konami Announces Second Yu-Gi-Oh! TCG Championship Qualifying Event. May 6, 2010 —
The second of two South American qualifying events for the
Yu-Gi-Oh! Trading Card Game World Championship
will be held in Lima, Peru, at the Centro de Convenciones Atlantic City June 26 and 27. Admission is free for qualifying duelists and public events will be held throughout the weekend, including 2011 Regional Qualifier tournaments on Sunday. Konami Digital Entertainment's highly popular Yu-Gi-Oh! TCG tournament will conclude July, at the World Championship event in Long Beach, California.


Kid Brands Releases First Quarter 2010 Results. May 6, 2010 —
Kid Brands, Inc. reported solid financial results for the first quarter of 2010, with net sales increasing 9.2 percent from the same period last year to $61.5 million. The company's Q1 gross profit was $18.7 million, or 30.4 percent of net sales, as compared to $16.6 million, or 29.5 percent of net sales, recorded in 2009. Kid Brands' first quarter net income increased 169.2 percent to $3.5 million, or $0.16 per diluted share, compared to net income of $1.3 million, or $0.06 per diluted share, during the same period in 2009.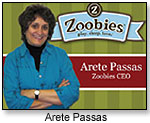 Zoobies Welcomes New CEO Arete Passas. May 6, 2010 — Zoobies LLC
has tapped industry veteran and former Manhattan Toy CEO Arete Passas as the company's new chief executive officer. Passas is also a former Board Director of the Toy Industry Association and has vast toy and retail experience from her time at Manhattan Toy, Proctor & Gamble, Crayola, Scholastic and Mattel. Zoobies has also announced the addition of a new character, Wyatt the Wolf, to its popular convertible plush toy line.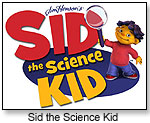 Hasbro, HarperCollins Roll Out "Sid the Science Kid" Lines. May 6, 2010 —
The Jim Henson Company's preschool series
"Sid the Science Kid"
has released a range of new products under Hasbro's Playskool brand and HarperCollins Publishing. Playskool has debuted a 12" talking plush Sid the Science Kid, his Gotta Know Microphone and a mini plush assortment featuring the show's four main characters. HarperCollins has released four "Sid the Science Kid" titles for children ages 3 to 8, also available now.


HTA Testifies to House Subcommittee on CPSEA. May 5, 2010 —
Members of the Handmade Toy Alliance (HTA) testified at the House Energy and Commerce Sub-Committee hearing on the Consumer Product Safety Enhancement Act (CPSEA) April 29. The HTA was formed in 2008 by stores, toymakers and children's product manufacturers nationwide in response to the Consumer Product Safety Improvement Act (CPSIA). Alliance Founder and Vice President Dan Marshall of Peapods Natural Toys in Minnesota endorsed the proposed CPSEA as an important reform of CPSIA that allows for alternative safety testing methods. In his testimony, Marshall urged subcommittee members to approve the amendment swiftly and cited difficulties of CPSIA compliance for small batch manufacturers and specialty retailers. Rick Woldenberg (chairman, Learning Resources) and representatives from Goodwill Industries, the National Association of Manufacturers (NAM), American Apparel and Footwear (AAFA), Motorcycle Industries and Consumers Federation of America (CFA) also contributed to the hearing.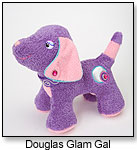 Douglas Toys Launches Glam Gal Dogs. May 5, 2010 —
Douglas Company introduces the
Glam Gal Dogs collection,
the female counterparts to Rad Dogs. There are six styles of Glam Gals designed for young hipsters aged 3 and up: Fleur Noir Dog, Pinkette Ruffle Dog, Foo Foo Jewel Dog (each 7" long); Deep Blue Jr., Little Pink Jr. (9" long); and Pink Flash (12" long). The collection incorporates pink and citrus hues into their design and each Glam Gal is adorned with ruffles, pretty little bows, gemstones or embroidery.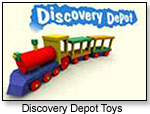 Tennessee Toy Store Donates Portion of Profits to Flood Relief. May 5, 2010 — Discovery Depot
toy store in Cookeville, Tenn., is donating a portion of its sales Wednesday through Friday, May 5-7, to the Red Cross to help victims of recent flooding in the state. The store is also accepting additional donations of funds or supplies for delivery to the local Red Cross serving Putnam and surrounding counties, and has offered customers who contribute to the relief effort eligibility for Discovery Depot's "Free Day in May" promotion.


Klean Kanteen Recalls Water Bottle Spouts for Choking Hazard. May 5, 2010 —
The U.S. Consumer Product Safety Commission, in cooperation with Klean Kanteen Inc., has announced a voluntary recall of about 1.2 million Sport Cap 2.0 water bottle spouts in the United States and 102,000 in Canada because the spouts can break or crack, causing a choking hazard. No injuries have been reported. The bottles were sold at sports, grocery and specialty stores from April 2009 to April 2010 for $15 to $28. Consumers should stop using the product and contact Klean Kanteen at 877-546-9063 for a free replacement.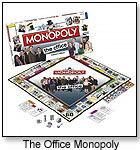 USAopoly Presells Monopoly: The Office Collector's Edition. May 5, 2010 — USAopoly
has created a collector's edition of Monopoly based on the hit NBC show,
"The Office,"
available for presale now. The traditional game board properties have been replaced with popular locations such as Michael's Condo, Pam and Jim's House, and Dunder Mifflin's Scranton, Stamford and New York offices. Fans voted online to choose the game's six collectible tokens, which include the Princess Unicorn and Dwight Bobblehead. The game will be available at specialty retailers this summer and is available
for order at www.nbcstore.com.


Marvel Adds Two Publishing Partners. May 4, 2010 — Marvel Entertainment
has entered publishing partnerships with Little, Brown Books for Young Readers and Bendon Publishing. Little, Brown Books will launch lines based on
Iron Man 2
and
"Super Hero Squad"
that include novels, early readers, story and activity books. Bendon Publishing is extending its current kids' range of Marvel Heroes,
Spider-Man
,
Super Hero Squad, Iron Man 2, and the
Incredible Hulk
products. Workbooks, reward stickers, flash cards, activity, coloring, board and pop-up books are rolling out in stores now.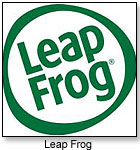 LeapFrog Releases Promising First Quarter Results. May 3, 2010 — LeapFrog Enterprises, Inc.,
announced first quarter 2010 financial results that show an increase in net sales of 42% to $42.4 million. The maker of technology-based developmental and educational toys turned a $12.4 million gross profit for the quarter, up 54% from the same period in 2009 due to higher sales and gross margin expansion, and recorded operating cash flow of $34.5 million. The company's first quarter financial report provides a favorable outlook for the year, with a strong sales performance during their lowest sales period of the year.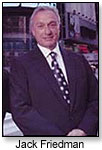 JAKKS Pacific Mourns Loss of Co-founder Jack Friedman. May 3, 2010 — Jack Friedman
, co-founder and chairman of
JAKKS Pacific
, passed away Monday at the age of 70. He had been hospitalized for several weeks. A statement from the company's Board of Directors described Friedman as "a visionary leader who guided the Company with wisdom and keen judgment," according to a press release. "Jack was a legendary toymaker and a real titan in our industry," CEO Stephen Berman said. "He dedicated his talents to JAKKS Pacific for 15 years, and he will be sorely missed." Friedman co-founded the toy company with Berman in January 1995 and served as CEO through March of this year.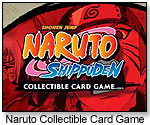 Bandai America to Release Naruto Collectible Card Game Series 18. May 3, 2010 —
Bandai America is set to release the 18th installment for the Naruto Collectible Card Game (CCG).
"Naruto CCG Series 18: Fangs of the Snake
" features 100 new cards chronicling the formation of "Team Snake," including new Ninja cards of Sasuke, Jugo, Karin and Suigetsu to add strength to players' Water Decks. Naruto CCG 10-card booster packs with newer cards of Naruto universe Ninjas, as well as three Naruto Collectible Tins packaged with a special promo card and two booster packs each for Series 17 & 18, will be available this fall.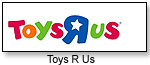 Toys "R" Us Ousts Chief Operating Officer. May 3, 2010 — Toys "R" Us
Vice President and Chief Operating Officer Claire Babrowski has been terminated "without cause," according to an SEC filing. Babrowski, who joined the executive team in 2007 after playing dual roles as interim CEO and COO of RadioShack and spending 30 years at McDonald's Corp., is entitled to unpaid salary, employee benefits, unpaid annual incentive awards, a formula-based severance, and continuation of medical benefits from the company. While no cause has been cited for Babrowski's firing, Toys "R" Us recorded a decline in net sales of $156 million for 2009, and the company's net loss has more than doubled to $304 million since 2007.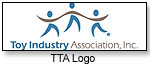 TIA Welcomes Five New Members. May 1, 2010 —
The Toy Industry Association (TIA) gained five members in the month of April: Horizon Group USA, Playhut, Inc., RMS International (USA), Inc., Senario LLC, and Wooky Entertainment, Inc. These companies have joined TIA as full members who will abide by the International Council of Toy Industries (ICTI) CARE Process for ethical manufacturing.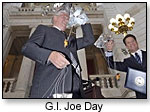 "G.I. JOE Day" Kicks Off 17th Annual G.I. JOE Convention. April 30, 2010 —
Rhode Island Governor Donald L. Carcieri was joined by Hasbro President and CEO Brian Goldner, 250 parachuting action figures, fans and several schoolchildren to pronounce April 30 "
G.I. Joe Da
y" and kick off the G.I. Joe Collectors' Convention taking place at the Rhode Island Convention Center May 1 and 2. Hasbro commenced the convention in 1994 to bring collectors and fans of the world's first action figure together with events and activities highlighting the 45-year-old brand's action figures, comic books, animated series and feature film.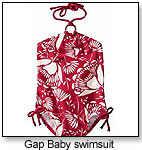 Gap Inc. Recalls 6,500 Baby Swimsuits for Strangulation Risk. April 30, 2010 —
The U.S. Consumer Product Safety Commission has announced the recall of Gap Inc. baby swimsuits manufactured with defective straps that pose a strangulation hazard. Gap has received two complaints where the short halter straps caused the plastic ring at the neck of the swimsuit to press against the throat and obstruct the airway, and has recalled the item for a full refund. Two styles of the suit (blue/white: 706260 and red/white: 700452) have been sold at babyGap, GapKids, Gap, Gap Outlet stores, and gap.com since February — 6,500 units in the United States, 480 in Canada.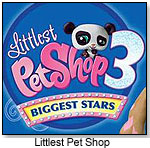 EA Expands Littlest Pet Shop Brand. April 30, 2010 — Electronic Arts EA Play
is set to release a number of games for Hasbro's
Littlest Pet Shop
brand this fall. EA has already launched an interactive website, Littlest Pet Shop Online, and has a successful iPhone application for the franchise.
"Littlest Pet Shop 3: Biggest Stars"
for the Nintendo DS will consist of three games in a connecting storyline that features contests for the pets, testing fashion sense, athletic ability and artistic skills, as well as six in-game exclusive pets and team-themed accessories, plus mini games and pet animations not available on previous installments.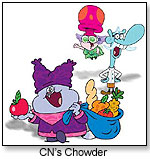 Cartoon Network's "Chowder" Gets Published. April 30, 2010 —
Turner CN Enterprises has signed a three-year deal with London's Egmont Publishing Group to publish books based on its popular Cartoon Network series
"Chowder."
The series will include coloring and activity books, annuals, and story and novelty books.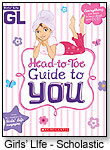 Scholastic Launches Tween Non-Fiction Series. April 30, 2010 —
Scholastic and Girls' Life Magazine have published a line of non-fiction
"Girls' Life Guides"
for tweens and early teens. The book series, including "Girls' Life: Head-to-Toe Guide to You" and "Girls' Life: Ultimate Guide to Surviving Middle School," addresses topics important to girls ages 10 to 14. According to License! Global, the next two titles —"Girls' Life: Guide to a Drama-Free Life" and "Girls' Life: Guide to Being the Most Amazing You" — will release in September and November, respectively.
SUBMIT your news to TDmonthly.
THIS BANNER IS AN AD:
---
---