---
Summary of Online Toy Reviews
TD Scout Shares Positive Consumer Reviews from Thousands of Websites
TDmonthly Magazine's Review Scout scours the Web weekly for reviews of new and hot products so you don't have to spend your time searching. Out of thousands of blog, retail and other sites, his research uncovers toys, games and other gifts that are worthy of your attention now. Check this space for briefs on reviews and ratings from across the nation and even the globe.







Little Nutty Helmets from Nutcase are designed to stylishly protect the noggins of little ones. Engineered for toddlers to 5-year-olds, the helmets include the Nutcase's Spin-Dial Fit System to ensure a perfect fit. Little Nutty Helmets feature ABS injection shells and are available in 10 trendy designs perfect for a variety of outdoor activities.

— Justine of

Babygadget

, who bought a Little Nutty helmet for her daughter, declared that "all Nutcase's designs are so much more interesting than the usual, gender-stereotyped fare that they are bound to help foster any child's INDEPENDENT style."

— WestchesterMom of

The Children's Blog

had high praise for the entire Nutcase range, calling them the "holy grail of helmets." She recommended using a soft tape measure to attain perfect sizing.

ToyDirectory Product ID#: 27910

(added 4/7/2010)

.

AD
---







"Dear Baby – What I Love About You" is designed to act as a colorful love letter connecting babies and toddlers to the important adults in their lives. The chunky artboard book features 20 pages and includes a "baby yearbook" page to keep a permanent record of who reads the book to the child.

— Simon Barrett of

Blogger News Network

described "Dear Baby" as "a delightful little picture book that I am sure any grandparent would just love to read to any very young child." He was particularly impressed by the baby yearbook.

— While reading the book with her daughter,

The IE Mommy

found her "little one's eyes were moist from tears." She said the book became "a sweet reminder of how much I love her."

ToyDirectory Product ID#: 27911

(added 4/7/2010)

.

AD
---




MSRP: $25.00

Age Range: 4 and upLaunch Date: August 2008Gender: Boys And Girls





Kimochis are small pillows with a feeling (happy, sad, silly, brave) printed on one side and a corresponding facial expression on the other. Each Kimochis plush character comes with a set of three feelings and a How-To Kimochis Feel Guide. The characters have a special pocket where kids can store their "Kimochis" — of feelings. Using the characters and their Kimochis, kids can get in touch with their emotions through puppetry and play. "Getting back to the basics by playing and communicating with Kimochis is a simple, yet powerful way to teach children how to: be aware of feelings, choose how to communicate in emotional moments, and redo mistakes. Children will be drawn to the fun, adorable, accessible characters. Parents will be drawn to the high-quality craftsmanship and the valuable educational content," Associate Susan Schroeder of Plushy Feely Corp. told

TDmonthly

. Launch date: August 2008.

— Amy of

Coffee with the Mrs.

reported that her son "loves his Kimochi Cloud doll and is already starting to use more words about feelings since he got the doll." He has even improved his reading by identifying the words printed on the emotions.

—

Take It From Me

's Kristin used the emotions of her daughter's Kimochi to help her deal with the complex emotions she was feeling about a recent move. The Kimochis were so successful, Kristin said, that: "Now every time my daughter starts to get upset, I refer to the Kimochis and looking for what she feels helps her to calm down and relax."

Awards:

Dr. Toy 100 Best Children's Products - 2010

ToyDirectory Product ID#: 21463

(added 11/24/2008)

.

AD
---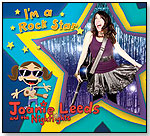 Joanie Leeds and the Nightlights rock kids and parents alike with I'm a Rock Star. The 13 tracks on the album range from the rockin' title track to the jazzy "I Like Jazz" to a game of "Joanie Says." The CD also includes the soothing "Give Me a Hug" and Spanish song "En Español."

— Katy Farber of

Non-Toxic Kids

exclaimed, "This music is hard to resist — infectious fun, that begs you to dance and move with your little people." Both Katy and her kids had a great time singing and dancing along to Joanie's pop-rock.

— Amelia Stewart, whose review on

My Sentiment Exactlee

includes a track-by-track breakdown of the CD, described it as "a perfect collection of songs for a daycare or preschool." Though not all the songs were to her taste, Amelia reported that her son thoroughly enjoyed the music.

ToyDirectory Product ID#: 27913

(added 4/7/2010)

.

AD
---

Writer's Bio:
Peter Aoun is a communications professional focused on the toy industry. He has conducted research on the impact of music on learning, as well as the convergence of toys and technology to create new forms of play.
Read more articles by this author
THIS BANNER IS AN AD:
---
---