---
All Baby & Child Turns to Moms and Social Media
Successful Juvenile Events Continue Growth in 2010
"If you do anything with juvenile products and want to get into the retail channel, then the one show you must do is the ABC Kids Expo." — Julianna Shaw, Zoli Inc.

This article is a paid advertorial.

For All Baby & Child, Inc., founders of the All Baby & Child Spring Education Conference and the fall ABC Kids Expo, 2010 is shaping up to be another successful year.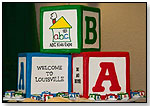 The Spring Conference in May exceeded expectations, Eric Seemann, CEM of All Baby & Child, Inc., told TDmonthly Magazine. Attendance was up about 30 percent from last year, with a 60-percent climb in exhibitors and booth space. Attendance among sales reps and media grew roughly 20 percent.

CONFERENCE KEEPS MARKETING IN MIND

All Baby & Child Inc. is organized as a 501(c)6 organization, explained President Larry Schur.



Exhibitors Show Enthusiasm



"The conference talks provided value-added strategies that we have been able to readily implement in our marketing operations to drive results. Further, the social events facilitated key networking opportunities that have proved to be very beneficial."
— Aindrea Campbell, Con Leche Watches

"The Spring Conference went amazingly well. We opened several new key retailers and were able to showcase our brand/product to a focused audience."
— Matt Genova, Senior VP of Sales, Nook Sleep Systems

"Nearly 100 percent of our contacts were with stores we did not know before and we also had a chance to participate in the Sling Safety Session, which I feel is such an important topic and very timely."
— Beth Leistensnider, President, Catbird Baby, Inc.

"Not only did we book several key accounts, we were able to visit with current clients, get some great PR about a new product we're developing, and meet three other manufacturers that can be terrific marketing partners in the future."
— Jill Cartwright, Founder of Go GaGa

"We advise the companies we work with that if you do anything with juvenile products and want to get into the retail channel, then the one show you must do is the ABC Kids Expo. All Baby & Child shows really pull in the right attendees so you are getting in front of the right audience."
— Julianna Shaw, Owner, Zoli Inc.

"A large portion of the criteria for receiving this non-profit status is that education to the benefit of constituents is provided or made available," he said. "As the ABC Kids Expo is all about buying, the Board determined that the best way to provide education to the industry is through a separate conference."

Designed exclusively for independent retail stores, the conference offers a more intimate environment than the fall Expo, while still allowing vendors to introduce new lines.

More than 200 companies exhibited at this year's event, which also housed sessions on boothmanship basics, marketing to moms and integrating social media into marketing plans.

BLOG BISTROS COME TO ABC KIDS

Similar themes will carry over into the ABC Kids Expo, running Oct. 10-13 in Las Vegas.

This year, "one of our biggest initiatives is working to reach key mommy bloggers that have a significant sphere of influence with moms nationwide and worldwide," Seemann told TDmonthly. "While we will remain a trade show closed to the public, working with bloggers to create buzz on products coming soon … can be invaluable to all of the industry. We are planning two Blog Bistros to provide a relaxed environment on the show floor that will allow instant updates and uploads to the Blogosphere."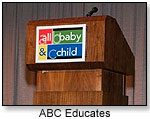 Other highlights include the addition of a Maternity Square™, an enhanced maternity apparel section; the First Timers section of new products; an expanded Toy & AV exhibit space; and expansion of Modern Child® and Naturally Kids® areas.



GROWING EXPO DEMANDS MORE SPACE

Since its inception in 2003, ABC Kids Expo has tripled in attendance, and this year, "is on track to be one of our largest in terms of exhibit space as we are on track to exceed the 2009 net square footage numbers," Seemann explained.

The Growth of ABC Kids Expo

YEAR
2003
2005
2007
2009
Location
LVCC
LVCC
LVCC
LVCC
Exhibit Halls
S-3
S1-2
S1-2-3
S1-2-3-4
Show Dates
--
9/9-12
9/7-10
9/13-16
Gross Sq. Ft.
242,392
443,838
686,230
908,496
Net Sq. Ft.
110,000
159,300
303,500
330,600

Exhibitors:
Number
489
736
1,012
919
Booths
1,100
1,593
3,035
3,306

Retailers:
No. Stores
830
1,391
2,102
2,550
Buyers
1,649
3,553
5,072
5,984
Media:
Companies
24
47
110
154

People Count:
Exhibitors
2,377
3,451
6,737
6,232
Retailers
1,649
3,553
5,072
5,984
Media
55
127
383
358
Reps
414
496
584
634
Govt./Spec.
5
17
81
385

Services/Other:
Total People
4,500
7,644
12,857
13,593
Source: All Baby & Child, Inc.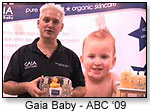 "If you are in the baby and juvenile products industry, this is the one show that you can't miss," said Julianna Shaw of Zoli Inc. "All Baby & Child puts on a well-managed show with the right buyers/attendees, and it's the right people for the entire duration of the show, so you never feel as if your time would be better spent elsewhere. You get to speak to the buyers and receive real-time feedback, which has been invaluable to us as we formulate our strategies moving forward."

"We carry products we wouldn't have found without the ABC Expo," Molly McMullin, owner of specialty toy store Twirl in Ranchos de Taos, N.M., told TDmonthly.

Exhibitors have been clear about their satisfaction with the newer Spring Conference and the much larger ABC Kids Expo (see sidebar above) — many right in line with Schur's summation of the events.

"While it is possible to find our exhibitors at other gift and apparel shows, furniture markets, toy or fashion events," he said, "you will not find a more diverse and comprehensive collection of manufacturers covering the full range of juvenile products anywhere."

Writer's Bio:
Claudia Newcorn has been a freelance writer and editor for over 10 years, after having spent more than a decade in marketing and product management. She writes for both businesses and individual clients, crafting copy, content and advertising. Her articles appear in newspapers, magazines and specialty publications nationwide (www.acornmarketing.com). She is also the author of an award-winning fantasy fiction book, "Crossover," and several published short stories (www.claudianewcorn.com).
Read more articles by this author
THIS BANNER IS AN AD:
---
---