---
Designer Toys Reach Younger Markets
Non-Traditional Art Pieces Toy with the Imagination
"[Designer toys] are not designed for the mass market or to be bought on a whim, shelved and forgotten."— AdaPia d'Errico, d'Errico Studios Ltd.

The designer toy market is moving collectibles from grandma's curio cabinet to kids' bookshelves.

Matryoshka Madness, for one, has reinvented traditional nesting dolls for the 21st century with eye-catching, contemporary graphics. The company is continuing the art legacy of matryoshkas, which were based on souvenir dolls made in Japan that Russian craftsmen elevated to a high art.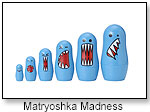 "We wanted to make the dolls in toy-safe ABS plastic, after potential issues with the safety of the paint on the wooden dolls currently in the marketplace," spokesperson Andrew C. Palmer told TDmonthly Magazine. "This gave us the opportunity to update not just the doll, but also the graphics."

The result? Characters such as Fang and Ninja, and the highly anticipated, soon-to-be-released Pig Matryoshkas.

BROADENING APPEAL

At Tutoring Toy in Salt Lake City, Utah, Buyer Casey Sartain has observed that designer toy "lines are mellowing and spreading their appeal to a younger category and are making them more open to a broader audience."

Cliff Jackson, owner of The Wizard's Chest in Denver, Colo., is also "seeing a trend towards items that are younger kid-friendly vs. just adult-friendly, but still maintain that fun and quirky design for adults to get involved with."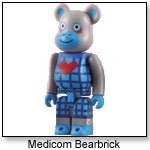 "We're seeing adults holding onto things they loved from childhood, especially those who grew up in the 1980s," Jackson told TDmonthly. "There's not the 'seriousness' of being an adult from 30 years ago; instead, today's adults believe they have to hold on to the spark of childhood or become dull. Designer toys are different, independent, and a little edgy."

Sartain, who recently brought in MediCom's BearBricks and plans to expand further into the designer toy area, agrees about the carefree, fun factor, noting the toys' success comes from tongue-in-cheek humor.

"Some do have serious underlying social statements that only an adult will pick up on, which adds to the enjoyment," he said.

DRIVING UNIQUENESS

Designer toys defy categorization, ranging from outlandish and bizarre to cuddly and cute. Made of materials that include plush, vinyl, metal and wood, they are distinctive and often thought provoking. Some are 3D representations of comic book, graphic novel or television characters; others spring from strange doodles. Prices can range from a few dollars to thousands for limited-edition collectibles.

Appealing to tweens, teens and adults, designer toys expose their creators' imaginations. The category blends more well-known brands, such as Pretty Ugly's Uglydolls and KidRobot, with smaller firms that also develop edgy, artistic and innovative characteristics.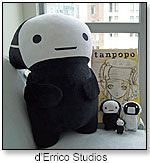 "Designer Toys … are an expression of an artist's or designer's creativity, and, in some cases, they are truly collectible pieces of art," AdaPia d'Errico of d'Errico Studios Ltd. explained to TDmonthly. "They are not designed for the mass market or to be bought on a whim, shelved and forgotten."

Limited editions, such as the 100-piece release of artist Camilla d'Errico's giant "Buddha" Kuro, can create a connection with fans, as well as drive collectibility and added value.

"Designer vinyl is so different from mass-appeal, big-market toys," added UNKL Designer Derek Welch, who collaborates with colleague Jason Bacon on the company's unusual figures. "Most are created by artists just doing their thing. That approach injects a freshness into the market."

DESIGNING A MOVEMENT

D'Errico believes designer toys offer retailers something new and unique, with passion and a story for their customers.

"I look forward to the designer toy movement gaining more momentum, with the help of buyers and educated customers," she told TDmonthly. "Buyers will need to educate their customers as to issues like the 'cool factor' behind designer toys, the particular artist's story and source of the inspiration, almost as though the customer were buying a piece of art."

See designer toys mentioned in the article, and other brands, below:







To celebrate their seminal debut album "3 Feet High and Rising," legendary hip-hop group De La Soul teamed with Myong Kurily and KidRobot to create this limited-edition set of 3" vinyl figures. Each comes with distinguishing accessories: Trugoy handles business with a briefcase and glove, Merc rocks the crowd with his microphone and designer glasses, and Maceo bobs to the beat with his headphones. The "Plugs" arrive in futuristic space travel boxes, symbolizing their mission to take hip-hop to the stratosphere and beyond. Limited to 1,000 sets worldwide.

.

AD
---






This 7" plush is based on the character Kuro from the Tanpopo graphic novel series by creator Camilla d'Errico. Limited edition of 1,500. Launch date: 2009.

.

AD
---






.

AD
---






The naive child Pity adopted Gloomy Bear as a cub, thinking he could domesticate the cute little guy. Unfortunately, that cuddly pink exterior had Pity fooled. Standing at an imposing 5", Gloomy Bear is thirsty for blood and primed to attack in this latest vinyl iteration of Mori Chack's vicious icon.

.

AD
---






Series 2 Uglydoll Action Figures feature Uglydog, Big Toe, Poe, Trunko, Uglyworm and Peaco. Each action figure is available in two colors. The series is packaged in a clear window box for a clear view of all the action. Launch date: April 2010.

.

AD
---






These bear-shaped figures feature designs from Tetris, Terminator Salvation, Sanrio, Nickelodeon and other. MediCom has reached out to designers to create the "paint mask" for the figures and has started a "toy fever" among fans and collectors. The assortment of designs varies from series to series.

.

AD
---






As a self-proclaimed protector of humanity, SUG's mission is very simple: to assist people of the world who are in desperate need of help. He has no affiliation with any one government and is not concerned with the politics of his actions, but rather views his role in global, historical and human terms.

.

AD
---






SUG created UlliGUS not only for companionship, but also to assist him with tasks ranging from reconnaissance to tracking. The green H60 UlliGUS says he's better than the blue version.

.

AD
---






As a self-proclaimed protector of humanity, SUG's mission is very simple: to assist people of the world who are in desperate need of help. He has no affiliation with any one government and is not concerned with the politics of his actions, but rather views his role in global, historical and human terms.

.

AD
---






SUG created UlliGUS not only for companionship, but also to assist him with tasks ranging from reconnaissance to tracking. The blue H60 UlliGUS says he's better than the green version.

.

AD
---






.

AD
---






.

AD
---






This 2' plush is perfect for hugging or rubbing its good luck belly. It's based on the Kuro character from the Tanpopo graphic novel series by popular creator Camilla d'Errico. Limited to 100 pieces. Launch date: July 2010.

.

AD
---






.

AD
---






.

AD
---






.

AD
---






.

AD
---






These designer plush toys are made in limited edition batches from a Swedish designer. Spok-spok was a runner-up for Plush Toy of the Year 2007 from Plastic and Plush. Launch date: June 2007.

.

AD
---
THIS BANNER IS AN AD:
---
---