---
TDmonthly's Book Expert
One Educated Bookworm's Opinion
In these latest book reviews, TDmonthly Magazine's Book Expert witnesses father-son bonding, meets a quill-haired tea party host, and giggles with pirates and penguins.




Title: My Father Knows the Names of Things
Author/Illustrator: Jane Yolen/Stephane Jorisch
Publisher: Simon & Schuster Books for Young Readers
Gender: Boys and Girls
Age: 3 to 7
MSRP: $15.99

TDmonthly rating:




What It Is: This delightful new picture book illustrates a whimsical poem by the widely acclaimed children's author Jane Yolen. A little boy tells the reader, "My father knows the names of things" — not only the names of birds, dogs and cheese, but "which mosses are the fuzziest … which insects are the buzziest." Not only does he know so many things, "he points out everything we see and teaches all the names to me."

Why You Should Carry It: This is a wonderful book for a Father's Day present or a Father's Day story time. In short, rhyming text, it depicts a warm relationship between a son and his father, with the dad teaching his child everything he knows. The detailed watercolor illustrations add to the charm of the book, with the son and father depicted on an exciting adventure on each colorful, two-page spread. For example, the book's illustration for "he knows the names of dogs" depicts a lady walking seven dogs of wildly different breeds, showing the dad and his son stopping to look (and presumably learning the different names of the dogs).

What Kids Think: This is an excellent read-aloud for toddlers and preschoolers, as well as early elementary children. It held the attention of a class of preschoolers, ages 3 and 4, who liked trying to name the names of the different things in the illustrations. Aidan, 4, especially liked the funny bugs the father and son study with magnifying glasses.

---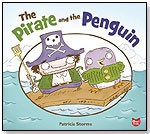 Title: The Pirate and the Penguin
Author/Illustrator: Patricia Storms
Publisher: Owlkids
Gender: Boys and Girls
Age: 4 to 8
MSRP: $17.95

TDmonthly rating:




What It Is: This very silly picture book, loosely based on "The Prince and the Pauper," tells the story of an unhappy penguin with itchy feet — he longs for adventure and warmer climates, and is bored by his friends, who enjoy daydreaming and yoga. At the same time, readers meet a pirate with itchy skin who longs for "inner peace" and reads self-help books like "I'm a Pirate and I'm OK." When Penguin sails off on a piece of ice, his iceberg collides with Pirate's ship, where they decide to change places. Pirate paddles to the South Pole, where he lives happily ever after with the other penguins, while Penguin becomes captain of the pirate ship and has a life of adventure "eating lots of exotic fruits."

Why You Should Carry It: This book combines two perennially popular themes for preschoolers and young children — pirates and penguins, into a silly story that will make children giggle. Their parents will enjoy it as well. The brightly colored artwork is reminiscent of comic books and animated cartoons, and lends an extra dash of humor to the story.

What Kids Think: Dylan, age 6, thought the book was funny and especially liked how the penguins thought the pirate was a penguin when he was dressed in the penguin's sweater at the end of the story! This is a good read-aloud for school or home.

---

Title: The Best Family in the World
Author/Illustrator: Susana Lopez/Ulises Wensell
Publisher: Kane Miller
Gender: Boys and Girls
Age: 4 to 8
MSRP: $15.99

TDmonthly rating:




What It Is: This is a lovely book about adoption, well suited not only for children who have been adopted but also for children in any family who wonder about the subject. Originally published in Spain, the book introduces Carlota, a girl living in an orphanage who has just found out she's been adopted. One night, she imagines what her new family might be like. She imagines they will be the best family in the world — pastry chefs, pirates, tiger trainers or even astronauts! Although her new family isn't quite that unusual, her mother does bring home pastries sometimes, her father likes to dig for treasure, her new grandma has two striped cats, and her new brother has a room decorated with stars. They are, in fact, the best family in the world — for Carlota.

Why You Should Carry It: This is a sensitively done book on a difficult topic, one whose gentle story will appeal to all children. It's an excellent book for sparking discussion with children on adoption. Children and adults alike will like the beautiful, painted illustrations, which seem to glow with a golden light. The children, adults and animals in the story all have a warm, friendly look about them, which fits the reassuring tone of the narrative.

What Kids Think: This is an excellent book to share one on one with a child or for a small group. Bella, age 5, liked how the family that adopted Carlota turned out to be connected in some way to how Carlota imagined them.

---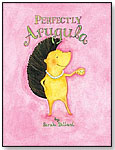 Title: Perfectly Arugula
Author/Illustrator: Sarah Dillard
Publisher: Sterling Publishing
Gender: Girls
Age: 3 to 7
MSRP: $14.95

TDmonthly rating:




What It Is: This cute picture book tells the story of Arugula, a perfectionist hedgehog, who seems an unlikely heroine for a children's book until you see her depicted with her hedgehog quills combed just so, a pearl necklace, and a pink-and-white polka dot apron! When she plans a tea party for her friends, she imagines everything will be just perfect, even if that means her guests won't have fun because they're too scared to touch or eat anything. But when the annoying Fidget the squirrel shows up uninvited, everyone starts juggling tea cups, throwing cream puffs, and having a perfectly wonderful time — everyone except Arugula. She goes outside to pout, but discovers when her guests invite her back in for dancing, that she, too, can have fun.

Why You Should Carry It: Done in comic-book style, with panels and voice balloons, this book will appeal to little girls who like things to be "just so." The watercolor and colored pencil artwork is very feminine, with lots of pink and funny details that will appeal to little girls such as Arugula's pink boa, pink bow for her quills, and pink slippers. This is a good read-aloud for girls who love tea parties and all things "girlie."

What Kids Think: Julia, age 4, liked the whimsical drawings of Arugula, especially her quill hair-do. She was concerned that Arugula didn't invite Fidget the squirrel to her party, though! This part of the story doesn't really model nice behavior for preschoolers, but it does provide an opportunity for discussion with a child about manners for inviting classmates to parties.

Writer's Bio:
A member of the American Library Association, Margo Tanenbaum was formerly employed by an independent children's bookstore and has published book reviews on Amazon Vine and Goodreads. She is pursuing a master's degree in library science and writes about historical fiction and non-fiction for children and teens on her blog,
The Fourth Musketeer
.
Read more articles by this author
THIS BANNER IS AN AD:
---
---