---
Craft Retailers Get Unexpected Reprieve
Wal-Mart Cuts Give Competitors Leverage in Fabrics
"Wal-Mart, which by early 2000 had become the largest fabrics retailer in the country, absolutely shocked the industry in 2008 …"

Craft retailers in the United States have been struggling pretty much all decade. Declining demand for craft products has meant that for some retailers to survive, others had to go to the wall. And go to the wall they did.

This is how the craft market developed this decade in comparison to the toy and the video game markets in terms of retail sales: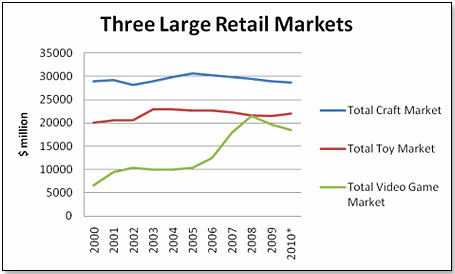 A similar picture emerges from Web traffic patterns governing the three leading retailers in these markets: Toys "R" Us for toys, GameStop for video games and Michaels for craft products.

WEB VISITS BY CONSUMERS




Unlike the video game market, in which technological innovation spurred growth, the craft and toy markets were basically static throughout this decade. The difference between the two is that large toy retailers could continue to grow because a large chunk of the market was taken by small retailers that could be put out of business. This trend had already happened in the craft market with the demise of the Ben Franklin stores in the '90s, so large craft retailers could only grow by putting other craft chains out of business.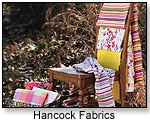 Since 2002, seven craft retailers with sales of more than $2.6 billion and more than 800 stores closed their doors. One more, Hancock Fabrics, went Chapter 11 but re-emerged again from it as a much leaner and smaller operation. And the largest of them, Michaels, fled into the arms of private equity groups in 2006 and delisted from the stock exchange.


Retailer
Went Chapter 11
Date
Re-emerged
Date (in Crafts)
Store
Count
Annual Craft Sales $
Michaels
Never
1,029
3,900,000,000
Wal-Mart
Never
3,700
2,300,000,000
Jo-Ann
Never
750
2,000,000,000
Hobby Lobby
Never
443
1,900,000,000
Pottery Barn
2008
Never
294
1,250,000,000
A C Moore
Never
135
450,000,000
Garden Ridge
2004
Never*
35
380,000,000
Frank's Nursery
2002
Never
170
315,000,000
Hancock Fabrics
2007
2008
266
300,000,000
M J Design
2002
Never
57
250,000,000
Pearl Artist and Craft
2010
?
8
50,000,000
Treasure Island
2007
Never
14
49,000,000
*Re-emerged from bankruptcy in 2005 but totally changed its business to home décor.
Store counts taken from Yahoo! Finance Profile as of Jan. 2010, unless otherwise provided by retailer.

At this point in time, the craft retail scene is dominated by six retailers controlling nearly 40 percent of the total.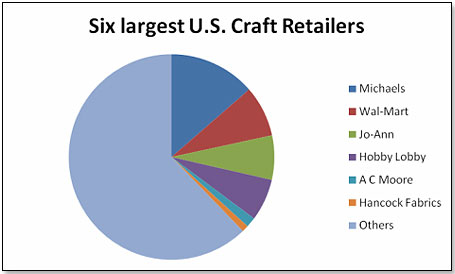 The largest product segment is Needlecraft and Sewing, in short, Fabrics.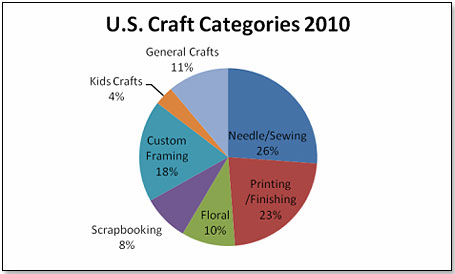 And thereby now lies a tale. Wal-Mart, which by early 2000 had become the largest fabrics retailer in the country, absolutely shocked the industry in 2008 by announcing it would gradually withdraw from the category altogether. Fabrics are very labor intensive and Wal-Mart did not see the category fitting their overall model, which is based on the premise that the consumer picks his or her product, checks out, and walks out of the store.

This negative view of the Fabrics category gained further substance when Wal-Mart management formulated plans for Project Impact. Project impact was conceived when Wal-Mart brass discovered there were a few consumer groups quite determined not to enter any of their stores at any price. After having spent untold millions on market research and focus groups, management decided to widen the aisles, change the layout, and paint the inside and outside of its stores in pastel colors. Project Impact was initiated in April last year and is gradually being rolled out to all 2,747 Supercenters in the United States.

Because of its more consumer-friendly layout, the converted Supercenter loses about 20 percent of its selling space. To accommodate this, Management decided to group product categories into "Winners, Losers, Keepers." Fabrics became a "Loser," to be cut completely. The remainder of the Craft Department was cut to pieces but did survive, no doubt with a bow to Sam Walton who, after all, had started in Crafts back in the '50s.

This is the schedule of the rate at which U.S. Supercenters are being converted to Project Impact layouts: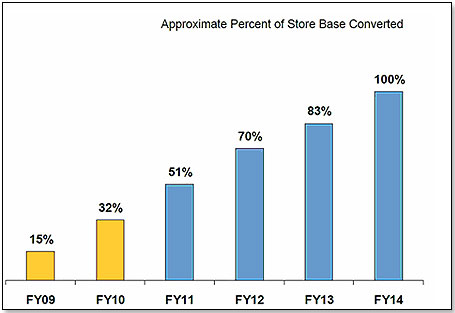 I estimate that Wal-Mart has about one-quarter of the $2 billion fabrics market. Not all of this $500 million will migrate to the large craft retailers, but Jo-Ann and Hancock Fabrics are certainly gearing up for business. And their numbers suggest they know what they are doing: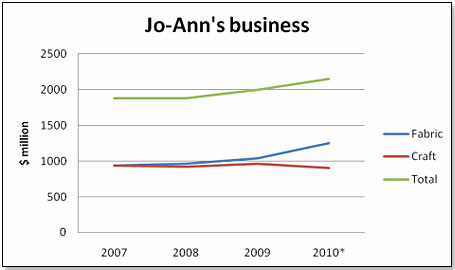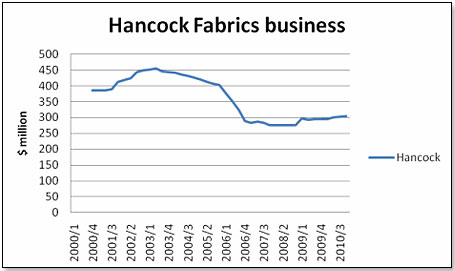 I would expect Jo-Ann and Hancock to do well at least until 2014 when Project Impact has been completed and the Wal-Mart bounty runs out. As for the other retailers, who have not yet made a determined move to capitalize on this one-time bonanza, I suspect they will also join the bandwagon.

Writer's Bio:
Lutz Muller is a Swiss who has lived on five continents. In the United States, he was the CEO for four manufacturing companies, including two in the toy industry. Since 2002, he has provided competitive intelligence on the toy and video game market to manufacturers and financial institutions coast-to-coast. He gets his information from his retailer panel, from big-box buyers and his many friends in the industry. If anything happens, he is usually the first to know. Read more on his website at www.klosterstrading.com.
Read more articles by this author
THIS BANNER IS AN AD:
---
---