---
Roundtable Reviewers Paint Positive Reviews of Young Picasso Kit
Noodle Head Set Earns Praise for Quality Art Materials
"This is going to be great! Look how big it is!"—Jessica, 8

TDmonthly Magazine's Grade School Roundtable created masterpieces with Noodle Head Inc.'s Young Picasso Art Kit. The kit comes complete with all items needed to create three canvas paintings. Praised by kids and moms alike for its quality components, the Young Picasso Art Kit won rave reviews from the families.

Young Picasso Art Kit from NOODLE HEAD INC.
Age: 4 and up
Gender: Boys And Girls
Category: Creative Activities; Arts & Crafts; General Toys
MSRP: $20.00

TDmonthly rating: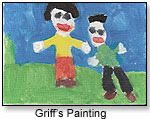 What It Is: The Young Picasso Art Kit comes with everything necessary to complete three canvas paintings. Included are five tubes of non-toxic acrylic paint, two paint brushes, a plastic palette, one 16" x 20" canvas and two 5" x 7" canvases. The instruction booklet details color mixing and three famous artists, as well as art appreciation questions for children.

What the Moms Thought: "Everything is ready to go ... you can start immediately," raved Estes. Estes, Ledford, Richardson and Wilson appreciated that the kit contains all items necessary to complete three paintings (save water). "The palette to mix the paints in was also a plus," enthused Lilova about an element all the moms liked.

Estes and Parker (5) enjoyed the biographies of the artists in the enclosed booklet; Richardson noticed that the booklet was written in "child-friendly prose." Wilson was pleased to see the included suggestions on how children can appreciate art as well as the reminder to sign the back of the finished painting.

"I liked that the included canvases are standard sizes, meaning framing can be completed with a store-bought frame," Ledford said. Estes appreciated the quality of the canvases, and Wilson noted that the kit contains "real art products." She pointed out that appropriate artistic terms such as vermillion and cerulean were used rather than red and blue.

Several moms found the instructions for mixing colors handy, and Wilson and Richardson noted the instructions for cleaning up afterward. Ledford was excited about the paintings Joe (10) and Griff (4) created: "I now have masterpieces I will treasure forever."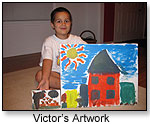 What the Kids Thought: "This is going to be great! Look how big it is!" exclaimed Jessica (8) upon seeing the kit. Victor (6) liked planning his painting in advance. Elise (11) and Steven (10) liked the number and sizes of the canvases. "Elise (11) loves this product!" raved Wilson.

Parker (5) "enjoyed mixing his colors; he seemed very relaxed while painting and it held his attention," observed Estes. Griff (4) was disappointed his attempts (and even mom's attempts) to make purple resulted in brown, although he was quite happy to paint.

Alexander (10) and Jessica (8) "took turns reading out loud about each of the artists," observed Richardson. "Most of all, they enjoyed the opportunity to spend some time being creative and coming up with a picture they were very proud of — both of the small canvas paintings were easily hung in the playroom."

Steven (10) thought the two smaller canvases were "beginner-friendly." Alexander (10) and Jessica (8) found the company name Noodle Head amusing.

What the Kids Learned from this Toy: Victor (6) worked on artistic self-expression. Estes said of Parker (5): " … it was his imagination and the paint set free without any expectations or demands." Of the art appreciation questions, Alexander (10) said, "That is a good list of questions. If I thought of those when I was in a museum, I would not walk by a painting so fast."

Wilson listed organizational skills, spatial concepts, thinking/planning, and color as skills her children learned from this kit. Griff (4) worked on fine motor skills and creativity.

Alexander (10) and Jessica (8) were introduced to three famous artists — "and clearly wanted to learn and see more," mused Richardson. "They also stretched their creativity by having to translate an idea from their head into an image on the canvas."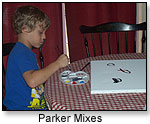 How to Improve It: Lilova would like to see brushes in other sizes included. Wilson recommended including an easel but noted there would be a subsequent price increase. Richardson suggested including a second large canvas.

She would also like to see the booklet include "a picture or two from each of the artists to illustrate the points made about their different styles," she said. Alexander (10) was disappointed that websites featuring the artists were not listed; "I don't see a list of websites — that would be so nice to look at some of the art work that these famous artists did," he told his mom. Ledford thought this would increase the educational value of the kit.

Lilova would like to see information on painting techniques included, and Wilson noted that Steven (10) would have benefited from specific instruction. Wilson would appreciate instructions on framing the finished piece as well.

Wilson, Elise (11) and Steven (10) found the font used in the booklet difficult to read due to the small size. Estes thought the 16" x 20" canvas too large and would have preferred 11" x 14" or 8" x 10" instead. She thought if the size of the large canvas were smaller, perhaps the price could be lowered, making the kit more affordable for gift giving.

Would You Want Another Toy Like This? "It is great!" exclaimed Richardson. Wilson reported, "Elise (11) says this is a definite 5 [stars], hands-down."

Roundtable participants are World Bank policy advisor Gail Richardson with Alexander (10) and Jessica (8); research scientist Kostadinka Lilova with Victor (6); freelance writer Susan Ledford with Joe (10) and Griff (4); homeschool parent Teresa Wilson with Elise (11) and Steven (10); and homeschool parent Audra Estes with Parker (5).

Writer's Bio:
Susan Ledford is the writer, editor and publisher of the "Homeschool Resources Directory for S.C." She has been evaluating toys and games for
TDmonthly
's Roundtable reviews since 2005. She also is a homeschool veteran of seven years.
Read more articles by this author
THIS BANNER IS AN AD:
---
---