---
Roundtable Reviewers Fall in Love With New Vibrant, Cuddly Fuzzles
Douglas' Polka-Dot Monkey Wows Families
"Kids will want to collect all of them!"—Teresa Simpkins-Bannister, mother

TDmonthly Magazine's Girls Roundtable went dotty over Ida, a monkey from Douglas Cuddle Toys' new Fuzzles line. Moms and kids alike raved over the bright color and eye-catching design. The stuffed toy not only garnered a high 4.7 rating, out of 5; it also left our participants wanting more.

Fuzzles Ida Pink Dot Monkey from DOUGLAS CUDDLE TOYS
Age: 2 and Up
Gender: Girls
Category: Plush; Gifts
MSRP: $11.55

TDmonthly rating: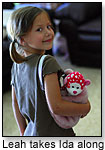 What It Is: Floppy, soft and cuddly, Fuzzles feature fresh, distinctive hues and are available in 12 styles, from Ida the pink-dotted monkey (reviewed here) to a tropical dog.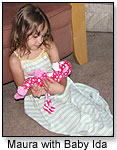 What the Parents Thought: "This toy is adorable!" exclaimed Williams. She found the face "instantly lovable" and said, "The little details like a springy tail and flappy ears just add to the attractiveness and desirability."

"This is a high-quality, well-made stuffed animal," said Flanagan. She continued, "Its eye-catching, modern look is a winner with the kids." Pauley called the monkey "well designed."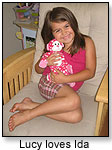 Simpkins-Bannister appreciated that Fuzzles are "suitable for all ages," she said. Bendorf liked the softness and flexibility of the Fuzzle; the combination of stuffing and beads inside the body "makes it fun to squeeze!" she noted.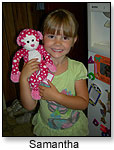 What the Kids Thought: "She's so loveable and cuddly," said Maura (5). Lucy (6) liked the polka dots. Maura (5), Leah (5) and Samantha (4) liked the elastic tail. "Maura (5) instantly loved her and hugged her," Flanagan said.

"Samantha (4) liked the vibrant colors," reported Simpkins-Bannister. She, Ashlyn (4) and Lucy (6) adored the pink color of the monkey. Pauley commented, "[Lucy (6)] wanted the whole line of the ones that matched."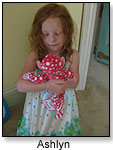 Bendorf observed that the size was just right for Ashlyn (4). "It is not too big or too small, just right … to hug and hold," she explained. Leah (5) found the monkey the perfect size to fit into her purse.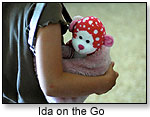 How to Improve It: "These toys are terrific just the way they are," raved Simpkins-Bannister. Bendorf commented, "We love it as is!"

Flanagan thought the price a little high. Williams would like to see accessories, such as clothing or "even an optional little purse that the Fuzzles could ride around in." Pauley recommended home decor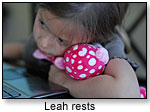 accessories, such as a polka dot lamp, a striped comforter, towels, etc. "The color and design is strong and really is the main selling point," she explained.


Would You Want Another Toy Like This? "The colors and patterns [available in the 2010 catalog] are just beautiful!" exclaimed Simpkins-Bannister. "Kids will want to collect all of them!" This was the case with Hailey (7) and Leah (5), who "looked at the catalog and saw the other Fuzzles and wanted every one of those as well," their mom noted.

Participants were Amber Williams with Hailey (7) and Leah (5); Penelope Pauley with Lucy (6); Anna Bendorf with Ashlyn (4); Teresa Simpkins-Bannister with Samantha (4); and Deanna Flanagan with Maura (5).

Writer's Bio:
Susan Ledford is the writer, editor and publisher of the "Homeschool Resources Directory for S.C." She has been evaluating toys and games for
TDmonthly
's Roundtable reviews since 2005. She also is a homeschool veteran of seven years.
Read more articles by this author
THIS BANNER IS AN AD:
---
---