---
TDmonthly's Book Expert
One Educated Bookworm's Opinion
TDmonthly Magazine's Book Expert sang along with PBS Kids host Steve Songs in "Driving My Tractor" and opened up to "The Unusual Mind of Vincent Shadow" and the innovative creations of this brilliant toy inventor.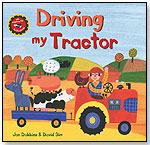 Title: Driving My Tractor
Author/Illustrator: Jan Dobbins/David Sim
Publisher: Barefoot Books
Gender: Boys and Girls
Age: 1 to 6
MSRP: $16.99

TDmonthly rating:





What It Is: This is an irresistible book and CD combination that will have parents and kids tapping their toes and singing along. Both the book and the CD can stand alone but are even better together. The music is composed and sung by award-winning children's entertainer Steve Songs, and the song is so infectious that kids of all ages will be quickly singing along. The book features a wide assortment of winning components for toddlers and preschoolers — tractors, farm animals, animal noises (moo moo), tractor sounds (chug, chug, clank, clank, toot!), counting, repetition, humor, and even subtle lessons about the seasons. After the conclusion of the story, the authors describe and depict all kinds of farm machinery and different crops that farmers grow, and the book concludes with the music for the song, complete with guitar chords for parents or caregivers who might want to play and sing the song themselves. The vibrantly colored and detailed illustrations, painted in a folk art style, will delight children and adults as well.

Why You Should Carry It: Composer Steve Songs will be familiar to many kids and parents as Mr. Steve, the host of PBS Kids. This book and CD set would make a wonderful gift for any toddler or preschooler; it's a surefire winner!

What Kids Think: Calvin, age 2, loved this book and was soon singing along in the car. He asked for this book again and again, and especially enjoyed pointing out the various animals and the tractor in the story.




Title: The Unusual Mind of Vincent Shadow
Author/Illustrator: Tim Kehoe/Mike Wohnoutka
Publisher: Little Brown & Company
Gender: Boys and Girls
Age: 8 to 12
MSRP: $14.99

TDmonthly rating:





What It Is: This novel, written by a first-time novelist who is a real-life toy inventor, focuses on Vincent Shadow, a nerdy 11-year-old who is bullied at school is secretly a brilliant toy inventor. His inspiration comes to him in blinding flashes that seem like migraines but are really visions of fantastic new toys. When Vincent has an opportunity to compete in a worldwide toy invention competition for kids, it's his dream come true. But when an opponent destroys his fabulous kite that flies without wind, can Vincent still come out on top?

Why You Should Carry It: This is a delightfully imaginative middle reader that will appeal to fans of fantasy fiction, especially kids who like underdogs as heroes. And the book comes with an illustrated, removable top-secret invention book, that includes such wacky ideas as "biting beast balls" and "bounce n' bubbles." The cut-out cover, which allows the reader to see into Vincent's invention laboratory, is also very clever and will grab children's interest.

What Kids Think: James, age 8, thought this was a really funny story; he hoped there would soon be a sequel about Vincent!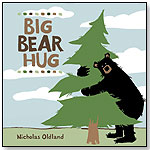 Title: Big Bear Hug
Author/Illustrator: Nicholas Oldland
Publisher: Kids Can Press
Gender: Boys and Girls
Age: 4 to 8
MSRP: $16.95

TDmonthly rating:






What It Is: In this story, we meet a giant bear so filled with love and happiness that he can't resist giving hugs to any living thing he encounters, even skunks, snakes, birds and moose. The bear especially loves to hug trees, giving new meaning to the phrase "tree-hugger"! When he meets a man with an axe in the forest who is about to cut down a tree, the bear becomes very angry and almost decides to eat the man up. But instead, he gives him a hug — sending the frightened man running away without his axe, and therefore saving the tree.

Why You Should Carry It: This book will appeal to environmentally minded parents and teachers, as well as tree-huggers in training. It's a good read-aloud for Earth Day, or any environmentally themed story time. Its small format makes it better suited for small groups and one-on-one sharing, however. Although the environmental message is a bit heavy-handed, the humorous cartoon-style illustrations and light-hearted touch of the story make it a story that kids and parents are both likely to appreciate.

What Kids Think: This book was a modest hit with a group of preschoolers. Emily, age 4, thought the bear was really funny for giving hugs to everyone … including trees. The kids enjoyed the gentle humor of the story and the comical expressions on the faces of the animals as they are being hugged by the bear.

Writer's Bio:
A member of the American Library Association, Margo Tanenbaum was formerly employed by an independent children's bookstore and has published book reviews on Amazon Vine and Goodreads. She is pursuing a master's degree in library science and writes about historical fiction and non-fiction for children and teens on her blog,
The Fourth Musketeer
.
Read more articles by this author
THIS BANNER IS AN AD:
---
---