---
Design a Buying Space, Part I: Start Outside
Success Begins in the Parking Lot
Your toy store may be filled with child-friendly murals and even an open play area, but if customers walk out empty-handed, the store's design is not doing its job. Nearly all of the owners who spoke with TDmonthly agreed that a successful design encourages customers to come back and buy again.

So, how do you create a space that inspires children to play and parents to purchase?

START OUTSIDE

Parking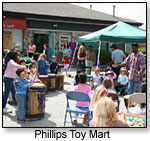 Lack of parking can smash a business if you're not creative. Parking crunches in his 33-space lot during Christmas forced Powell Phillips "to get them in and out as soon as possible." To speed up transaction times, the more than half-century-old Phillips Toy Mart in Nashville, Tenn., forgoes its normal free gift-wrapping service.

During street festivals, the parking lot can even become an extension of the store. When Ariel's Child in New Windsor, N.Y., turned 20, former owner Ricki Block held relays, games and musical events in her lot.

Sidewalk Displays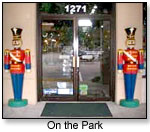 On the Park in Kingwood, Texas, announces its presence on the street by placing a giant toy soldier on either side of its entrance.

If you've wrapped your car, as the Gurleys did for two of their Lollipop Shops in Tennessee and South Carolina, you can park an extra eye-catching ad right in front of your store (Fig. 2.3).

Exploit Windows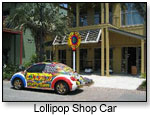 Store windows should be clean, be lighted well and speak to the customer in five to seven seconds, so "less is more," advised Donna Geary, founder and executive director of Impact Visual Merchandising and author of "Maximizing Store Impact: A Retailer's Guide to Profitable Visual Merchandising."

Here are more tips from Geary and toy-store owners:


Use lights that minimize reflections.
Put window lighting on a separate circuit or breaker and leave it on 24/7 to entice nighttime passersby to return.
Set up an expectation in the window, and then fulfill it in the store. When customers enter Red Wagon Toy Co. in Woodstock, Vt., they see garlands adorned with the same little red wagons that grace a tree in the store window, Owner Kim Smith told TDmonthly.
Keeping large stuffed animals in the window "brings [customers] into the store to touch or buy them. If they are not in the window, we usually do not sell many," noted Joshua Grindstaff of Education Station in Coldwater, Mich.
Whatever is on display in the window should be easy to find inside.
Change your display as often as customers return. When TDmonthly polled 30 toy-store owners, 79 percent changed their window displays at least monthly and 10 percent did it weekly.
For the January sale at Red Wagon Toy Co., "I buy four Douglas large penguins, big stick-on letters from Staples in red, spell out "SALE" on their tummies and add some Styrofoam snowballs and blue icy fabric," said Smith.
Create a Play Park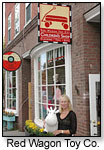 Molly McMullin, owner since 2007 of Twirl in Taos, N.M., said that one of her store's biggest successes was the installation of a playground in an outdoor courtyard in the summer of 2008.

"In addition to a big play structure, we built a wading fountain, a pirate ship, an area of giant musical instruments, and a hobbit house," Molly said. "We had families from all over having a blast all summer long. Sometimes they come by to play without ever going in the store, but when they do come in, they spend more. It has also been a great way to engage the lower-income families of the community without immediate sticker shock."

Tourists in the area hear about the shop being a great place to bring the kids for a few hours of downtime. In addition, Molly rents out the space for parties, which has been a good additional source of revenue.


Read more ...
Design a Buying Space, Part II: Be Buyer Friendly


Design a Buying Space, Part III: Analyze and Think Outside the Toy Box



Read previous articles:
How to Start a Toy Store, Part I: Locations, Teams and Business Plans
How to Start a Toy Store, Part II: Find the Right Toys

Other contributors to this article may have included: Julie Adrian · Michaele Birney Arneson · Leigh Au · Christina Chan · Julia Ann Charpentier · Elizabeth Chretien · Virginia Davis · Laurel DiGangi · Zan Dubin Scott · Lisa Durante · Cicely Enright · Margaret H. Evans · Doug Fleener · Diane Franklin · Janie Franz · Dennis Foley · Dennis Furlan · Rosette Gonzalez · Elizabeth Greenspan · Mort Haaz · Sharri Hefner · Terri Hughes-Lazzell · Kyle Hall · Pennie Hoover · Sheri Jobe · Julie L. Jones · Candyce Kornblum · Christine Lebednik · Susan Ledford · Chris Lundy · Susan Maddela · Hans C. Masing · J.D. Meisner · Adeena Mignogna · Catherine Jo Morgan · Claudia Newcorn · Willow Polson · Marie Raven · Kara Revel · Andrew Robinton · Greg Rock · Brenda Ruggiero · Tamara Schuit · Brent Turner · Vanessa VanderZanden · Jodi M. Webb · Stacy Wiebe· Mark Zaslove · Alex Zelikovsky

Writer's Bio:
ALISON MAREK is an award-winning writer, director and cartoonist whose work has been published by Fairchild Publications and DC Comics (Piranha Press), broadcast on Showtime and other cable networks, and viewed worldwide in film festivals. See her short films and print work on www.alisonmarek.com. Watch her nefarious villains in the web series www.MuggsMovers.com. Get inspired by her cartoons "Daily ARFFirmations to Unleash Your Inner Fido" at www.ARFFirmations.com. Phew! And then ...
Read more articles by this author
THIS BANNER IS AN AD:
---
---