Tools:








TDmonthly Goes Inside ... Kazoodles, Vancouver, WA
How a Lack of Toys Became a Profitable Business
Bob and Mary Sisson had to drive all the way from Vancouver, Wash., to Portland, Ore., to buy toys for their grandchildren because there were no quality toy stores in their hometown. That's when they had an epiphany: They should open one! First, they took a community college course on running a business. Then they joined ASTRA to get the low-down on top sellers. They also consulted with a SCORE counselor for practical business advice.



Get the Flash Player to see this video.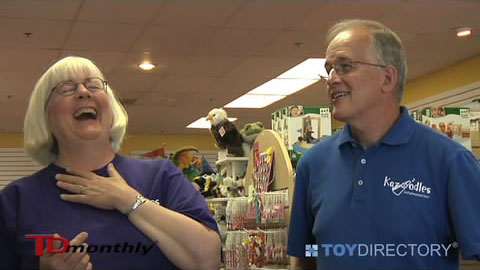 Their first store opened in March 2006, in downtown Vancouver. Four years later, they opened a second store on the East Side. They find great toys for their stores at various trade shows and also by researching online with TDmonthly Magazine and ToyDirectory.com. Over the years, they've learned that the most fabulous toys don't always sell; price counts, too. Despite the challenges of running their business, Bob and Mary (and their customers) still love to play with toys. Hear the rest of their story in the video below. Then scroll down to read about and watch videos of their best-selling products:







.

AD
---






.

AD
---






.

AD
---






.

AD
---






.

AD
---






.

AD
---






.

AD
---






This small aquarium comes with "live" gravel filled with beneficial bacteria, which means that no external filter is required. Snails and African Dwarf Frogs are included, and a one-year food supply is available.

.

AD
---






.

AD
---






.

AD
---






These 3-D watches come in assorted 12-sets of themed styles.

.

AD
---






.

AD
---






.

AD
---






Wheely Bugs are hand-crafted ride-on toys that go backwards, forwards, sideways and in circles. They provide free movement so children can be entertained while developing gross motor skills.

.

AD
---






.

AD
---






.

AD
---






These sporty wooden toy cars feature streamlined shapes and realistic brightly colored "windows" and "tires."

.

AD
---
Videography and editing by Liz Vice.

Manufacturers: Find out how a TDmonthly Video attracts buyers. Retailers: Take these videos and put on your own website! (See terms of use.)
Catalog Request Form
THIS BANNER IS AN AD:
---
---