---
More Than A Sweet Treat
Candy and Food Items Generate Interest and Boost Sales
With additional reporting by Claudia Newcorn, Chris Lundy, Pete Fernbaugh, Ashley Heaton, and Brenda Ruggiero.

The runway of chocolate bars leading to a grocery checkout might not be a parent's ideal place to stand in line with a child. However, candy and food doesn't have to be forbidden from the inventory of a specialty toy store. The key is thoughtful selection with an eye for unique features.

Individual candies sell easily as a reward, a gift extra, or to satisfy a hungry impulse buyer. Mary Porter Green, owner of Curiosity Zone in Ashburn, Va., sells Rock Candy Sticks from Squire Boone Village. "It's a novelty that appeals to the science-minded. People buy them to put in birthday goody bags." Other top-selling candies included Sour Geckos and Gummi Hamburgers from Toysmith, retailers told TDmonthly Magazine in September 2010.

A sugar fix isn't the only way retailers can incorporate food. Launched in 2009, Curious Chef is a line of children's cookware with safety and learning in mind. Kitchen knives in three sizes are an example of their innovative product development. The nylon knives won't cut skin and slice fruits and vegetables easily and safely, giving kids a role in meal preparation as well as teaching them essential cutting skills. "Learning how to cook, spending time with family, the whole bonding mission is to really have the whole family helping in creating those memories," Megan Manis, PR manager for Curious Chef, told TDmonthly in September 2010.

Zebra Mix is another line focused on learning in the kitchen. Their all-natural organic baking kits puts kids in charge from start to finish. Two instructions sets, called Safari Baking Maps, are provided for different age groups, both designed to provide goals, stimulate problem solving, and enrich with additional information.

Whether appealing to the creativity of a budding chef or jazzing up a wrapped gift, kitchen tools and confections go beyond giving in and offer plenty of opportunities for exploration and fun. The reward is sweet, whether it is for good behavior on a shopping trip or an afternoon at the kitchen counter.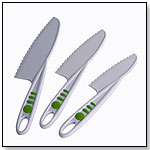 MSRP: $8.99

Age Range: 3 and upSKU or Item #: TCC50029Launch Date: January 2010Gender: Boys And Girls





Designed specifically for kitchen helpers, Curious Chef® has created a user friendly and functional line designed especially for children. One of each of the small, medium and large nylon knives is designed to let kids safely slice, dice, chop, and cut right next to an adult. The knives have serrated cutting edges to ensure clean cuts, and blunted tips for the child's safety. Launch date: 2010.

ToyDirectory Product ID#: 26875

(added 2/4/2010)

.

AD
---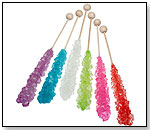 Available in a wide variety of flavors and vivid colors, Rock Crystal Candy is made of sugar crystalized onto a wooden stick. The crunchy candy sparkles like real rock crystal formations.

— John Blair, owner of

Science Safari

in Cary, N.C., told

TDmonthly

in a late Summer 2012 survey that Rock Candy was one of his bestselling edible treats.

Where to buy: SOUTH

ToyDirectory Product ID#: 30694

(added 9/29/2010)

.

AD
---






Individually packaged, these gecko-shaped lizards are made of brightly swirled gummy candy in pastel colors and covered with a sour coating.

ToyDirectory Product ID#: 30693

(added 9/29/2010)

.

AD
---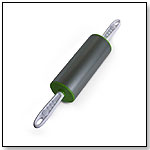 MSRP: $8.99

Age Range: 3 and upLaunch Date: January 2009Gender: Boys And Girls





The Rolling Pin by Curious Chef is designed specifically for kids' small hands, has ergonomic handles and non stick surface. "Its diameter is the same as a regular one, so that it's highly functional, while being cute and safe. The only difference is that it's shorter and with ergonomic handles," Cristina Villa, account executive at JB Cumberland PR, told TDmonthly. Launch date: 2009.

ToyDirectory Product ID#: 26046

(added 11/11/2009)

.

AD
---

Writer's Bio:
Marie Raven has a long history with the specialty toy industry as a family business. In addition to freelancing for TDmonthly Magazine, she writes creative and technical material for various other businesses.
Read more articles by this author
THIS BANNER IS AN AD:
---
---