---
How to Maintain Your Website
Organization Helps Keep Your Social Network Buzzing
"You need to have the ability to manage shipping and integrate and manage inventory, maintain data and sales channels, and maintain customer service." — Hans C. Masing, Tree Town Kids and Brain Station

"There's a misconception that you just put up a website and sales come in and it's easy," Masing told TDmonthly. "But you must be prepared. You need to have the ability to manage shipping and integrate and manage inventory, maintain data and sales channels, and maintain customer service."

Create "Use-Cases"

"A use-case describes a typical activity that occurs when something is sold online," continued Masing. "It should be simple, concise and prepared ahead of time so you can identify and resolve potential issues before attempting to fill real orders."

Control Inventory

"To avoid angering your online customers with cancellations, tightly control your inventory," Masing advised. "You may even want to hold back some stock from the sales floor specifically for sale online. If you can't do that, have someone check your online sales as often as possible, and pull stock as soon as an order comes in."

Maintain Your Shipping Station

"A dedicated shipping and packing station in your store should include a variety of box sizes, packing tape and a scale," Masing said. "A computer with a printer for shipping labels is a great idea, since all shipping services have options to print labels from their websites."

Track What Customers Say

When new customers enter the store, ask how they heard about you. Keep a tally of those who say it was the Internet. You might encourage new customers to fill out a form at your store that includes this question.

Track What Customers Do

If you advertise sales and events on your website, encourage customers to bring something in, such as a printed coupon.

Track All Traffic

Most Web hosting companies can tell you how many people visited your website. But for more detailed information, visit Google Analytics and use their free tools, which will tell you things like how long visitors stay on a particular page of your site.

Twitter to Keep it Fresh

Use Twitter and add Twitter's widget to your website. Updating Twitter with the latest news (example: "Just arrived! New toy") is as easy as sending a text message from your phone or the Twitter website. (see Twitter Dos and Don'ts) The Blue Bunny in Dedham, Mass., started using Twitter this year to announce events, which can set off a chain of networking activity.

"We recently tweeted an event [that was] picked up by fellow tweeter KidoInfo, who blogged a review," General Manager Janet Reynolds told TDmonthly Magazine. "That was picked up by Google Alerts [and was] sent via email to us. We picked it up as a Facebook update and Tweet, which was picked up by other Tweeters." And so the circle of social networking life goes. Because of the personal influence of Twitter, it can become a way to promote a more relational brand. This has been the case for Kodak, at least, whose chief marketing officer, Jeffrey Hayzlett, daily spends time posting to Twitter and Facebook, USA Today reported.

"My pastime hobby is nature photography, which has interested many followers," said Mark Burginger, CEO of Qubits Toy Company, giving one such instance of a personal slant on a public platform. He has developed a following of more than 5,000 fellow Twitterers since joining Twitter in mid April. How did he do it? "It is half technical, half common sense," said Burginger, who recommends employing second-party applications such as TweetDeck, Twitter Karma and Twellow, which he lauds as the most important, as "it is like the Yellow Pages of Twitter." He advocates registering oneself in various applicable categories, as well as searching categories and starting to follow relevant feeds.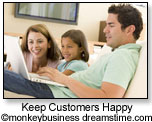 Update

Though it's another chore, keep your site fresh by removing merchandise you no longer carry and highlighting your latest and greatest products. Just as with your brick-and-mortar, if you change "displays," your customers will have a sense of products moving quickly ... so they will, too.

Pay Taxes

Find out what your state requires when you make an online sale, then be sure to follow the rules assiduously, reminded Masing.

PAMPER CUSTOMERS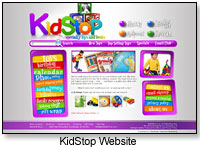 The customers are still right, even if you can't see them. Keep them more than satisfied by emailing them order-status information, supply package tracking numbers, "and send follow-up emails to ensure their purchases have arrived in good condition," said Masing.

"If an upset customer does call, don't challenge him," he stressed. "Hear him out, no matter how wrong he may be. There is real reward in turning a dissatisfied customer into a life-long client."

Call Them

Customer service is vital online, according to Kate Tanner, owner of Kidstop Toy & Book Store in Scottsdale, Ariz. "We get orders through email and send [them] out manually," she said."Eighty percent of our Internet customers get a phone call."

Be Grandma

Encourage grandparents who live out of the area to order from you online. You can wrap and/or deliver the package for them, or keep a gift card for the grandchild at your store.

PROMOTE YOUR SITE

Just as you use your website to promote your store, do the opposite, too, and use every opportunity to push the fact that you have (at least) two "locations."

Drive Traffic

"You have to get people to your site or they won't find your store or buy your products," said Tyler Jones, owner of Out Loud Creative Inc., a web design company in Bluffton, Ind. You can do so by "optimizing search engines, running ads on search engines or other sites, writing articles and linking," he added, and a professional can assist you in finding opportunities.

Use Giveaways

Storeowners are "putting their website address on business cards, brochures, stickers, sales receipts ... notepads, and pens the customers love to take," Wurzberger told TDmonthly. "That's a spectacular way to really announce [a website]. When your customer gets home ... they're still remembering how to find you virtually."

Don't forget, too, to add the link to your store to your email template. Your website is your best always-on advertisement. Make sure you're doing everything to get the word out.

Link, Link, Link

The more sites you're on, the more you'll increase your traffic. Retailers who are quoted in TDmonthly get links to their store's websites, too. Even if you don't have a website yet, encouraging your vendors to put your store's contact info on their site may drive foot traffic to your store, as it did for Joyce Matthews, 14-year owner of Just 4 Funn Toys in St. Simon's Island, Ga.

GIVE THEM VIDEOS

Even while staying simple, you can fill your site with extras such as toy demonstration videos.

Use YouTube

Online train store A-Trains.com provides customers with previews of the DVDs they sell by linking to YouTube videos.

Use TDmonthly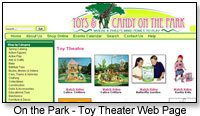 TDmonthly has more than 3,000 product demonstrations on its site that you can access by going to the Display TDmonthly Videos From Your Website page, typing in the product you want, and pasting the code directly onto your site. Customers will be able to view the videos from your site, but you won't have to host the videos themselves; we take care of that for you!

See how Toys & Candy on the Park is showing off its toys with some of TDmonthly's toy videos.

You can even send your customers the link to all of our videos in your newsletter or email blasts.

Make Your Own

You can also post your own videos from store events on YouTube or another hosting site and link to them from your own site. Be sure to get Talent Releases from every adult or child depicted in your videos!

ACCESS INSTANT INFO

By adding links to TDmonthly's articles and reviews in your emails and newsletters, you can give your customers a wealth of information without any more work for you or your staff.

Special Info on Lead and Safety

Keep concerned readers informed by sending them the link to TDmonthly's special section devoted to lead and toy safety.

Reviews by Kids and Experts

TDmonthly sends out new games and toys to be reviewed by kids, parents and experts. You can include the links to our Roundtables and Expert Reviews and Editorial Reviews in your newsletters, too.

By putting as much thought and creativity into your virtual store as you did to your actual store, you'll enhance your store's presence, give customers more options for shopping, purchasing and bonding, and be part of the still-exploding e-commerce boom ... just in time.
Other contributors to this article may have included: Julie Adrian • Michaele Birney Arneson • Leigh Au • Christina Chan • Julia Ann Charpentier • Elizabeth Chretien • Virginia Davis • Laurel DiGangi • Zan Dubin Scott • Lisa Durante • Cicely Enright • Margaret H. Evans • Doug Fleener • Diane Franklin • Janie Franz • Dennis Foley • Dennis Furlan • Rosette Gonzalez • Elizabeth Greenspan • Mort Haaz • Sharri Hefner • Terri Hughes-Lazzell • Kyle Hall • Pennie Hoover • Sheri Jobe • Julie L. Jones • Candyce Kornblum • Christine Lebednik • Susan Ledford • Chris Lundy • Susan Maddela • Hans C. Masing • J.D. Meisner • Adeena Mignogna • Catherine Jo Morgan • Claudia Newcorn • Willow Polson • Marie Raven • Kara Revel • Andrew Robinton • Greg Rock • Brenda Ruggiero • Tamara Schuit • Brent Turner • Vanessa VanderZanden • Jodi M. Webb • Stacy Wiebe• Mark Zaslove • Alex Zelikovsky

Writer's Bio:
ALISON MAREK is an award-winning writer, director and cartoonist whose work has been published by Fairchild Publications and DC Comics (Piranha Press), broadcast on Showtime and other cable networks, and viewed worldwide in film festivals. See her short films and print work on www.alisonmarek.com. Watch her nefarious villains in the web series www.MuggsMovers.com. Get inspired by her cartoons "Daily ARFFirmations to Unleash Your Inner Fido" at www.ARFFirmations.com. Phew! And then ...
Read more articles by this author
THIS BANNER IS AN AD:
---
---