---
Celebrating Twenty Years of IDEX
18-Inches and BJDs Carry the Fair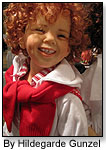 For twenty years, IDEX has brought together artists, manufacturers, suppliers, retailers and collectors for one glorious week at the end of January. TDmonthly Magazine was there as attendees expressed their common infatuation with dolls and experienced the showcase of new delights they will either collect or covet all year long.

This year's show was held at the Rosen Shingle Resort in Orlando, Florida. Events included the 5th annual Doll Reader Debut of Dolls and DOTY events; a BJD (ball-jointed doll) mixer: fabulous workshops and events such as breakfasts and high teas presented by the different companies. One event was a baby shower for the mother of a new "reborn doll." The mother had registered her doll like a real baby at the different baby boutiques and she received an array of fabulous gifts. Other mothers of reborns brought their babies in real baby strollers, prams and shared "baby talk" with the other guests.

Although dolls are on display in every category ranging from $5 to $20,000 in price, TDmonthly focused on what is new and what might interest the young collectors who frequently visit toy shops: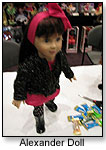 1. Alexander Doll Company added new fairytale characters and fashion dolls to their line but the "favorite Friends" collection is sure to be a hit this year with many new faces and hair styles to choose from plus a wonderful range of new outfits. These 18" dolls can wear the wardrobes of other companies' 18" dolls and share their clothes for a "fashion swap." Retailers may be disappointed that they have to order each of these dolls in groups of four instead of two as in previous years because this will bring in lots of inventory late in the year. The Alexander Co. now owns "Lee Middleton" dolls and they have new nursery babies, with more of the collectible dolls coming later in the year.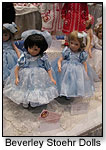 2. Beverly Stoehr Originals has finally entered the vinyl market after sculpting only porcelain and polymer clay for years. The new dolls are 14" tall and all the clothes are American made by Cottage industry. These are sweet little girls sure to please young girls and their mothers.

3. Bo Bergeman LLC is an artist-owned family doll company from Hawaii. Their dolls are greatly influenced by Asian design and have a unique look. Bo has been making dolls for 16 years but is just now showing on the Mainland. She says most of her employees are members of the U.S. Military. Most of the dolls are 12" and there is a story behind each doll.

4. Charisma Brands features Marie Osmond Dolls. Kewpie, Penny Brite, and Adora…the new Adora line of 18-inch dolls offers another selection to girls enjoying the 18" fashion-doll craze.

5. Heart String Dolls are 8" collectible little girl dolls. The original sculpt is by Dianne Effner, who created a look of innocence. Jo Fiton designed the traditional little girl clothing.



6. JC Toys Group Inc. Dolls by Berenguer are designed for play for kids who want a lot from their play dolls. They look happy, alert and full of fun. Any little girl would want to play with one, but they also attract a market from ladies wanting to make a "reborn doll."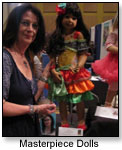 7. Masterpiece Dolls brings together a collection of dolls by German artists such as Monika Levin and Monika Peter-Letch. These dolls look like real children and can wear real children's clothes. This delights mothers and grandmothers who wish to redress their dolls. This year they have a new fairytale and International collection.

8. Tonner Doll Company continues to bring forth fashion and fantasy dolls that delight older children and adults. The articulation and super model features are only enhanced by an "over-the-top" stylish wardrobe.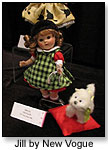 9. Vogue Dolls feature Ginny and Jill dolls that are vintage and from the 21st century. They have a new director of designs: Alice Leverette, a renowned doll artist, who continues the tradition of excellence set by Vogue.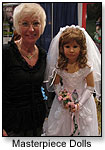 10. The Beautiful Vault lives in the heart of San Francisco. In 1938, with the threat of war hovering over Paris, the owner of "Le Beau Voute" sent his nephew and niece to San Francisco. This is the story of the mannequins that made the journey and the interesting clothes they modeled and the "Beautiful Vault" they opened in San Francisco that continues to this day. The dolls and story are by Joan Greene,who once was director of the "Gene" doll company.

11. Melissa & Doug have entered the doll market with new play dolls, furniture and designs for dolls. My favorite is their many designs of magnetic paper dolls.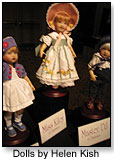 12. Kish & Company features the beautiful little girls of Helen Kish and this year Helen has entered the BJD market with a lovely little girl with 14 ball joints.

These are only a few of the companies featured at IDEX. It is a collectors' paradise and you will want to attend the next show Jan. 26-29 at the Renaissance Orlando Hotel at Sea world in Orlando, Florida.

Writer's Bio:
Virginia Davis is a freelance writer who is considered an expert in the area of dolls and collectibles. She has written hundreds of articles on dolls and toys, as well as other subjects, for numerous publications. She lives in Georgia.
Read more articles by this author
THIS BANNER IS AN AD:
---
---