---
The Women Behind Toy Soldiers: Part I
Dimestore Sculptresses Kooken & Cloninger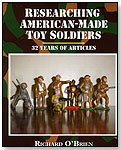 Virtually everything about toy soldiers is cloaked in masculinity. Traditionally, soldiering has been almost wholly masculine; relatively few figures have been produced of girls and women. The toys were produced with boys in mind, and most of the buyers and collectors have been boys and men.

However, at the production end, women figured heavily. Nearly half the labor force of such companies as Barclay and Manoil consisted of women or teenage girls, who almost exclusively did the painting, and also packed, did clerical work, and performed other duties. In the latter category was the key job of design. Here at least two women have figured, one of them quite prominently.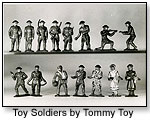 Olive Kooken (pronounced COO-ken) was one of the major sculptors of Barclay and Tommy Toy's toy soldiers. Her friend, Margaret Cloninger (pronounced KLAH-nin-jer) apparently did some work for Barclay, and definitely produced figures for Tommy Toy and Warren.

Olive Kooken was born December 12, 1904 in Kansas. Margaret Ruth Cloninger (known as ''Margo'' to her friends) was born July 17, 1905 in Jackson, Tennessee, with the two becoming friends as early as high school in Wichita, Kansas. According to a long feature story in the March 31, 1929 Wichita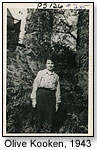 Eagle Sunday Magazine, Miss Kooken became interested in sculpture when she was a young child. Her high school yearbook described her in part, ''Brushes and palettes and flats, sharps and naturals...'' so she was obviously interested in painting and music as well.

In 1927, when she was 22, she moved to New York City and attended the Art Students League from 1927 to1928. According to my informant at the League, ''In looking over the records it is obvious that Edward McCartan was her most popular teacher as she attended his class most often. He taught sculpture.''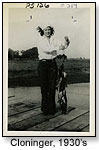 The young artist's return to Wichita in March, 1929 (where she had earlier studied art) and her old job at the Mid-Continental Map Company, was an effort to save money to finance a trip to Europe, where she hoped to work as an artist. Presumably, the 1929 Crash put a temporary end to those hopes, and instead she returned to New York.

It is not known when Ms. Kooken began working for Barclay. Most of the company's workers didn't recall seeing her much before 1939, and two of her friends seem sure she did no work for Barclay during her first stay in New York. However, Sally Newman, longtime bookkeeper for Barclay, contradicts the others, saying that Olive Kooken did work for the company before 1929, when she lived in Greenwich Village.

Newman's memory does not square up with this account by Mildred Orr Hirth, a longtime friend of Olive Kooken and Margaret Cloninger: ''You asked how she got started on the soldiers. She had some animals, lamps, bookends, etc., and they were expensive to cast. The steel foundries were close (she lived in Union City) and she started to do some of the casting herself. She met some of the toy manufacturers there, and Barclay's and another company asked her to do the soldiers.'' If this is true, then she couldn't have started with Barclay until 1936 or 1937, as she apparently moved to Union City around this time.

Presumably the other company mentioned by Mildred Hirth was Tommy Toy. It was at this point that Margaret Cloninger entered the scene.

See Part II of The Women Behind Toy Soldiers in April's edition of TDmonthly Magazine.

Writer's Bio:
Richard O'Brien has been fascinated by toy soldiers virtually all his life. In the 1970s, he began his research and since then has published the results both in his books and trade-magazine articles. His books on toys include eight editions of ''Collecting Toys,'' the coffee-table book ''The Story of American Toys,'' and his mammoth ''Collecting American-Made Toy Soldiers,'' as well as many other books on soldiers, collectible trains, cars and trucks. This article is excerpted from his latest book, ''Researching American-Made Toy Soldiers,'' now available from Ramble House. His novel ''The One After Snelling'' is considered a ''perfect'' mystery.
Read more articles by this author
THIS BANNER IS AN AD:
---
---