---
The Women Behind Toy Soldiers: Part III
Kooken & Cloninger: End of an Era
See Parts I and II of The Women Behind Toy Soldiers. Part 1 Part 2

According to Jeannette Vrancken, who was a ward of Olive Kooken's, toys were the artist's "bread and butter," but the pay was low. She was never an employee of Barclay, just a freelancer, and she "sometimes hated" working on the soldiers, since she was given so little time to do them.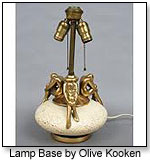 Perhaps this was truer after the war than before, when detailing certainly deteriorated on the figures. Olive Kooken thus had to earn her living through more than soldier design. She sculpted lamps, jewelry, trophies, eight-foot tall angels and the rest of the altar for a modern Catholic church in Newark; she sculpted Beaut Manufacturing's toys from designs by its owner, modeled approximately half of the black model ID planes produced by Design Center of New York in 1942-43 for the armed services and the general public, did a sculpture in miniature for New York's Museum of Modern Art of its Sculpture Garden, and undoubtedly a number of other things. In addition, she had known the great American actress Minnie Maddern Fiske, and in 1955 her book "Mrs. Fiske and the American Theatre", co-written with Archie Binns, was published by Crown.

Kooken seems to have been liked by everyone I've been in touch with. She appears to have been a very kind and generous person.

"Her Christmas figures were well loved in our house and I believe they were manufactured into the the late seventies at least," Greg Wall shared with TDmonthly Magazine. Wall's mother is Jeannette Vrancken's older sister and owns several of Kooken's paintings. "On the Captain Kangaroo program on CBS he would often do little 'videos' (before the term was really around) where he would play a song and illustrate it somehow. One morning he played a Christmas song and showed scenes of Olive's figures. It was really like having a friend we knew on T.V."

Like many artists, she was something of a nonconformist, wearing trousers most of the time, dungarees to the Metropolitan Opera in an era when virtually everyone dressed up for it, even getting up on the roof of her small stone home in Union City to make extensive repairs herself.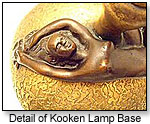 For a while, Margaret Cloninger Warren's life ran more smoothly. Her husband had money, and for a time they lived in a handsome home in the upper-class town of Bernardsville, N.J., but eventually the money ran out, and her later years seem to have been somewhat impoverished.

Unfortunately, both women died young. Kooken died quite suddenly at the age of 59 on June 24, 1964, of arteriosclerotic heart disease. Neither of her obituaries mentioned her association with any toy company. Mrs. Warren died at age 61 on November 15,
1966, while visiting in Wichita from her home in Merritt Island, Fl. Her obituary, in the local Wichita paper, also made no mention of her connection with the toy industry.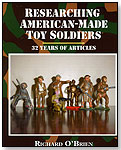 Unfortunately, friends and relations who survived the two women have not been able to provide much specific data. Mrs. Hirth has a pre-1949 Barclay catalog or price sheet but has not been able to locate it. She was, however, able to provide me with photos of some of Olive Kooken's Barclay figures. These, using Barclay's numbers, were 616 Little Boy in Jacket, winter figures 635, 636, 628, 495, 496, 500, 530, 498, podfoot cowboys and Indians 953, 951, 955, 956, 957, and HO train figures 361, 351, 355, 359 and 354.

As for Margaret Ruth Cloninger, at the moment the only work that can be definitely attributed to her are the five nursery rhyme figures she produced for Tommy Toy. One can only hope that eventually more evidence will turn up, as both women deserve full credit for their important contributions to increasingly prized Americana.

Writer's Bio:
Richard O'Brien has been fascinated by toy soldiers virtually all his life. In the 1970s, he began his research and since then has published the results both in his books and trade-magazine articles. His books on toys include eight editions of ''Collecting Toys,'' the coffee-table book ''The Story of American Toys,'' and his mammoth ''Collecting American-Made Toy Soldiers,'' as well as many other books on soldiers, collectible trains, cars and trucks. This article is excerpted from his latest book, ''Researching American-Made Toy Soldiers,'' now available from Ramble House. His novel ''The One After Snelling'' is considered a ''perfect'' mystery.
Read more articles by this author
THIS BANNER IS AN AD:
---
---