---
Giving Feedback to Your Retail Employees
Balancing between Positive and Negative feedback is key
This article was reprinted with permission of the author.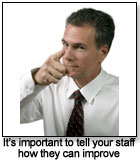 I received a gift the other day from a friend via Amazon.com. At the bottom of the packing list was a question, "Would you like to give feedback on the way your order was packed?" It got me thinking about how in retail sales training we give feedback to employees.

When I was working with Terrie Silverman, a writing coach in Los Angeles, she would gather a group of writers and we would read a selection. She would then ask, "What kind of feedback would be helpful?" Most times it would be, "Any and all." But sometimes it was, "I just want to hear it was good or you liked it." Both were perfectly valid in the process of having your work critiqued.

But when we are the ones responsible for another's performance, what is the best way to give criticism?

If you need to give feedback to an employee, consider doing the following:


Remember this is a person with real feelings in front of you, so reprimand away from others.
Connect as a person by acknowledging something they've done right.
Share what they did wrong.
Ask them if they noticed their mistake, and ask what they think they could have done differently.
Restate what they said they'd do the next time.
Find something else they are doing well.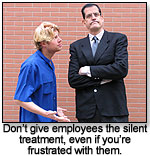 You don't have to give feedback for every small mistake, but if it happens on a key training point, or more than once, you should say something.

Here are four of the worst methods of giving feedback (I was guilty of using them when I first started out — how about you?):


Sarcasm — "Way to go with the sale there, Henry." Yes, if you know the employee well it can be delivered as a joke, but it may just do more damage than good.
Disapproval — A sneer. A shake of the head. A roll of the eyes.
Silence — This happens when the employee clearly knows you saw what happened and when they try to give you an excuse, you just walk away without saying anything.
Yelling — The worst. Like a storm, your anger touches everyone and everything, leaving damage and fear in its wake.

Sounds a bit like marriage counseling. And in many ways it is. Relationships with employees in this age can be fragile at best. I know of no one bragging about his or her own job security.

Creating a culture of exceptional experiences for customers can happen only when we put exceptional thought into how we give feedback and train our employees.

Writer's Bio:
Bob Phibbs is the Retail Doctor®, a best-selling author and speaker who has helped thousands of independent businesses compete. His new book, The Retail Doctor's Guide to Growing Your Business has received praise from both Inc. magazine and USA Today and can be found at your local bookstore or ordered at http://www.retaildoc.com/guide. He and his work have been featured in the New York Times, the Wall Street Journal and Entrepreneur magazine. Questions? Contact Bob at info@retaildoc.com.
This article was reprinted with permission of the author, Bob Phibbs, aka The Retail Doctor®.
Read more articles by this author
THIS BANNER IS AN AD:
---
---