Tools:








Holiday Preview: 9 Plush Gifts
Cozy and Comforting Plush Toys Make Great Gifts
Need a meaningful gift to offer your customers or young family members this Holiday season? Look no further. From cozy, to interactive, to organic, the plush items below fill a variety of needs – perhaps most importantly, a child's need to love and feel loved in return.

Stave off the wintry chill with Cozy Cushions from Pritty Imports LLC. These plush animals can be opened up into soft pillows, and "they contain a hidden removable heat pack that turns the wonderful cushion into a warm buddy," Ruth Hamilton from Pritty Imports told TDmonthly. The heat pack is filled with all natural grains and aromatic lavender, and the Cozy Cushions come in four different animal styles.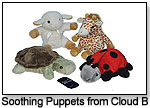 Similarly, this Fall Cloud B is offering a new line of Soothing Puppets that come with two removable hot/cold packs to help kids sleep through any weather. These soft, plush hand puppets include Sleep Sheep, Gentle Giraffe, Twilight Ladybug and Twilight Turtle characters. Another cozy gift option is the Sleep Sheep & Friends Aroma Pillow. These aromatherapy pillows include a removable lavender scent pouch to help children sleep, and several of the styles can be folded up into a cuddly stuffed animal.

It can be difficult to find the perfect plush doll, so Aisha & Co. LLC's line of 16 Ishababies now offers a personality for everyone. Each of the 16 characters now has a profile and back story on the updated, interactive Ishababies website detailing their talents, skills, and likes. This means that "each child, no matter what gender, background, like or dislike, will probably find compelling characters to whom they can relate viscerally and enjoy wholeheartedly," Harold Bailey, Jr., from Aisha & Co. told TDmonthly. Furthermore, the culturally inclusive line of dolls is well-suited to any child in our increasingly global society: "The need for a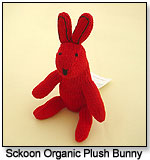 family of characters which goes beyond multicultural to genuinely pancultural™ is an emerging market requirement," Bailey told us.

Other global gifts to consider include environmentally friendly plush that doesn't harm the earth.

"Sckoon Organics plush toys are made of 100% organic cotton (even the stuffing is 100% organic cotton) and dyed with low-impact, environmentally friendly dyes," Satoko Asai, marketing director at Sckoon Organics, told TDmonthly. They are safe for babies to chew, and, with MSRP's ranging from $10-$18, they are a relatively low-priced option for eco- and cost-conscious consumers.

New from Hosung NY Inc. are miYim Organic Disney Plush animals. Including favorite characters such as Winnie the Pooh, Tigger, Eeyore, Piglet, Mickey Mouse and Minnie Mouse, each softly colored stuffed creature has a chime within to soothe and entertain. "miYim eco-plush toys are made from certified organic cotton and colored with non-toxic, low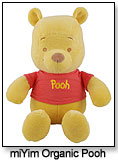 eco-impact dyes that contain no heavy metals," Tami Kelly, PR rep for miYim, told TDmonthly. And it's not just the materials that make this a great green choice: "Our environmentally responsible manufacturing process reduces waste by using less heat, energy and water," Kelly said.

For older girls, luxurious stuffed leopards and cats from Hannah's Kittens Inc. are a great gift. "Today's kids care about the environment and nature – and our kittens are a perfect example of why the world can make amazing things with today's better faux furs (no animals need ever be harmed again!)" Vicky Nichols, president of Hannah's Kittens, told TDmonthly. This winter they'll be launching a new snow leopard. "She'll be a rare First Edition with a #1 on her rear paw. We'll also have a very fancy, new white kitten...we'll also be launching our very first accessories for girls – adorable blanket and pillow sets so they can snuggle their kitties in style." Best of all, their high quality ensures that these toys can be treasured for years: "They aren't tinker toys that will be tossed away and soon forgotten," Nichols told us.

Giantmicrobes, Inc. is also offering new plush that can be used year after year – mini-microbe tree ornament boxes. Last year they introduced the Christmas Tree Mini Microbe Box, and for 2011 they're launching the new Merry Christmas Microbes: Stocking Box of Ornaments. It features "an exclusive Green Amoeba available only in this collection, warmly wrapped up in a red scarf and ear muffs," Laura Sullivan, VP of operations at Giantmicrobes, told TDmonthly.

Harold Bailey, Jr., from Aisha & Co. LLC told TDmonthly that "with the continued ratcheting up of the focus on the latest technological 'gee whiz' devices as the 'must-have' toys each year, the industry is losing sight of each child's basic need for the security and joy of a friend they can hold, touch and feel." With this in mind, the next time you're looking for a thoughtful gift to bring joy to the children in your life, consider lovable, tangible plush.

You can see the items in the story above described in detail below.







Cozy Cushions are three products in one: a plush animal, a soft luxurious cushion, and a warm fuzzy friend. Just remove the 'hidden' herbal heat pack and warm for a minute, and the plush turns into a warm soothing buddy, who smells wonderful. Cozy Cushions can be taken anywhere and everywhere, and are excellent for long car journeys, nap time at day care, or and overnight stay at Grandma's. Launch date: August 2011.

.

AD
---






Cloud B's Soothing Puppets have two functions in one product. They're fun, cute hand puppets, but hidden inside is a removable gel pack. Heating the gel pack gives kids a warming cuddle on chilly nights; cooling the gel pack helps keep kids cool on a hot summer night. Also good for boo-boos. Comes in four different plush characters: Sleep Sheep, Twilight Turtle, Twilight Ladybug and Gentle Giraffe.

.

AD
---






.

AD
---






The 12" Mocha Girl sports raven cloud-like tufts and a pretty pink dress, and the 11" Mocha Boy comes in a blue jersey.

.

AD
---






A hand knitted crochet doll made of 100% organic cotton inside and out, dyed with metal-free, low impact dyes certified by GOTS standards. Making it safe for babies. Size: 7.5 inches. Sckoon Organics plush toys are made of 100% organic cotton (even stuffing is 100% organic cotton) and dyed with low-impact, environmentally friendly dyes. They are machine washable, easy to clean and safe for babies to chew.

.

AD
---






.

AD
---






.

AD
---






Packaged in a beautiful red Stocking Gift Box are five new tree ornaments from Giantmicrobes. Salmonella is adorned with holly, Dust Mite is sporting antlers and a red nose, Red Blood Cell is sprinkled with snowflakes, Penicillin is decorated with colorful ornaments, and an exclusive Green Amoeba available only in this collection is warmly wrapped up in a red scarf and ear muffs. Launch date: November 2011.

.

AD
---






.

AD
---
Catalog Request Form
THIS BANNER IS AN AD:
---
---