---
Q & A With Jon Capriola, Creator of Laser Pegs
The following is a paid advertorial.

"I am glad to know I contributed something beneficial for kids all over the world." — Jon Capriola, CEO and President, Laser Pegs Ventures LLC



With the newly released Laser Pegs 3-D Lite Board and World of Bugs hitting stores just in time for the Holidays, it looks like it's going to be a great year for Jon Capriola, creator of Laser Pegs and founder of Laser Pegs Ventures LLC. Laser Pegs is already a best seller in many stores – Joe Berardoni from Pun's Toys in Bryn Mawr, Pa., told TDmonthly in a Summer 2011 survey that he sells 20-30 Laser Pegs building sets each month – but they have lots more in store for 2012.

We had the chance to speak with Jon about the creation of Laser Pegs, as well as what projects they have on the horizon.

Q. What career path did you originally envision for yourself? Did you ever anticipate working with children's products?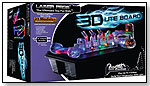 A. I thought for sure I would be in jail down the path I was going… you become a product of your environment and I had to change my environment fast. Once I did this I lived a less stressful lifestyle, which allowed me to create. I always had creations in my head of unique products; however, I never took action on any of them. It was a total accident creating my first invention, which led me into other inventions for kids! After I saw the look on kids' faces using my light up shoelaces called Laser Laces I was completely addicted innovating [products] for kids!

Q. How did you come up with the idea for your first product?

A. My wife had a terrible migraine headache and kept repeatedly getting them. I was not too apt on drugs so I told her as a kid I used to tie two socks around my head very tight and the pressure made my head feel better immediately. Once I did this for her she look at me and said if I made this into a product I would become a millionaire. That is what I did… though I did not become a millionaire, I did make enough to make other ideas, which later led me to becoming a more well-rounded inventor.

Once I was knocked off that just solidified the deal and then I knew I was onto becoming a real inventor… for some entity or person to take time and knock you off is actually an honor! It's morally not a great feeling; however, if you look at it from a different angle you will find when you're copied you fall into a category of greatness… after all, who copies anything unless it's of some value to copy?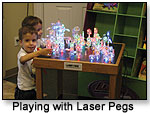 Q. How long did it take to go from the original spark of an idea to actual production?

A. Around five years for the Laser Pegs product line. This is one complex beast of a product. It's an exciting product [but there are] many challenges to mass-producing it correctly!

Q. How much money did you need to create the first prototype and come up with a business plan?

A. A lot. I figured 60k; however it took over 500k to finalize the entire project.

Q. How did you raise it, and how long did it take to raise it?

A. I raised it through friends, family and asking everyone I met. I incorporated my business to a legit company and sold private equity to raise funds, leveraging issued patents!

Q. What were the top two or three most significant obstacles you had to overcome to achieve success and how did you do it?

A. I used a strict mindset to overcome the obstacles… problems don't go away they change…with that stated experience is what you get when you don't get what you want…therefore knowing I had tons of experience I overcame money issues, by achieving patent rights to a new innovation and distribution by partnering with the right toy rep companies to introduce and resell my item.

Q. What do you think makes Laser Pegs so innovative?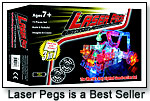 A. Aside from the fact there is not a toy even remotely close to it, I believe what makes the toy so innovative is the fact [that] it's entirely abstract. The kids or adults who play with the product can enjoy the fact [that] they are not confined to a methodical build; they can just have fun and piece light together!
The product at its core innovates the entire toy construction set industry by being in its own domain. It's different and why it's different draws people in!

Q. It was recently announced that Laser Pegs will now be available in the UK through F4K. How did that partnership transpire?

A. Success is a funny thing… it seems to duplicate itself. F4K saw us at the toy fair in New York. They contacted us and pre-sold many units before ordering. We are now also sold in Hong Kong, the Netherlands, Poland, Nova Scotia and Canada. Distributors seek us out. They hear about the item and want to be a part of it immediately!

Q. What new projects do have on the horizon for 2012?

A. In 2012 we plan to release the Laser Peg Experience, and Laser Peg Stackables, which allow our shapes to be used with LEGO shapes and other building block sets. Of course, ours illuminate!

We also plan on making an entire animated Laser Peg cartoon series. A 60 sec and 120 sec DRTV is in the works as well.

Q. What has been the biggest surprise to through your journey with Laser Pegs?



"There are no failures, only outcomes… what you do with the outcome is entirely up to you!" — Jon Capriola, CEO and President, Laser Pegs Ventures LLC

A. The way kids react when playing with them is by far the biggest surprise with the product. I knew they would like them but I never thought they would love them enough to post [their creations] on YouTube, Twitter and Facebook. I never thought the products would take on a life of their own by winning all the awards they have won. I also never thought that while I was sleeping, kids would be designing cool things on the other side of the world with my invention!

It's an honor to see my passion come to life and take on a life of its own. I am glad to know I contributed something beneficial for kids all over the world. Not too many people can state this and I just feel if more people contributed the world would honestly be a better place… all profits aside. Kids are our future! With this stated it's my belief if we start with kids first, great things will come.

Q. What one piece of advice would you offer to someone just starting out in the toy industry?

A. Have a solidified mindset and understand your industry better than your competition. Do not trust anyone even when the patents are issued…and let passion drive you. Nothing can stop you if the passion leads the way! Concentrate on your successes and duplicate them as often as possible. If someone makes you upset, keep on keeping on. Again, MINDSET IS KEY!

There are no failures, only outcomes… what you do with the outcome is entirely up to you!

Writer's Bio:
Justina Huddleston graduated Magna Cum Laude from Emerson College with a BA in Writing, Literature, and Publishing in 2009. After graduating she was the on-site director of the Boston Children's Museum gift store for a year, selling educational, developmental, and creative activity toys that tied in with the museum's exhibits. Justina also interned at children's book publisher Candlewick Press before moving from Boston to Los Angeles, where she is now Editorial Director of
TDmonthly Magazine
.
Read more articles by this author
THIS BANNER IS AN AD:
---
---