---
It's Unanimous: Manufacturers Say ABC Expo Is Essential
Location Changed, but Benefits Remained
"This is the only show that matters for child and baby manufacturers." — Katie Sotor, Sales & Marketing, CRANE USA INC.

The ABC Kids Expo commenced in Louisville, Ky. September 23-26. TDmonthly was there to take videos of exciting new products, and we got to speak with manufacturers about what they thought about this year's show.

Many people wondered if the new Louisville location would affect attendance. Ryan Hamilton, president of Geared for Imagination, said that traffic was "Overall somewhat slower than previous Las Vegas shows, but still good."



Jenn Namazi, co-founder of NiNi Baby Products, told us, "Traffic was quite decent and exceeded our expectations." Rosemary Busby, president and CEO of KEL-GAR, Inc., agreed. "We were excited to have an almost constant stream of traffic and visitors to our booth," she said.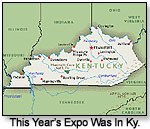 However, some exhibitors noticed a decrease in traffic. "I felt the traffic was down for retailers. Everyone talked about it," Katie Sotor, sales & marketing associate at CRANE USA INC., told us.

Some speculated that the layout of the show might have affected things. "Traffic was pretty slow," Houda Rahim, owner of Maamam LLC, told TDmonthly. "Everything felt way too far apart," she elaborated.

Others liked the set up. "The exhibitor booths were all on the same level, and in an L-shaped format. This made it feel a bit smaller, making it easy to navigate the exhibit hall," Namazi from NiNi Baby Products said. Hamilton of Geared for Imagination concurred. "It was well organized by category, and the larger booths (gear and furniture) were on the two ends," he explained.

While getting people to see your booth is important, even more crucial is getting them to order.



"Our primary objective was to connect with key distributors and representatives, and we accomplished our goal." — Jennifer Namazi, co-founder, NiNi Baby Products

"We wrote enough orders to cover a large percentage of our cost to attend the show," Busby from KEL-GAR, Inc. Inc told us. Namazi from NiNi Baby Products was satisfied as well. "We wrote about a dozen orders," she said, while Ron Gustaveson II, president of SolPals, told us, "We had three orders and gathered approximately 60 cards of potential buyers."

However, not all were happy. Kailas Narendran of Kiinde got nine orders, but "We expected a bit more," he told TDmonthly.

One thing on everyone's mind was the location change from Las Vegas to Louisville, and feelings were decidedly mixed.

"Overall I enjoyed the show and loved Louisville...Louisville is a great small/big town expo destination," Sotor of CRANE USA INC. told TDmonthly. However, "This was not sophisticated Vegas," she said, and mentioned that ABC should work more closely with the hotels in Louisville to "offer the best service and best memories for the ABC guests."

"We actually enjoyed discovering Louisville," Rahim from Maamam LLC told TDmonthly, "But in reality it's not an attractive destination for many people," she concluded.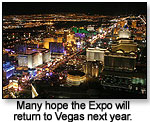 Narendran of Kiinde was one of those people. "We were not very happy with the venue. The WiFi was horrible and we relied on it for taking orders...The food options were abysmal." Narendran isn't alone with his complaint about the food- four of the seven exhibitors we spoke with mentioned that they wish there had been better options at the show.

In spite of some difficulties, the manufacturers we spoke to unanimously agreed that attendance was beneficial.

"This is the only show that matters for child and baby manufacturers," Sotor from CRANE USA INC. said.

Namazi of NiNi Baby Products told us that "This is a real meeting place for the juvenile products industry, and we've had many key relationships originate at the ABC Kids Expo...we've already signed up for next year's show!"

Busby from KEL-GAR, Inc. pointed out that "Absence from the ABC Kids Expo can send buyers and competitors the message that your business is no longer a going concern."

Rahim from Maamam LLC summed it up nicely. "ABC is the biggest Baby and Kids Show in North America. As a growing business in the industry, we feel that it is important for us to be there."

Keep your eyes peeled for TDmonthly Magazine's exclusive videos from ABC Kids Expo, including video of the booths of the manufacturers quoted above.

Writer's Bio:
Justina Huddleston graduated Magna Cum Laude from Emerson College with a BA in Writing, Literature, and Publishing in 2009. After graduating she was the on-site director of the Boston Children's Museum gift store for a year, selling educational, developmental, and creative activity toys that tied in with the museum's exhibits. Justina also interned at children's book publisher Candlewick Press before moving from Boston to Los Angeles, where she is now Editorial Director of
TDmonthly Magazine
.
Read more articles by this author
THIS BANNER IS AN AD:
---
---