---
CD Reviews: Funky and Folky New Music for Kids
A folky offering from Chip Taylor, a Celtic Christmas romp, and a multi-genre whirlwind are discussed in the three CD reviews below.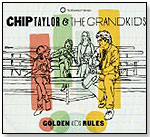 Title: Chip Taylor and the Grandkids - Golden Kids Rules
From: SMITHSONIAN FOLKWAYS RECORDINGS
Age: 4 and Up
Gender: Boys and Girls
MSRP: $13.99

TDmonthly Rating:




WHAT IT IS
This is the first album from Chip Taylor & The Grandkids, though Chip himself has been involved in music for years. Probably most remembered for the hit "Wild Thing," Taylor has now recorded with his grandkids this 12 song, on this 38-minute album.

WHAT WE THOUGHT
Combining the indie sounds of Wilco with the laidback Americana/folk style of The Johnny Cash Children's Album, this CD, to put it simply, rocks. The music is sophisticated in its subtlety, and will be a relief to the ears of parents who've had to listen to one too many Kidz Bop albums. The lyrics on the album bounce between whimsical and poignant, but are always well written. Stand out tracks include "Big Ideas," with the kids singing lines like "Take a good look at me / I'm not just a kid / I got big ideas. / I don't tell them to everyone. / What about you?" and "I want to be a doctor, a lawyer, a mother, a friend." As Taylor says in the liner notes, "Kids like singing about serious stuff - because they think about that stuff - whether YOU talk about it or not." This comes through very well on the rest of the album, including "Quarter Moon Shining" (What's beyond the sky, Pepa? / We really want to know...When old dogs die, Pepa / Where do they go?) and "Kids to Save the Planet" (Tell everybody that you meet/ You're a kid that takes a stand...Anyone who makes the rules / Listen to what children say / Don't look at them as little fools / They just want a better way). The album has a lighter side too. "Daddy is a Red Sox Fan / Mommy is a Yankees Fan" plays off the melody of the classic song "Take me out to the Ballgame." The young singer sums up her confusion well in the chorus: "Daddy is a Red Sox Fan. / Mommy is a Yankees fan. / I don't know just where I stand. / What's a little girl to do?" The last three songs on the album, originally recorded for the wedding of one of Taylor's sons, also feature one of the most lighthearted songs on the album. "The Possum Hunter" is a jaunty tune about a dog (the hunter) who is to afraid to get rid of a possum hiding in his dog house. The last track of the album, "Now That Kristian and Anna Have Wed" is a sweet lullaby-sounding song that will appeal to kids and adults alike.

WHY THEY'LL WANT IT
Parents who are big music fans, but want to make sure that what their kids listen to is age-appropriate, will love this album. The lyrics are poignant and relevant to children, without being patronizing or sacrificing the quality of the music. Any adult who's been driven crazy by the incessant squeaking, honking, and yelling of other children's albums will appreciate this one. And if you're a store owner who demos the CD's you sell, you'll be happy to have copies of Golden Kids Rules on hand as well.


---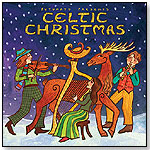 Title: Celtic Christmas
From: PUTUMAYO KIDS
Age: 4 and Up
Gender: Boys and Girls
MSRP: $13.99

TDmonthly Rating:




WHAT IT IS
This 11-track album features Celtic-style Christmas songs from artists in Ireland, Scotland, England, Canada and the US. Covering classics such as "Joy to the World," as well as less familiar tunes like "Noel Nouvelet," the CD features a range of styles within the Celtic genre.

WHAT WE THOUGHT
Putumayo has compiled another interesting and enjoyable album. Showcasing a mixture of songs that many people are already familiar with and combining them with Celtic instrumentation, new listeners will ease into the genre without feeling overwhelmed. A great example of this is "Nollaig Bhan," which is the familiar song "White Christmas" sung in Gaelic. The album heavily features instrument-only tracks, so if you're looking for an album of sing-a-long jingles, you might want to look elsewhere. But if you're looking for an intriguing album to play during family activities like trimming the tree or drinking cocoa by the fire, this might just be the pick for you.

WHY THEY'LL WANT IT
For parents who want to expose their children to a wide variety of musical genres and avoid the canned Christmas pop that infiltrates the radio during the holidays, this album is a great choice. This CD would also be a good choice for stores that cater to adults as well as children, as it is appropriate for all ages.


---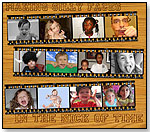 Title: In the Nick Of Time - Making Silly Faces
From: IN THE NICK OF TIME MUSIC
Age: 4 and Up
Gender: Boys and Girls
MSRP: $12.99

TDmonthly Rating:




WHAT IT IS
This is the third album from In the Nick of Time. It features 13 songs and it 37 minutes long. The CD explores a wide variety of genres, from classic rock to R&B, reggae, and funk.

WHAT WE THOUGHT
This CD offers something for everyone. It's a truly multi-genre listening experience, with a heavy leaning towards the funk/disco/pop sound. General fans of pop music or radio music will likely enjoy this album. The lyrics are very kid friendly, especially on tracks like "I Tried it, I Like It!" and the old-school hip-hop sounding title track, "Making Silly Faces." This and other tracks on the CD are reminiscent of the music of HBO comedy duo "Flight of the Conchords," in that each song is expertly crafted, musically, but the lyrics are unexpected — in this case, geared toward kids. Another stand out track was the hilarious "Pirates Never Say Please." Kids may learn that being a pirate isn't as great as it seems as they laugh along to the lyrics and listen to the pirate say "Yar" in every intonation imaginable. Though none of the songs are lyrically very substantial, this album is an up-tempo and fun listen for the whole family.

WHY THEY'LL WANT IT
This is a good choice for families with several kids who all have different tastes in music. It's not annoying or repetitive like some kids' albums can be, so mom and dad won't mind listening along either.

Writer's Bio:
Justina Huddleston graduated Magna Cum Laude from Emerson College with a BA in Writing, Literature, and Publishing in 2009. After graduating she was the on-site director of the Boston Children's Museum gift store for a year, selling educational, developmental, and creative activity toys that tied in with the museum's exhibits. Justina also interned at children's book publisher Candlewick Press before moving from Boston to Los Angeles, where she is now Editorial Director of
TDmonthly Magazine
.
Read more articles by this author
THIS BANNER IS AN AD:
---
---