---
5 Book Reviews - Board Books, YA Novels, And More
In our latest batch of book reviews, we learn about turkeys, meet a brave bunny, and read about a cat living her last day. See all five book reviews, below.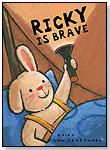 Title: Ricky Is Brave
Author/Illustrator: Guido van Genechten
Publisher: CLAVIS PUBLISHING
Gender: Boys and Girls
Age: 4 and Up
MSRP: $16.95

TDmonthly Rating:




WHAT IT IS
This picture book follows Ricky on his first outdoor sleeping adventure. The summer has been unusually hot, so Ricky asks his parents if he can sleep in a tent outside. He has fun with his newfound independence, and the ultimate message is that no matter what obstacles a child may face while trying new things, their caregivers will always be there for support.

WHAT WE THOUGHT
Enchanting illustrations and a thought-provoking story make this reassuring book an ideal read for preschoolers. The pictures in the book evoke a truly hot summer day, from Ricky eating a sweet carrot ice cream cone while dangling his feet in the water where his friends are swimming, to Dad lounging in the hammock with some light reading. The illustrations are rich and painted with lots of texture. The story itself is full of charming details. For instance, Ricky sneaks a treat of sweet carrots into his tent to eat before he goes to sleep...which he later uses to plug his ears against the unfamiliar noises coming from outside of his tent. The ending of the book is really charming, with Ricky's mom and dad joining him in the tent so they can all sleep more soundly. The book sends a positive message that even when a child sets off to do something "alone" for the first time, they can always count on their parents to be there if something goes awry.

WHY THEY´LL WANT IT
The rich illustrations and relatable main character, Ricky, would make this a great addition to any child´s bookshelf. For ages 4 and up, the story is reassuring to kids who are feeling ready to try new things, but nervous at the same time.


---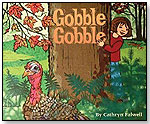 Title: Gobble Gobble
Author/Illustrator: Cathryn Falwell
Publisher: DAWN PUBLICATIONS
Gender: Boys and Girls
MSRP: $8.95

TDmonthly Rating:




WHAT IT IS
This rhyming book follows Jenny as she plays outside and watches wild turkeys through the four seasons. Jenny's Journal, at the end, shares facts about wild turkeys.

WHAT WE THOUGHT
Though simple, the rhyming text is catchy. Kids will enjoy watching Jenny and the turkeys as the seasons progress. The illustrations are rich and textural. The coloring of each turkey is very detailed, and one may notice unique touches, like a tree in the forest that is a stamp of a real leaf, if they look closely enough. As a born and bred New Englander, turkeys were everywhere in the area surrounding my house when I grew up, so I was surprised to learn in the "Jenny's Journal" segment in the back of the book that turkeys were once in danger of becoming extinct! Between the colorful and engaging pictures, the rhyming text, and the informative journal in back, Gobble Gobble offers more than your average picture book.

WHY THEY´LL WANT IT
This would be a great book for stores that carry nature-themed or eco-friendly books and toys. It also would be a perfect offering in the fall and Thanksgiving seasons, so kids can learn more about the bird that has become practically synonymous with autumn. Educators will like the informative yet casual "Jenny's Journal" in the back of the book, which also offers arts & crafts and other nature-inspired activity ideas.


---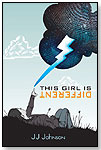 Title: This Girl is Different
Author/Illustrator: JJ Johnson
Publisher: PEACHTREE PUBLISHERS
Gender: Boys and Girls
Age: 12-16
MSRP: $16.95

TDmonthly rating:




WHAT IT IS
JJ Johnson´s debut novel tells the story of Evensong Sparkling Morningdew- Evie for short- and her foray into public school. Homeschooled by her hippie mother her whole life, Evie decides that she wants to spend her Senior year at an actual high school, as a social experiment. Evie makes a friend and a (almost) boyfriend right away, but the realities of attending public school are much grimmer than she had thought. Frustrated by the boundaries placed on students by the administration, as well as the blatant sexism, sizeism, and ageism that Evie feels dominate the learning environment, she starts an online blog where she and her friends can address these grievances. But Evie takes things too far when she targets a popular teacher, and students begin to use Evie's blog against her.

WHAT WE THOUGHT
This compelling story is worth a read, thanks to its strong and unique main character. Evie is strong-willed, smart, and self-aware. The beginning of the novel describes Evie on a nature walk, sketching a snake; she later brings her new friends to her "Dome Home," a geodesic dome built by Evie and her mom where they raise a cow and chickens, bake their own bread, and drink yerba mate instead of coffee. The overt characterization of Evie and her mother as "hippies" in the opening of the book seems a little heavy-handed, but after the slightly clumsy first chapter Evie comes alive on the page. She is a unique character that can be not only a friend to readers, but a role model as well. Sure, she has academic aspirations that are admirable, but the thing that really makes Evie a great character is her willingness to admit she was wrong. She is at first reluctant to befriend bubbly cheerleader Jacinda, only to realize that her preconceived notion of the "typical cheerleaders" was wrong. And, though she never compromises her morals, Evie's self-doubt when dealing with issues such as teenage sex, inappropriate student-teacher relationships, and gossip rings true. The book manages to stress the importance of being true to oneself without ever taking itself too seriously, coupling introspection from Evie with slightly flippant lines such as "If a tree falls in a forest and no one updates its status on Facebook, does it make a sound?" Such elements keep the story feeling fresh and relevant to teenagers, while Evie's romantic relationship- ultimately a healthy, equal partnership- will fulfill readers' love of drama.

WHY THEY´LL WANT IT
Parents who want their tween and teen girls to read a novel with substance should pick up this book. It has a wide appeal to teen readers- focusing on the ins and outs of high school, romance, gossip, and betrayal- but the decisions the characters make and the issues they focus their attention on set it above standard teen pulp fiction. From an aesthetic standpoint, the book jacket is made of thick, textured paper, with a modern color scheme of blues, grays, and a contrasting dash of vibrant orange. The back cover screams "Evensong Sparkling Morningdew is a Hypocrite! Hypocrite! Hypocrite!" in an edgy, scribbly text, sure to pique the interest of a prospective reader.

— As of 05/26/2011 this book has 4.2 out of 5 stars from 10 reviews on Amazon.com
— As of 05/26/2011 this book has 3.56 out of 5 stars from 100 ratings on Goodreads.com


---
Title: My Daddy
Author/Illustrator: Guido van Genechten
Publisher: CLAVIS PUBLISHING
Gender: Boys and Girls
Age: 2 and up
MSRP: $12.95

TDmonthly Rating:




WHAT IT IS
This story follows John and his Daddy in their bedtime routine. They play with toys, John gets a piggy back ride, and eventually Daddy reads him a story and puts him to bed. The book is for ages 2 and up, and is a larger size than many board books for the same age group.

WHAT WE THOUGHT
With it´s evocative illustrations and story of parental love, this book deserves a spot on any child´s bookshelf. Though simple, the story was very sweetly done. The rosy cheeked father and son team stand out in their brightly colored clothing against the soft olive and gold-toned background drawings. Details in the illustrations, such as the scribbly portrait by John hanging on the wall, the teddy bear that is with John and his Daddy on every page, and the rocking horse that looks askance at John riding on his Daddy's back make the story come alive. The book is a translation from Dutch, but the wording flows smoothly and seems appropriate for its intended age group.

WHY THEY´LL WANT IT
This would be a great book for any Dad to read to his child. It also could do well as a seasonal item for Father's Day. The cover illustration is bright and stands out against the softly colored background. This book would be ideal to read to toddlers before bed, to help them settle down and get into the mindset that it´s time to wrap up the day, as John does with his Daddy.


---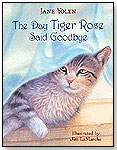 Title: The Day Tiger Rose Said Goodbye
Author/Illustrator: Jane Yolen / Jim LaMarche
Publisher: RANDOM HOUSE INC.
Gender: Boys and Girls
Age: 4-8
MSRP: $16.88

TDmonthly Rating:




WHAT IT IS
This hardcover book follows Tiger Rose, an elderly cat, on her last day.

WHAT WE THOUGHT
Anyone who has lost a pet will be moved by this heartbreaking, yet heartwarming, tale. Tiger Rose spends her last day saying goodbye to her family, enjoying the beautiful outdoors, and finally closing her eyes for the last time. The story is very simple but rings true. The last pages of the book, with Tiger Rose looking down from the sky, and the family dog standing outside the house no doubt wondering where his friend went, brought tears to my eyes. But where this book truly shines is in its ability to make a book about loss a celebration of all that makes life worth living.

WHY THEY'LL WANT IT
Not your average bedtime story, this book would be ideal for customers with children who are experiencing grief, either at the loss of a pet or someone special to them. It's simple yet honest way of describing death could be helpful as a child struggles to deal with the loss.

— Booklist Starred Review
— As of 09/29/2011 this book had 5 out of 5 stars from 4 reviews on Amazon.com.
— As of 09/29/2011 this product had 4.12 out of 5 stars from 32 ratings on Goodreads.com.

Writer's Bio:
Justina Huddleston graduated Magna Cum Laude from Emerson College with a BA in Writing, Literature, and Publishing in 2009. After graduating she was the on-site director of the Boston Children's Museum gift store for a year, selling educational, developmental, and creative activity toys that tied in with the museum's exhibits. Justina also interned at children's book publisher Candlewick Press before moving from Boston to Los Angeles, where she is now Editorial Director of
TDmonthly Magazine
.
Read more articles by this author
THIS BANNER IS AN AD:
---
---