---
Retailing Tips: Storing Holiday Inventory
Finding Space, Careful Planning Are Key To Managing Back Stock
With additional reporting by Chris Lundy and Brenda Ruggiero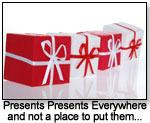 One of the biggest challenges of managing a retail store during the holidays isn't deciding what to order — it's finding somewhere to put the merchandise once it's delivered. With this in mind, TDmonthly asked 13 retailers how they deal with their holiday back stock. See their six tips below.

1. Find a Space
The first step is deciding where you'll store your extra merchandise.

Offsite
For larger stores, one of the most convenient options is to rent a warehouse. "We opened a warehouse. We always used to work out an agreement with our landlord for extra storage, but...We were always negotiating for extra space at the holidays," Dean Smith, co-owner of JaZams in Princeton, N.J., told TDmonthly. Smaller retailers may have to resort to less convenient locations. "When I can't fit it out, I put it in my stock room. And when I can't do that, I put it in my garage," Rebecca Goblish, owner of Picayune Toys in Dunwoody, Ga., told TDmonthly.

Onsite
Some stores are lucky enough to have a basement or attic available, in addition to a stock room. "We have a basement and an entire 1100 sq ft upstairs at our store. We do not have any offsite storage. The shipments arrive at the back door, they are priced, displayed," and extras are sorted upstairs or downstairs, Joe Berardoni owner of Pun's Toys in Bryn Mawr, Pa., told TDmonthly. Marc Slotin, owner of My Imagination Station in Spartanburg, S.C., said that he stores his holiday overstock in the empty retail space next to his store.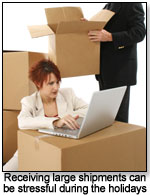 2. Avoid Big Shipments
With the economy still struggling to get back on its feet, the cost of acquiring extra space can be overwhelming. To avoid having to find extra space altogether, some retailers are simply reducing their shipments. "We're just cutting back. Years ago, we used to try to get good deals like free shipping, but you can't do that anymore. Up until last year, we had a warehouse for our Internet sales stuff, be we don't even have that now. We just have it in the back room," Mike DiAndrea, manager of Hardware Toys in Paoli, Pa., told TDmonthly. Gwen Bowden, manager of Doodlehopper 4 Kids in Springfield, Va., agrees. "We try not to order too much, because we just don't have room for it," she said.

3. Give Yourself Time
Alternately, giving yourself extra time to process large deliveries can be helpful. "I stagger my ship dates," which makes them easier to manage, Meghan Porter, owner of Charleston Children's Boutique in Charleston, S.C., told TDmonthly.

4. Organize
Keeping your overstock organized is essential. Knowing where everything is stored makes it easier to replenish the items on the floor. "We organize back stock by department and then by manufacturer," Grafton Stine, owner of Toys on the Square in Hummelstown, Pa., told TDmonthly. Similarly, Berardoni of Pun's Toys said that their back stock is "either sent up [to the attic] or down [to the basement] depending on their category."


5. Get Creative
If you don't have the storage space, several retailers said that having lots of extra merchandise can be used to your advantage. At The Curiosity Zone in Ashburn, Va., owner Mary Porter Green told TDmonthly that their excess Holiday merchandise is "piled into display areas that are too high for customers to reach. It makes the store look really full and fun for the holidays."

Teresa Derry, owner of Annie's Toy Chest in Cocoa, Fl., agrees. "We just let it get crowded in the store," she said. After the last holiday, she let her stock dip down because she wasn't replenishing to holiday levels and a customer said, "It looks empty in here." Now, they fit the merchandise out on the floor to keep it looking full. Retail consultant Jon Schallert agrees: "I do believe that in a small retail space, a cluttered, over-merchandised look is often best, as it causes a customer, who might otherwise make the judgment that the store is too small, to pause, and have to enter the store to look more closely."

6. Plan Ahead
Retail consultant Shari Waters suggests using an Open-To-Buy (OTB) plan to help make sure inventory levels are adequate year round. "OTB is essentially the difference between how much inventory is needed and how much is actually available. This includes inventory on hand, in transit and any outstanding orders," she explains. Carefully monitoring this data can help you see when it makes sense to order large shipments, and when you should hold back.

Learn More:
Retailing Tips: Buying for the Holidays
Retailing Tips: Ordering Strategically


Sources:
Shari Waters, "Open-To-Buy Planning," About.com.
Jon Schallert, "What Do I See When I Walk In," JonSchallert.com

Writer's Bio:
Justina Huddleston graduated Magna Cum Laude from Emerson College with a BA in Writing, Literature, and Publishing in 2009. After graduating she was the on-site director of the Boston Children's Museum gift store for a year, selling educational, developmental, and creative activity toys that tied in with the museum's exhibits. Justina also interned at children's book publisher Candlewick Press before moving from Boston to Los Angeles, where she is now Editorial Director of
TDmonthly Magazine
.
Read more articles by this author
THIS BANNER IS AN AD:
---
---