---
THQ – Digital Gaming's First Victim?
Video Games are moving online - can THQ keep up?
January was another terrible month for video games in the United States, at least at retail. This is how the numbers evolved according to NPD: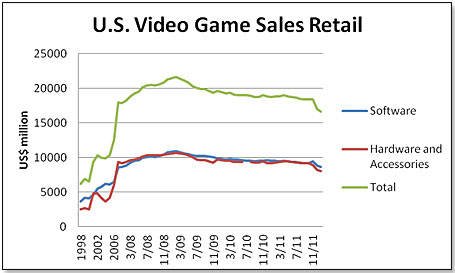 The only ray of sunshine in this dismal picture is digital downloads not included in these numbers, which in January were estimated to have sold to the tune of $250 to $300 million. If you added digital sales to the retail total above, video game software sales would in fact have shown a modest increase.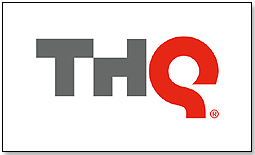 January yet again confirms the trend I identified first in February last year when I postulated that not only was all future growth in the video game software space going to be in the digital area, but that retail sales of software, hardware and accessories would in fact decline from that point onward for the foreseeable future – through 2020.

While this means very bad news for both retail [e.g. Game Stop] as well as hardware manufacturers who rely to a major or total degree on video game console sales [e.g. Nintendo], it also means very good news for those software producers savvy enough to exploit the digital opportunity. But then, not all video game publishers are created equal. Let us now see how the five major companies did in this arena.

First, in terms of sales in US Dollars: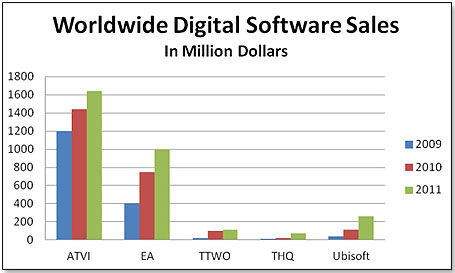 And, equally importantly, as a percentage of their worldwide sales: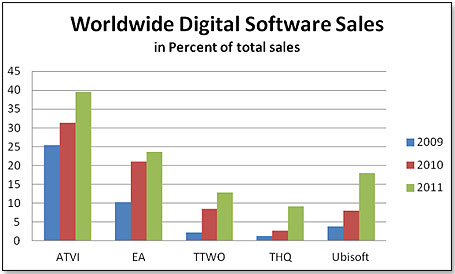 All five companies expanded their digital offering but none more than Activision – mainly due to their incredible position in massively multiplayer online role-playing games (MMORPGs), notably World of Warcraft, as well as in individual games with high digital potential, e.g. Call of Duty.

At the other extreme is THQ, who did show growth, but whose digital strategy has become a major question mark and whose outlook is at best mixed.

Partly as a consequence of their faltering digital strategy, their sales never recovered from their peak in 2008: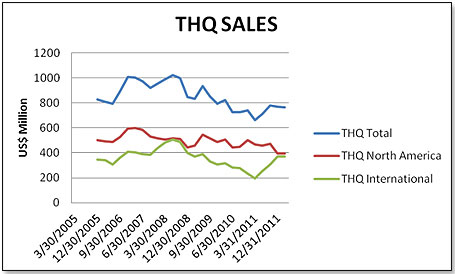 Not a very pretty picture, and it's expected to only get worse.

Their web traffic does not argue for an imminent renaissance in their digital business either. This is what a comparison between Electronic Arts and THQ looks like: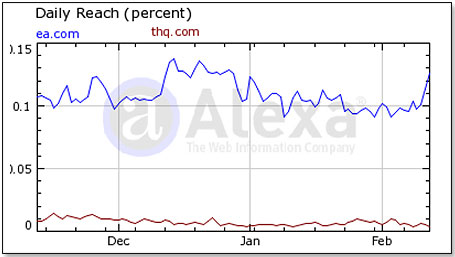 As a result of declining sales, vast unsalable inventory, declining profit margins, and skyrocketing costs, management had no choice but to sharply change course. They began earlier this year by closing down all their studios in Australia and Phoenix, Ariz., but they did keep the two Canadian studios financed by Canadian government money.


Also, they discovered the disaster UDraw was. Launched with great hopes in November 2010, this wireless sketch tablet was designed to interact with the Wii (and later on with Xbox 360 and the PS3) allowing players to digitally draw, paint and sketch. It also represented the backbone for the company's digital strategy. The gizmo, which retailed at $69.99, never took off, and the company is today sitting on an inventory of 1.4 million units at an estimated cost of $30 million. They plan to get rid of this by offering the units at a fraction of the cost at places like Big Lots and other close-out retailers, with a predictable effect on their Profit and Loss statement for this fiscal year.

In addition, they have decided that they need to totally refocus the game development direction – away from kids and such partners as Disney and Nickelodeon – and to get rid of these licenses for which most people would happily give their right arm plus several ribs. The fact that these games represented a very major part of their business – some think that it was about half their total sales – does not deter the company from dropping them in favor of titles such as Saints Row, Darksiders, Warhammer and others, catering to what management perceives as their core target consumer group – young adults, preferably of the male variety.

And, of course, management is also beginning to focus on a more robust online presence but this is going to be somewhat of a challenge. As the chart above demonstrates, they have an inordinately long way to go and their competitors will not just sit still and let it happen.

The outlook is not very promising. Their next major game to be released is UFC Undisputed 3, which hit the shelves on February 14. This is, as the title suggests, the third release of the series. The first, released in 2009, was incredibly successful and sold in its lifetime more than 4 million copies – 1 million copies in the first month of release. The second iteration in 2010 was a mere shadow of it – selling 414,000 copies in the first month and about 1.2 million in its lifetime. The third iteration, UFC 3, had pre-orders by February 10, 2012, four days before release, in the neighborhood of 250,000 copies in the United States and about 100,000 copies overseas. On this basis I would think that a first-monthly sales number of nearly 1 million copies should be attainable.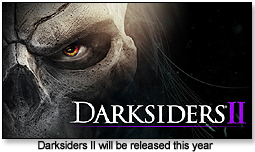 Darksiders II, scheduled for release end of June, is expected to generate about the same sales Darksiders I did two years ago – 800,000 copies during its lifetime. Then there is WWE Brawl in the Fall. However, this is the last hurrah for a while to come. There are a number of promising titles in 2013 (Metro Light, Left4Dead, InSane, Dark Millenium and Del Toro) and then there is Warhammer in Spring 2014. All of these have good potential for both retail and online sales.

The problem is that this line-up is pretty much all there is, and I think that management is somewhat overoptimistic in forecasting that their sales over the next twelve months will decline by a mere 50%. Some of the buyers I spoke to put the likely drop in sales considerably higher – 60% and two-thirds have been mentioned.

And there is such a thing as insufficient size to maintain basic and absolutely essential activities as a company. I think that THQ is getting dangerously close to such a state.

However, the alternative would be worse and management is to be complimented for the guts with which they tackle an impossible situation. Continuing on the old course would lead to certain disaster. Changing course in the manner in which they are now undertaking means that there is indeed a chance that the company will survive and prosper eventually.

There is also continuing talk about a possible merger with or acquisition by a competitor – made more likely by the very steps management is taking today. A leaner and healthier THQ would not only perform better by itself but would also represent a much more desirable partner.

Writer's Bio:
Lutz Muller is a Swiss who has lived on five continents. In the United States, he was the CEO for four manufacturing companies, including two in the toy industry. Since 2002, he has provided competitive intelligence on the toy and video game market to manufacturers and financial institutions coast-to-coast. He gets his information from his retailer panel, from big-box buyers and his many friends in the industry. If anything happens, he is usually the first to know. Read more on his website at www.klosterstrading.com.
Read more articles by this author
THIS BANNER IS AN AD:
---
---