---
Social Media: Choosing a Platform, Using Apps, and Giving Customers What They Want
Have you decided which platform is right for your business?
Connecting with Customers Online


53 percent of active adult social media users follow a brand, and 60 percent create reviews of products and services.

For better or for worse, social media is here to stay. According to "State of the Media: The Social Media Report – Q3 2011," by The Nielsen Company, social networks and blogs reach nearly 80 percent of active U.S. Internet users, and account for nearly a quarter of their total time online. Currently, 53 percent of active adult social media users follow a brand, and 60 percent create reviews of products and services. This means that brands that are not using social media (or possibly using it incorrectly) are missing out on an opportunity to connect with their customers.

Is Social Media a Waste of Time and Energy?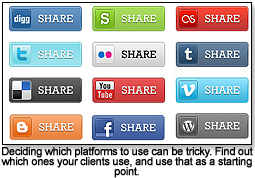 Social media can be time consuming, and might not have any apparent results. There is no guarantee that having a Facebook page will boost sales, and customers are just as free to complain on a Facebook page as they are to say something nice. In spite of current trends, there is no guarantee that Facebook will be around forever, and there is no way of telling what the next big social media platform will be.

Mary Porter Green, owner of The Curiosity Zone in Ashburn, Va., said to TDmonthly that, "I think social media is a little over-hyped. Most moms I know are way too busy to keep up with all of it, and still just rely on their friends for referrals." She believes that face-to-face interactions are what really make her business thrive. "Our business is all about word of mouth, so we make sure we please 100% of our customers. We do all the basics too — Facebook, Twitter, video, etc., but I really think giving people a great experience so that they come back and bring their friends is the best marketing of all."

Social Media is the New Word of Mouth, According to Survey
As Ms. Porter Green mentioned, word of mouth is very valuable. It is important to note, however, that people interact with each online as well as in person. According to the Chief Marketing Officer (CMO) Council Study, 63 percent of consumers who need product answers, advice, or troubleshooting will search online to connect with people who have similar issues. Additionally, 80 percent of respondents said that because of social media, they were more likely to try new things based on friends' suggestions, and 74 percent said that social media makes them more likely to encourage their friends to try new products. People are using social media to supplement their face-to-face communication. Even if customers are not reading mommy blogs or product reviews, social media keeps them constantly connected to what their friends, family, and peers are doing, thinking, and buying.

Facebook Timeline for Businesses
Facebook has finally rolled out its Timeline layout for business pages. The new features allow you to have more control over how your page looks and works. Perhaps more importantly, it provides more opportunities to interact with your fans and customers. Here are the most significant new features that the Timeline layout offers.

● The most obvious change is the new "cover photo" at the top of your page. Facebook suggests uploading an image that is 851 by 315 pixels in size. If you have the resources, you can make a special graphic for your cover photo, but if not, a photo of your products, location, or anything else relevant to your business can look just as good.



● Timeline makes it easier for customers to find information about your company by putting your "About" section right below your profile picture, making it more prominent. It also allows you to add "Milestones" to your Timeline, creating a comprehensive history of your business for anyone who is interested.



● If you want to highlight an important post, you can "pin" it to the top of your Timeline for up to one week, or you can "star" a post, which makes it take up the whole width of your page. You can also change the date you posted something in order to bump it back up to the top of your page again. These features let you control what information customers see first and most frequently, while allowing you to post more casual content in between big announcements.



● Your fans are now allowed to send you private messages. This will ideally keep complaints from being put on your wall, and will also help you better resolve any issues.



● Whenever someone visits your page, they can see how their friends have interacted with you. This can help give your page credibility, and encourages newcomers to become fans as well.



● The new Timeline for business pages also features an admin panel at the top of the page, which makes monitoring your page's reach easier than ever. The "Build Audience" drop-down menu is an easy way to boost your following – you can invite all of your friends to like your page; send an invite to up to 5,000 of your email contacts through Gmail, Yahoo, AOL, Hotmail, and other services; share your page; or create an ad.

Right now, you have the option to preview and publish your business page in the Timelime layout, or you can wait until March 30, when every page will automatically be switched over. If possible, make the change the Timeline before then. Otherwise, you will be forced to publish an empty, sad looking Timeline, when you could have been ahead of the game.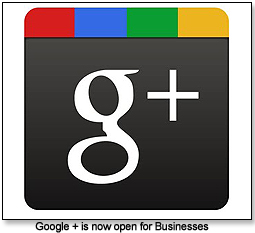 Google+ for Businesses: Using "Circles" to Make Relevant Connections
Last November, Google+ expanded to include business pages. Although the number of people using Google+ is small compared to those on Facebook or Twitter, it is still gaining momentum. Amy Porterfield, contributor for Business Insider, wrote an article in favor of using Google+ for businesses. Porterfield says in the article, "When Google+ first launched, millions of users flocked to the new service. Ten million in 16 days, to be exact. But since then, the hype has started to wane—and has even soured in some circles...What hasn't changed is the enormous business potential for users of Google+."

One of the most important features of Google+ that she cites is how it uses "circles" to group and organize followers. "Facebook keeps making strides in how we share content, but the circles feature on Google+ is still more intuitive—in part because it's integral to the service, and in part because it's not about excluding groups (or rarely-used Facebook lists), but including them." Followers can be sorted in circles by location, interest, relationship to the company (employees, customers, retailers, etc.), or any other characteristics. This allows businesses to share information with the people that will find it relevant. Updates can even be made visible to only one or a few select people, without having to put those people in a new circle. Circles allow the company to provide location or target specific deals or information, as well as big-picture news and updates, to the people who want to know.

Customers Expect Rewards - But Marketers Aren't Delivering


67 percent of consumers said they like brands on Facebook to get exclusive offers - but only 22 percent of marketers said that they reward customers with unique offers, discounts, or deals.

It is important for businesses to understand what their customers want out of social media. According to a survey conducted by the CMO Council, 65 percent of consumers connect with brands on Facebook and other social networks for games, contests, and promotions, and 55 percent said they do so to learn about new products. When asked specifically about why they "like" brands on Facebook, 67 percent of consumers said they do so to get exclusive offers. Meanwhile, only 22 percent of marketers said that they reward customers that "like" them with unique offers, discounts, or deals. This shows that there is currently a discrepancy between what consumers want and what businesses are giving them - but there are plenty of opportunities to bridge this gap.

Facebook Deals and Promotions Can Increase Your Brand's Following
A Facebook promotion can be as simple as posting a coupon to your page, or as complex as hosting a product design competition.


If you decide to go with a contest, competition, or sweepstakes, make sure you follow Facebook's promotion guidelines. Otherwise, Facebook can delete or suspend your account. Facebook requires users to run these types of promotions using third party applications. These applications, such as WildFire or Fanappz, can be downloaded and integrated into your business's page. These applications usually cost money, and can make entering contests annoying or confusing for customers. Because of this, contests and sweepstakes work best when the prizes and rewards are big enough that customers will still want to participate, even if they have to go through extra steps on a third party application to do so.

Despite these limitations, Facebook promotions can be very successful. According to a press release by Momentum Marketing, the toy store Wonder Works in Charleston, S.C., found great success with their "Week of Wonder" Facebook campaign. For one week in Dec., 2010, Wonder Works donated a toy to the MUSC Children's Hospital for each new person that "liked" them on Facebook. Wonder Works gained 5,668 new fans that week, and 1,000 more the week after. Pam Hartley, founder of Momentum Marketing (the agency that created this promotion for Wonder Works), was very proud of this campaign. "Wonder Works was committed to giving toys to this wonderful organization, so we developed a way for the community to give alongside Wonder Works just by clicking 'like' on Facebook," Hartley said. "We basically married cause marketing with social media, and were blown away with the response from the Charleston Facebook community."

Creating Relationships on Twitter: Use Hash Tags & Re-Tweets to Interact
Due to privacy settings on Facebook, it can be hard to reach out to customers unless they reach out to you first. Twitter, on the other hand, makes it easier to connect with new people. Search for keywords relevant to you both with and without a pound sign (#) attached to the front of the search terms. On Twitter, this is called a "hash tag," and is used to categorize and group similar tweets. Once you have your search results, you can then choose to interact with the people who are talking about you by retweeting, replying, or messaging them. Whatever your approach, be sure to stay away from self-promotion. The goal on Twitter is to create a relationship, not make sale. If a user thinks they are being spammed, they can block or report your account.

Using Apps and Extensions to Manage Your Social Media Presence


No matter what is being said about you, do not be afraid to respond! Customers with questions, complaints, or compliments will be happy to hear from you.


● When deciding which social media platforms to use, you first have to know which ones your customers are using. It is likely that there is already an established community of people who do love or would love your product, you only have to find them. If you find them on Tumblr, get a Tumblr account and start commenting, reblogging, and engaging with them. Conversely, if your MySpace page is not getting much feedback, it might be a good idea to spend less time on it. For brick and mortar stores, look into using location based social media platforms, such as FourSquare, Gowalla, or SCVNGR. These allow smartphone users a fun way to interact with your store when they visit it, and can be used to offer them deals to keep them coming back.

● If you have a physical location, stake your claim on sites where your business might already be listed, such as on Facebook, Yelp!, and Google Maps. These listings might have little to no information about your business, and some of the information might be incorrect or outdated. If you find your page, you can alter and update the information, helping you create more resources for consumers who are searching for your business online.

● Use a search engine to find out what is being said about your brand or products. Google allows you to filter results based on their sources, such as blogs, news, shopping, discussions, and more. You can also use Google to set up alerts (http://www.google.com/alerts), if you want to be emailed whenever your store, brand or product is mentioned in any new results.

● If you are active on Facebook or Twitter, but want help managing the feedback you get, there are several online clients that can compile and organize your interactions. These are especially helpful if you have more than one brand or company that you are monitoring. Radian6 and Brandwatch are programs that both have free trials, and Crowdbooster has a free version if you only need to manage one Twitter and Facebook account.

● HootSuite is a popular, free application that can completely change how you manage your social media platforms. The dashboard allows you to monitor and post to many different outlets from one screen, saving you from having to log into all of your separate websites in separate windows. One of the best features is that it allows you to write updates (such as Tweets or Facebook statuses) in advance, and schedule a time for them to be posted automatically. This helps you remain active on social media, even if you have little time for it. There are many analytic tools available on HootSuite to keep you updated on your progress, as well as help you create visual aids to share that progress with others. HootSuite even has a smartphone app, so you can check on your profiles on the go.

● If an app like HootSuite seems too heavy duty for you, there are other single-function apps and websites that can help you. If you just want help researching social media mentions of you, your competitors, or your industry, Topsy is the search engine for that. If scheduling your Tweets is your only concern, Timely will publish your updates when they will make the most impact. In the case that your Twitter account is hacked, and you want to delete all or most of what has been posted, TweetEraser or TwitWipe can fix it. Unlike deleting your account and starting from scratch, these apps allow you to keep all of your followers and the same user id.

● You can raise awareness of your social media profiles by including links to them in your online newsletters and on your website. It is also good to mention your profiles (if not by listing the links, then by writing something such as, "Find us on Facebook!") in your regular mailings, on business cards, or in advertisements.

Don't Be Afraid to Get Personal With Your Followers

● Encourage customer interactions by making your profile relatable. Depending on the size of your company and the culture of your workplace, consider using a photo of one or more of your employees as your profile picture instead of your logo. If the same person usually does all of the updates, put a blurb in the profile to "introduce" your social media spokesperson. Small touches like these make can make profiles seem more welcoming and less daunting.

● Stay active and engaged on your profiles. Few people will bother to interact with you if it looks like you never go online.

● No matter what is being said about you, do not be afraid to respond! Customers with questions or compliments will be happy to hear from you. If you respond to a complaint rationally and helpfully, it will make you look good to the potential customers who see it, and can possibly help resolve the issue with the customer who complained.
Sources:

Edwards, J. (2012, Jan. 27). Facebook preparing launch of timeline for brand pages. Business Insider. Retrieved from http://articles.businessinsider.com/2012-01-27/news/30669513_1_f
acebook-page-timeline-source#ixzz1luURMyny

Facebook promotions guidelines. (2011, May 11). Retrieved from
http://www.facebook.com/promotions_guidelines.php

Lenenski, C. (2011, Aug. 31). Momentum marketing facebook promotion receives national distinction. Retrieved from http://www.prlog.org/11642616-momentum-marketing-
facebook-promotion-receives-national-distinction.htm

Porterfield, A. (2012, Feb. 6). It's starting to look like google + is essential for your business. Business Insider. Retrieved from http://articles.businessinsider.com/2012-02-06/strategy/31028677_1_
experian-hitwise-google-search-search-results#ixzz1luUpibQt

State of the media: The social media report – q3 2011. (2011). Retrieved from
http://blog.nielsen.com/nielsenwire/social/

Variance in the social brand experience. (2011). Retrieved from
http://www.cmocouncil.org/cat_details.php?fid=216&x=17&y=8

Writer's Bio:
Sarah Hanley graduated from Emerson College in 2011 with a BS in Marketing Communication. She worked in the Boston Children's Museum gift shop for nearly two years, where she enjoyed merchandising and demoing all of the fun toys in the store. Sarah was also a marketing intern for "e" inc., a nonprofit that teaches kids about the environment. She now works in downtown Boston while doing freelance writing and marketing work.
Read more articles by this author
THIS BANNER IS AN AD:
---
---