---
Toy Industry Experts: What Lies Ahead in 2012
Lutz Muller and Reyne Rice examine business and product trends for 2012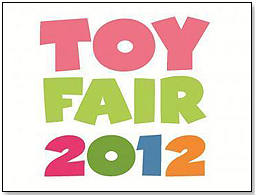 Toy Fair may be over, but 2012 is just getting started. That's why TDmonthly Magazine consulted two industry experts on what to expect, business wise and product wise, in the coming year.

Toy industry analyst Lutz Muller got the scoop on Toy Fair 2012 from two national toy buyers at very large toy retailers. He has generously shared their insights and opinions on the mass-market companies' business outlook for 2012 with TDmonthly:

1. The Skylanders videogame showed that there is a synergy between toys and digital games. What the toy manufacturers – notably Mattel and Hasbro – tried to do was to preempt this. In so doing, Mattel was successful with their Apptivity range because they were cohesive and consistent; Hasbro's attempts were less so. However, neither buyer thinks that the Apptivity range, or Hasbro's zAPPED entry, will have a major influence on either companies' sales. However, indirectly, they may well have a positive influence on toy sales by the retailers selling products from the brands that have been "apped".

2. Hasbro's deal with Zynga is, too, of relatively little consequence. My best guess is that Hasbro will add about $70 million to their tip line by Year 3 (which may sound a lot, but that represents a mere 1.75% of Hasbro's $4 billion sales). There is considerable conflict in the U.S. (where Hasbro has the Zynga license) between Scrabble and Zynga's Words with Friends app. However, there is no conflict internationally, as Mattel holds the Scrabble license there.

3. Mattel is focusing its offerings on licensed Batman, Brave, and Monsters products, and does an excellent job there. Interesting at what is not prominent – Barbie, Thomas, and preschool movie properties (Madagascar, Nemo, Ice Age).

4. Hasbro's main focus is on movie-related action figures, other licensed toys, and Girls. Nice line extenders for Beyblades and Nerf. Very little on board games and preschool (other than Sesame Street).

5. Jakks Pacific has an astonishing number of Disney licenses including some "owned" by Hasbro and Mattel - Star Wars, Batman, Men in Black, Spiderman and Avengers. Both buyers thought that Jakks' line-up this year was streets better than what they had seen in the past five years. The buyers were very impressed with the new Monsuno range and what they had seen of the TV series; they think that the range will do very well.

As always, there is no way of knowing what will be the break-through products this year - the "ZhuZhu pets". The opinion of the two buyers today is that they have seen nothing in the lineup of the three major manufacturers that suggests that there is one such toy amongst the products they were shown.

Read more articles by Lutz Muller here

Reyne Rice, toy industry trend expert, was at the Toy Fair, and she weighed in on the different toy trends that were most prevalent at the show in an interview with TDmonthly:

Q. What are the top trends you are seeing this year?

A. APPS are Everywhere: Apps to Toys, Toys to Apps, AppCessories.

Body Fitness and even more stunts and outdoor activities for tweens and teens. Some involve the use of scooters and active sports tools, and others involve dance and performance.

Customization and Creativity: Do It Yourself trend continues to flourish and combines both digital interactive media and hands on creative activities. Kids as Creators and Kids as Makers continues to be an important influence.

StoryTelling: From last year's Transmedia Storytelling to the rich iconic stories of SuperHeroes (Avengers, Spiderman, BatMan) and Classics such as TMNT, GI Joe lore, and the new storytelling, which brings families and friends together, weaving their own personal stories and connecting them with these personal memories.

Tech continues to be a key influence and has infused itself into every category of toys. Entertainment and Licensing also continues to influence, although there are twists with what is working and what isn't. Pop Culture, celebrities and other urban trends and influences also continue to play a role in shaping which brands will succeed.

Q. What do you think will be the key to the Toy industry's success, both domestically and globally, as countries around the world struggle through economic recessions?

A. Continuing to offer fresh innovations, to continue to appeal to the mobile consumers, and to offer relevant products that appeal to today's kids and families' lifestyles. Connecting families through entertainment, music and sports, plus social gaming, is important to this more inter-generationally focused demographic.

Q. How worried should toy manufacturers be about the rising costs associated with operating factories in China?

A. Many manufacturers are also looking outside China for alternative manufacturing options. This is a bigger discussion also. Many factors are involved, not just price.

Q. Should retailers expect to see any significant raises in msrp's this year due to the rising costs of manufacturing?

A. There will be some price increases, absolutely. Manufacturers cannot absorb all of these costs. Pricing will continue to be a concern in this economy, although innovative product is still driving into the marketplace. The outstanding success of the LeapFrog LeapPad last year at $100 per item shows that consumers are willing to trade up, for the right products.


We'll be speaking with Ms. Rice again soon, so look out for more of her insights in the next issue of TDmonthly.

Writer's Bio:
Justina Huddleston graduated Magna Cum Laude from Emerson College with a BA in Writing, Literature, and Publishing in 2009. After graduating she was the on-site director of the Boston Children's Museum gift store for a year, selling educational, developmental, and creative activity toys that tied in with the museum's exhibits. Justina also interned at children's book publisher Candlewick Press before moving from Boston to Los Angeles, where she is now Editorial Director of
TDmonthly Magazine
.
Read more articles by this author
THIS BANNER IS AN AD:
---
---