---
Get Ready For the Holidays - Now!
6 holiday ordering strategies and 14 tips to get you through the season
With additional reporting by Chris Lundy, Alison Marek, and Brenda Ruggiero

At Toy Fair, manufacturers showcase their latest, hottest products, many of which won't be released until Fall, just in time for the holidays. But when do retailers really start ordering? TDmonthly Magazine interviewed 14 specialty toy store owners to get their advice on when to start preparing for the busiest time of the year.

Start Early
"I start thinking about Christmas of next year before this Christmas even happens," Pam Byrd, manager and buyer for The Little Cottage Toy Shop in Franklin, Tenn., told TDmonthly.

Greg Bonner, owner of Heights Toy Center Inc in Little Rock, Ar., told TDmonthly that they start buying right after Toy Fair. "Being in the toy biz, you think 4th quarter year-round. That's the pay off in the toy industry: those last 6 weeks." He advises monitoring trends all year - while keeping in mind your target clientele.

Barbara Fineblum, owner of Barston's Childs Play in Baltimore, Md., agrees. "We start buying now, but don't pay til December," she said. "At Toy Fair, we give orders up until Christmas...It doesn't all have to come in at the same time. We don't care about the dating as much as the free freight and discounts. The more you save, the better off you are," she said.

"I'm buying Christmas now. Christmas doesn't stop when you're in retail," Meghan Porter, owner of Charleston Child in Charleston, S.C., reiterated.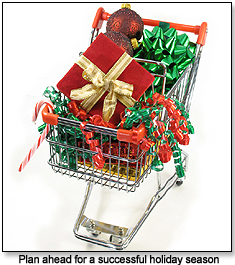 Summer Time and the Buyin's Easy
Dean Smith, owner of JaZams in Princeton, N.J., has a different strategy. "Generally, we start talking about it and buying in early August. Buy as much as you can early on so you don't have to deal with it or think about it when you should be on the floor selling it," he told TDmonthly.

Mike Snyder, owner and manager of Cville's Hobbies, Games and Toys in Charlottesville, Va., agrees. "We try to get stock levels up at July and August. You have to not be afraid to say 'I know this is going to work.' You have to have confidence. If your employees aren't confident, customers can tell," he advised.

Watch and Wait
Some stores are on the look out all year, then order as the holidays draw closer.

"We think about the 'big wow' items around Toy Fair, and try to anticipate which toys will sell out. The rest we line up in September, and begin ordering in October," Mary Porter Green, owner of The Curiosity Zone in Ashburn, Va., told TDmonthly.

Elmer Carranza, manager of Doodlehopper 4 Kids in Springfield, Va., waits to see what trends appear throughout the year, then starts ordering in early November. His advice? "Know what is popular make sure you have enough of the items to sell through out the holidays!"

Stay Stocked
"Never have just one of something, because people never want to buy just one. If you have five of something, or 20, they fly out of here," Porter or Charleston Child said. Something alone on the shelf looks unpopular, she explained to TDmonthly.

Joe Berardoni Jr., Co-owner of Pun's Toys in Bryn Mawr, Penn., also stressed the importance of staying stocked. "My best advice is order through January of the following year…you do not want a completely empty store on Dec. 26th."

Tempt...and Withhold
But what if you do run out of a popular toy? Have "back-ups" ready just in case, retailers suggest. You can also offer substitutes for customers seeking a toy that's only found in mass-market. Train your staff, too, to think of alternatives to popular toys.

"Intentionally carry something different, creative and unique from other stores," advised Daniel Butler, vice president of merchandising for the National Retail Federation. "Contact local artists to personalize items."

Even toys that have been around awhile might be a unique find to customers in your area. Search through TDmonthly to find new and innovative companies with products your clients have never seen before.

Open the Doors
After you've decorated the store, ordered plenty of seasonal gift wrap, stocked your shelves with toys you hope will be the year's hits, hired and trained new staff, formed partnerships with neighboring stores, treated your best customers to your best deals and advertised with coupons, radio, TV and movie-screen promos, what else can you do to guarantee you'll be successful during the holidays?

"I pray," summed up Amy Barrett, owner of Lasso the Moon Wonderful Toys in Helena, Mont., who referred to the season as the make-or-break time of year. "You always feel like you've planned a great big party and you forgot to put RSVP on the back, and you don't know if anyone is coming or not. But you're ready. And they do show up. They always show up."

Writer's Bio:
Justina Huddleston graduated Magna Cum Laude from Emerson College with a BA in Writing, Literature, and Publishing in 2009. After graduating she was the on-site director of the Boston Children's Museum gift store for a year, selling educational, developmental, and creative activity toys that tied in with the museum's exhibits. Justina also interned at children's book publisher Candlewick Press before moving from Boston to Los Angeles, where she is now Editorial Director of
TDmonthly Magazine
.
Read more articles by this author
THIS BANNER IS AN AD:
---
---