---
News from The NPD Group - The Hottest New Things for Kids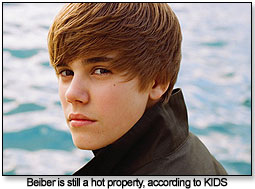 Following are the results from The NPD Kids Industry Data Service (KIDS) survey that was fielded for four weeks in February 2012 in response to the unaided, open-end question: , "What would the kids you know say is the hottest new thing these days? It might be a celebrity, movie, TV show, toy, game, hobby, sport, website, brand, or retail store?" We compiled 3,950 mentions of things that kids are currently into, and here's how the top ten most mentioned responses stack up:

6% Justin Bieber
3% iPad
3% Cars: The Movie (franchise)
2% Twilight
2% Video Games
2% Angry Birds
2% Dora the Explorer
2% LEGO
1% iPhone
1% iPod

Justin Bieber remained top of the list in this follow-up to our September 2011 survey in which Bieber captured 9% of total mentions followed by Cars: The Movie (franchise), Xbox 360, Disney, iPad, iCarly, Dora the Explorer, Nintendo Wii, and Transformers.

Some of the brands, franchises, celebrities or items that show to be emerging in popularity include (in no particular order) Justice Clothing for Girls, Victorious, The Hunger Games, Skylanders, PlayStation Vita, Beats by Dr. Dre, Big Time Rush, Team Umizoomi, The Voice, Dr. Seuss' The Lorax, Jeremy Lin, Adventure Time, and Dubstep.

The NPD Kids Industry Data Service (KIDS) provides monthly insight into purchases made on behalf of kids ages 0-14 across product categories with an emphasis on licenses and brands. In addition, each month we ask an open-ended unaided question designed to provide insight into what is top-of-mind with kids today.
THIS BANNER IS AN AD:
---
---