---
Optimism, Innovation Characterize 2012 New York Toy Fair
Manufacturers Report More Business at 2012 Show
With additional reporting by Chris Lundy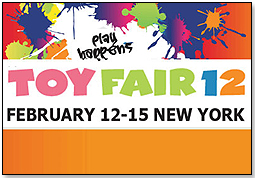 Didn't make it to Toy Fair? Or, were you so busy at the show you didn't have time to take everything in? Not to worry! TDmonthly Magazine kept track of the latest Toy Industry news during the 2012 New York International Toy Fair and closely monitored the hot new trends being spotted on the floor of the Javits Center.
See our complete coverage

On the very first day of Toy Fair, TDmonthly's correspondents reported that the press room was buzzing, and that things seemed a lot busier than in 2011. Indeed, the Toy Industry Association reported a 2% rise in attendance at the 2012 fair over 2011, and the excitement that some felt at the 2011 show was amplified in 2012 by the introduction of the app-cessory and a more optimistic economic outlook for the year ahead.

New Tech Toys Bring Excitement

Last year at Toy Fair we saw the first real introduction of children's tablets to the market; the LeapFrog LeapPad Explorer became a best seller in 2011 and ended up winning the coveted "Toy of the Year" award at this year's show. The introduction of Activion's Skylanders: Spyro's Adventure in 2011 brought a new sort of technological innovation to the toy industry: physical toys that interact directly with digital games. This year, one of the hottest trends at Toy Fair took the concept further: toys that integrate physical components with apps for tablet computers and smart phones.

"Today's gamer is looking for experiences in games that include the marriage of digital and analog, face-to-face, and off the board gaming," Hasbro Chief Executive Brian Goldner said in an interview with Reuters.

Manufacturers have responded to this desire in force. Skylanders has already announced Skylanders Giants, their follow up to last year's hit game. New, larger figures that interact directly with the video game, and with previously released figures, will be released. Hasbro is revamping some of their classic games under the new zAPPed line; for instance, the Game of Life zAPPed, which uses an app to perform most of the action based moves like spinning for turns and reading action cards, while holding onto the physical game board.

Other toys more directly integrate the smartphone with the toy. For instance, Spin Master's appfinity AppDrive is a steering wheel with a mount for the smartphone directly on the toy. Users simply download the app, mount the smartphone, and get to playing.

One company, Kidz Delight, is offering tablets for kids that focus on education rather than just a gaming element. The licensed Smithsonian Kids Dinosaur Tablet for kids 3+, launching in September 2012, offers 4 activities that help kids learn about dinosaurs; comprehensive facts about 15 dinosaurs, and 21 smooth touch icons, retailing at just $29.99. Arthur's Little TV, for kids 2+, will help kids learn about colors, quantities, observation skills, and more, and retails at $29.99.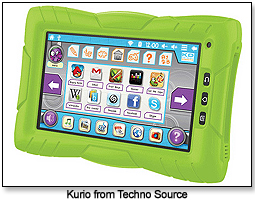 More advanced kids' tablets made their way into the market as well. Kurio from TECHNO SOURCE is a 7-inch tablet that runs on an Android OS. The tablet features HD video playback capabilities, 4 GB of storage, Wi-Fi, and comes with apps like games, an e-book reader, a music player, and more. Best of all, the tablet allows parents to ban certain websites and content they feel is inappropriate for their kids, and even create different log-ins for family members that have varying levels of security.

OREGON SCIENTIFIC's Meep Kids Tablet offers a similar set of features: a 7-inch color touchscreen with the ability to download movies, musics, apps, and e-books; web-browsing; and parents have the ability to limit content and websites of their choice.

However, though the general trend towards tech, augmented reality, and app-integrated toys seems a promising way to rejuvenate the industry, no one toy stood out from the others as the "Tickle Me Elmo" or "Zhu Zhu Pet" of 2012, according to industry analyst Lutz Muller's high-ranking national toy buyer contacts at the show.

See more hot toys in our Top 10 Toys at Toy Fair, Top 10 Girls Toys at Toy Fair, and Top 10 Boys Toys at Toy Fair

Manufacturers Report Better Show

Attendance may have been up, but was business actually better? According to manufacturers interviewed by TDmonthly Magazine, the answer is a firm "Yes."

18 of the 31 respondents said they wrote more orders at the 2012 fair than in 2011. Seven said they did about the same amount of business, and only three reported doing worse than last year - while three companies said it was their best show yet.

"We had a very good show. Actually, it was the best show since we began in 1985!" Ramona Pariente, C.E.O of SAFARI LTD.®, told TDmonthly.

"This year's Toy Fair surpassed our expectations," Crystal Bolano, marketing specialist at AURORA WORLD INC. told TDmonthly. "The show had more traffic than we've seen in years!"

John Kiely from RANDOMLINE INC., concurred. "I would rate this year's Toy Fair as one of the Top 3 in my 10 years exhibiting," he told TDmonthly.

What Retailers Can Expect in 2012

According to a report by the National Retail Federation, retail sales for January were up 4% from last year. "As a traditionally slower sales month for the industry, it's encouraging to see such sustained growth in consumer spending and sentiment," National Retail Federation President and CEO Matthew Shay said in a press release.

Similarly, according to The Conference Board, the Consumer Confidence Index rose to 70.8 in February, up from 61.5 in January, and is the highest it's been since last year. This means consumers are viewing the economy in a more positive light, and may be more willing to spend.

However, specialty retailers interviewed by TDmonthly were split evenly when asked if their business has been up over LY.

"September and October bottomed out. It picked up around November," and business is now 20% up over last year, according to Phyllis Stroud, owner of Rocking Horse Toy Store in Natchitoches, La.

Alternatively, Gladys Griffin, owner of Main Street Toy Shop in Columbus, Ga., said, "January was definitely down. February is a little better. 2012 has not started off good." However, she is optimistic that with warmer weather sales will pick back up.


It looks like the outcome for specialty retailers is still up in the air, but if the successful Toy Fair reported by manufacturers is any indication, 2012 could be a great year for toys.

Still want more of Toy Fair? Then check out our Specialty and Mass-Market toy videos from the show.

Writer's Bio:
Justina Huddleston graduated Magna Cum Laude from Emerson College with a BA in Writing, Literature, and Publishing in 2009. After graduating she was the on-site director of the Boston Children's Museum gift store for a year, selling educational, developmental, and creative activity toys that tied in with the museum's exhibits. Justina also interned at children's book publisher Candlewick Press before moving from Boston to Los Angeles, where she is now Editorial Director of
TDmonthly Magazine
.
Read more articles by this author
THIS BANNER IS AN AD:
---
---