---
Tablets and Smart Phones Invade the Video Game Space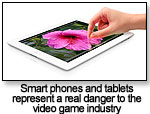 It has become fairly clear of late that smart phones and tablets represent a real danger to the video game industry. With the release of the latest iPad these trends are beginning to accelerate.

This danger affects to a major degree all retailers and hardware manufacturers active in the casual space, as opposed to hard core. First, a definition of the two terms:

Hard core gamers are defined as consumers for whom video games is a primary hobby. To appeal to this demographic, studios create content-rich games that employ the best of technology and typically have higher development costs due to their design and story sophistication. Virtually all MMORPGs [Massive multiplayer online role playing games] such as World of Warcraft and Battlestar Galactica fall into this category, but so do most of the more complex shooters such as Grand Theft Auto, Call of Duty or Halo. The Xbox 360, PS3, and computer platforms typically appeal most to the hard-core gamer. The emergence of smart phones or tablet will not really affect this category.

On the other hand, casual gamers are playing games that are much simpler, and appeal to gamers who want quick entertainment with less immersion. Platforms that appeal to these gamers are typically cell phones and portable video game devices, as well as the Nintendo Wii.

The advent of the smart phones and lately of the tablets has been blamed for the ongoing decline in the traditional and mainly brick-and-mortar based video game market. This is how this decline developed: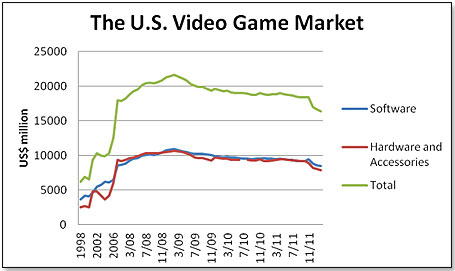 Numbers as per NPD not including digital sales or non-traditional outlets


The iPhone was released on 6/29/2007 and the iPad on 4/3/2010. In both cases we see the beginning of the decline, or a sharp acceleration of the decline, in the traditional video game space about eighteen months later.

This is best demonstrated by tracking the two console groups – casual versus hard core – as reported by NPD for the United States.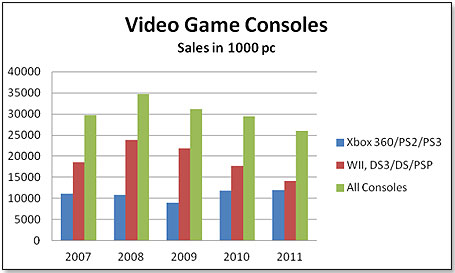 The hard core group in blue pretty much held its own whereas the consoles catering to the casual gamer cratered from 2008 onwards.

How do we know that the casual trend has in fact been caused by tablets and smart phones?

According to ComScore, usage of smart phones [other than phoning] breaks down as follows:

(Mobile Content Usage – 3 months average ending 12/2011 vs. 3 months average ending 9/2011. Total U.S. mobile subscribers Ages 13+)


| | | | |
| --- | --- | --- | --- |
| Activity | Sept 2011 | Dec 2011 | Change |
| Sent text message | 71.1% | 74.3% | 3.2% |
| Used downloaded apps | 42.5% | 47.6% | 5.1% |
| Used browser | 42.9% | 47.5% | 4.6% |
| Accessed social networking site or blog | 31.5% | 35.3% | 3.8% |
| Played Games | 28.8% | 31.4% | 2.6% |
| Listened to music on phone | 20.9% | 23.8% | 2.9 |
Source: comScore MobiLens

Even more extreme, tablets are predominantly used for gaming:


| | |
| --- | --- |
| Activity | Usage |
| Played Games | 84% |
| Searching for information | 78% |
| Emailing | 74% |
| Consuming Entertainment | 51% |
| Reading e-Books | 56% |
| Shopping | 42% |
Source: Admob by Google

Both smart phones and tablet computers have been fantastically successful in the U.S. This is how sales of smart phones developed: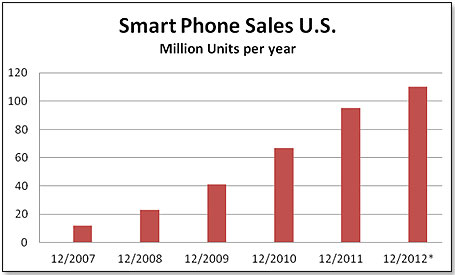 While tablet computers were later to arrive on the scene, they have made up for this in terms of sales growth: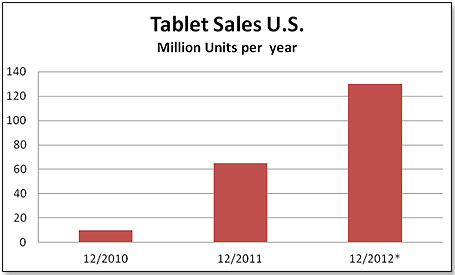 Tablet computers are expected to overtake smart phones in unit sales this year.

In fact, one-quarter of U.S. consumers are expected to own a tablet computer by end of this year: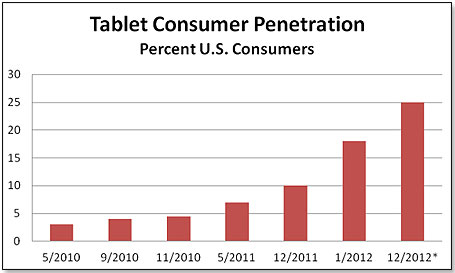 Who are the entities most affected by the accelerating trend from casual game consoles to smart phones and tablets?

Clearly, the major retailers are bearing the brunt of this since all games on the smart phones and tablets are downloaded, and hence make brick-and-mortar retailers totally superfluous – notably GameStop and to a much lesser degree Wal-Mart, Target and ToysRUs. Since the trends described here are not unique to the United States but are also very evident abroad, particularly in Europe, retailers there are equally vulnerable. The fact that The Game Group plc, Europe's leading pc and video games retailer, is today teetering on the brink of bankruptcy is widely attributed, at least in part, to this move from brick-and-mortar to online. All of these retailers are trying to ride this tiger by trying to do two things – beef up their digital offering and offset the loss of the console business by offering smart phones and tablets in their stores. GameStop has also begun testing the sale of used iPads and has increased the number of stores involved in this test from 600 last December to 1000 stores now.

The other major entity affected by the move of casual games to smart phones and tablets is Nintendo, whose Wii and DS machines are the company's mainstay. Here is the U.S. sales history: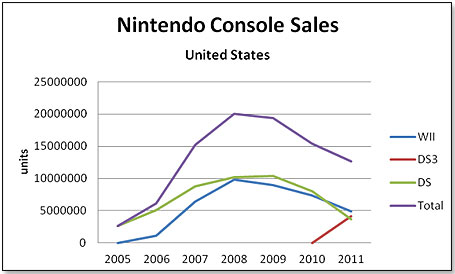 Again here, we see the impact of the smart phones eighteen months after their launch, reinforced by the launch of tablets in 2010.

Is anybody benefiting from these trends – that is, other than the smart phone and tablet computer manufacturers?

Yes – the publishers. For two reasons. One is that they are ecstatic about the move from brick-and-mortar retail to online. They no longer have to share profits with the retailers for games digitally and directly purchased from them, and it also makes piracy knock-offs so much more difficult. Both factors have a major potential impact on their bottom line. The other reason is that those publishers who can capture a good slice of the smart phone and tablet video game market will directly benefit from the projected steep growth of both devices over the next few years.

Writer's Bio:
Lutz Muller is a Swiss who has lived on five continents. In the United States, he was the CEO for four manufacturing companies, including two in the toy industry. Since 2002, he has provided competitive intelligence on the toy and video game market to manufacturers and financial institutions coast-to-coast. He gets his information from his retailer panel, from big-box buyers and his many friends in the industry. If anything happens, he is usually the first to know. Read more on his website at www.klosterstrading.com.
Read more articles by this author
THIS BANNER IS AN AD:
---
---