---
Jake's Toy Box Provides for All
Personal Tragedy Benefits Community
Editor's note: When we announced "TDmonthly's 2012: A Year of Charity" event, Holley Anver, manager of the former Ages and Stages toy store, now owned by Dan and Jill Driver and renamed Jake's Toy Box, was one of the first to enter. The editorial staff was moved by her passion for the store, the community and for the Drivers, who'd moved on from a personal tragedy by buying the store that their son had loved and making it a centerpiece for the town of Arvada, Colorado.

The Drivers and Holley consider that the store provides "smarter toys for all ages and abilities" and they were excited to dream about giving a massive quantity of toys to local children in need. Reading Holley's tribute, it's easy to see why Jake's Toy Box won the opportunity donate high-quality and beautiful toys from Schoenhut Piano Company, Safari Ltd.®, Hape and MagicForest later this month.
Here's the Drivers' story, as told by Holley: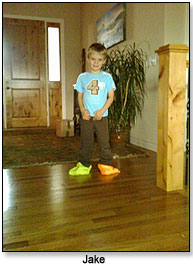 The store officially opened as Ages and Stages Toy Box in October of 2004. We did wonderfully until we lost the anchor store in our shopping center, followed by the economic collapse. In 2010 we announced what we thought would be our unfortunate ending. Despite all local support and advertising efforts, we lacked the resources to continue. Shortly before our closing in the fall of 2010, an incredible couple named Dan and Jill Driver expressed interest in purchasing the store. They were customers at Ages and Stages in the year before our closing, until their 4-year-old son Jake passed away from complications from a rare genetic disorder. It was his favorite store.

When they heard of our closing, they greatly weighed the cost of personal suffering against the loss of a neighborhood landmark. After a short debate they both quit their previous occupations and purchased Ages and Stages Toy Box on November 1st, 2010. We held our official re-naming/ re-opening ceremony on February 24th, in honor of Jake's birthday.

The end of February 2012 marked our first year anniversary of being JAKE's Toy Box. We had a grand party to share with our community how grateful we are to still be here, bigger and better than ever. It was a rare opportunity and we are incredibly thankful, and we maintain only because of the amazing support of our neighborhood friends.

Currently, we are involved in every possible school fundraising event. Silent auctions, sponsorships, donations, and even sending staff to school events is a very important way to keep us connected to the community. Around the holidays we are a popular Toys for Tots drop-off location. We try to remain deeply involved. We are also sponsors of our city's chamber and partake in every event they organize, including a Kite Festival in April and a Harvest Festival in September. We recently partook in a free preschool fair held by the city.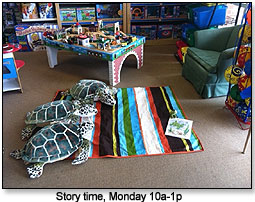 As for events, every Monday we hold free family story times at 10:00 am and 1:00 pm, for the before and after lunch/nap crowd. Monday is a day that our local libraries were forced to close due to budget cuts, but it is also a day that a majority of younger children do not have preschool. Sometimes we have special guests or local authors, but more often than not it is one of our four staff members using silly voices and puppets to entertain the children. All ages are welcome (and encouraged!) because reading and interaction benefits everyone.

Every Friday night we hold Family Friday Game Night here from 5:00pm to 8:00pm. This is another free event for all ages; in fact, children are not required to join us. We use our variety of vendor demos to learn all about games! We set up folding tables and chairs, usually have snacks (we have the benefit of an old-school theater popcorn maker in the back room), hand out balloons and play games all night long. These events are entirely casual. Some people join us for a half hour, some stay the entire three hours (or later!) and we like that it's a no-pressure, no-reservation, family-oriented event. It helps to see which games have clear instructions, which games take time and investment to play, which games are appropriate for large groups of children with varying ages, and which games are great for the whole family. Sometimes these nights are themed (competitions, active/physical games, puzzles/brainteasers, etc) and we always have an open corner for the younger kiddos to play while the older kids play games. These weekly events have been massively successful, and are very much appreciated by the community as an alternative to the same old pizza and movie night.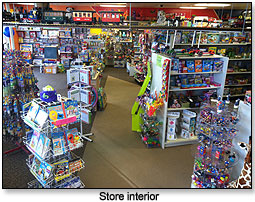 We also hold an activity day at least once monthly, be it a "mad science" experiment or a gender-neutral craft. These events require an RSVP because the supplies are limited and often the children can take home their finished products. Around Christmas we had a wooden train-painting day for 50 people and we used every last train, and they were wonderful keepsakes kids could use on their own track or use as ornaments to remember their special time. We held a potholder-weaving event about a month ago that was a wonderful time. We recently hosted a Calico Critter play day, up to and including having the suited mascot here to take pictures with everyone. Every event brings us one step closer to our community and we cherish the opportunity. We are trying to get a book club going, a chess club, a LEGO builder's club, as well as anything else we dream up with proper response from our fans. We take customer suggestions very seriously and love implementing them in our business.

Some of these events have been covered by the press. Our storytimes and game nights are featured in several local newspapers as well as various children-friendly monthly newsletters.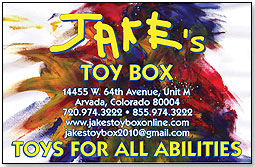 On a side note, within our first year of being JAKE's Toy Box we have won several community awards. We won Best Booth at the Taste of Arvada 2010, we won Best of Jeffco, and "Best Children's Gifts" #1 on Channel 7's "A-list: Best of Denver," to name a few. One of our very close friends also had his Nascar vehicle wrapped in our logo as a beautiful tribute to us and to Jake, and every so often he brings the car to our store and lets children (and parents!) climb inside and see the inner workings of a real race car. Pictures of his vehicle can be found on our website.

Here at JAKE's Toy Box we recognize that time flies when you're having fun, and children grow quickly. We like to take every measure we can to ensure that everyone stays in touch with their inner child. We emphasize educational learning for all ages and abilities. We try to keep families connected and learning together. We love the opportunity to expand our charity to every last child. Community is a top priority here and we are grateful for every instance we can share our deep appreciation. Any instance to prolong the magic of playtime is something we treasure and we enjoy sharing it with everyone we know.

We will be dividing the toys up between three charities; all are local and provide services and support for struggling and/or struggling children, teens, and their families. These charitable organizations devote an immense amount their time and energy every day to better the lives of our community.

1. Stride, Colorado
2. The Hope House of Colorado
3. The Family Tree, Colorado

Following are the toys that these children will receive:







Detailed replicas of tropical marine life and a realistic coral reef surround this young diver with a wild underwater adventure. Exquisite sculpting and attention to detail make this the ideal gift for any child. The packaging features educational information in 5 languages on the back. All Safari Ltd.® products are phthalate and lead free and safety tested to safeguard children's health. We take pride in the quality, innovation and design that have characterized our products for over 3 generations. Flippers, Fins & Fun Gift Set Includes: Dolphin, Sea Turtle, Queen Triggerfish, Grouper, Coral Reef, and Freddie the Free Diver. Box Size: 11" W x 4.75" H x 4" D (28 x 12 x 10 cm)

.

AD
---






Join all the fun down on the ranch with our attractive accessories that complement the Safari Ltd.® Farm collection. Complete with fences, hay, entrance gate and a water trough, this set makes a perfect companion with our Down on the Farm Barn & Stable in addition to our Safari Ltd.® Farm animals. Children can let their imagination roam as they simulate life on a ranch. All our products are phthalate-free and thoroughly safety tested to safeguard your child's health. Safari Ltd.® takes pride in providing breathtaking, innovative and value priced replicas for now over three generations.

.

AD
---






.

AD
---






This versatile 25-key piano measures 17" x 12" x 12" and is designed to grow with a child. The main unit, decorated with a whimsical animal's head, sits safely and squarely on the floor within easy reach of a toddler's hands. Later on, the sides with the animal's body can be attached, raising the piano to a comfortable height for an older child seated at the bench. The spacing between the keys is the same as that of a full-sized model, teaching proper finger placement and affording an easier transition to a large piano.

.

AD
---






This Schoenhut 30-inch Acoustic Guitar is a unique introduction to playing for the aspiring young musician. It offers not only great sound and playability, but an affordable price which is attractive to many first-time players seeking a "better-than-average" beginner guitar.

.

AD
---






.

AD
---






String-Along Shapes are first toys that encourage coordination, dexterity, imagination, and simple problem solving. This brightly colored set of 30 maple shapes includes two strings that turn blocks into a train, a caterpillar or a tower. The possibilities are endless and so is the fun. Shapes are approximately 1.25' wide each.

.

AD
---






This sturdy little dump truck belongs at every construction site. The chunky maple design includes a removable load. The truck measures 4.6" x 2.4" x 3.5". Ages 10 months and up.

.

AD
---






Everything tastes better when you've got the right accessories. These safe and simple toys revolve around food and cooking, to promote realistic role play, and encourage healthy eating. The Apron Set includes an elasticized chef's hat, quilted oven mitt and bright orange-trimmed apron. The mitt and apron fabric is exclusive to Hape.

.

AD
---






Music is a wonderful opportunity for little ones to expand their sensory and imaginative personality. Music helps them to understand rhythm and harmony, and also to express themselves and their moods. This set of percussion instruments from Sevi is an easy way to get kids started. It comes with 8 pieces, including a tambourine, castanets, a triangle, maracas and a noise maker. Produced by Sevi, Europe's oldest wooden toy company, this product contains parts and components that are recommended for children ages 2 and up.

.

AD
---






Noah's Ark Balance Game comes with pairs of brightly painted wooden animals and can be played either cooperatively or competitively by the entire family. Kids learn about weight distribution and how the shape of an object affects where it is able to be balanced. Played against an opponent, kids learn to place animals just so their opponent has difficulty finding a spot for their piece. Pieces are the perfect size for ages 3+. Kids can also work together to see how quickly they can stack all the animals on the rocking ark. Sevi is Europe's oldest wooden toy company.

.

AD
---
READ PROFILES OF PARTICIPATING MANUFACTURERS:

SAFARI LTD.
SCHOENHUT PIANO COMPANY
HAPE


READ WINNING STORE PROFILES:

DOLL HOUSE & TOY STORE
JAKE'S TOY BOX
KAZOO TOYS


READ ABOUT THEIR GIVEAWAY PLANS:

KAZOO
JAKE'S
THIS BANNER IS AN AD:
---
---