---
Kazoo & Company Plays it Big
Expansive Vision Benefits Community
With additional reporting by Brenda Ruggiero
Note: This article draws on a previous story in TDmonthly. Retailer Spotlight: Kazoo & Company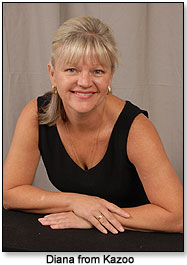 When Diana Nelson heard about TDmonthly's "2012: A Year of Charity" giveaway event, it immediately resonated with her. Though she had worked for Fortune 500 companies, a divorce in 1998 forced her to take her two young children and start over again. She knows what it's like to face adversity, and understands the importance of a helping hand. She also knows how inspiring toys — and a toy shop — can be.

When looking for a business to support her sons, a 2-year-old and a 10-month-old, Diana considered coffee shops and franchises, but "nothing felt right," she told TDmonthly Magazine.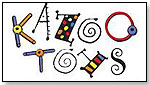 Diana's search led her to Kazoo & Company in Denver, which had been in operation since 1980 and was owned by a group of five women at the time. She called on them for business advice and eventually ended up buying the store from them.

"As my mom says, 'Diana isn't afraid to ask for anything,'" she explained. "The ladies were willing to sell because they were exhausted!"

PARTNERING UP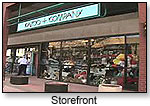 Since the purchase, Diana has had to learn how to differentiate the business from big-box retailers and keep its edge. The solution included launching Internet companies and developing contract partnerships. With the Army & Air Force Exchange Service, Kazoo has a multi-year exclusive contract to be the toy site of choice on their military shopping sites.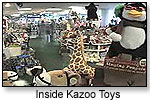 Diana was also able to launch a licensing division in 2008 called Kazoo Global and a franchising division call Kazoo Brand Extension. One license and one Master Franchise have been sold so far. Amanda Waters is part-owner of the Kazoo Toy Store in the United Concourse at Denver International Airport. The 1,600-square-foot store took one year to put together, including building plans, construction and open–to-buy budgets. The store opened in October 2008. A new store will launch in Montgomery, Alabama in June and more are planned for the coming year.

"We are so proud to be in partnership with TDmonthly and to be able to give back to our community as well," Diana concluded.

Diana's charities for TDmonthly's "2012: A Year of Charity" giveaway are:

Ronald McDonald House of Denver
Starlight Children's Foundation

99 lucky children will receive amazing toys from Schoenhut Piano Company, Safari Ltd.®, Hape and MagicForest, and one of Diana's customers will win one of the toys at her store:







Detailed replicas of tropical marine life and a realistic coral reef surround this young diver with a wild underwater adventure. Exquisite sculpting and attention to detail make this the ideal gift for any child. The packaging features educational information in 5 languages on the back. All Safari Ltd.® products are phthalate and lead free and safety tested to safeguard children's health. We take pride in the quality, innovation and design that have characterized our products for over 3 generations. Flippers, Fins & Fun Gift Set Includes: Dolphin, Sea Turtle, Queen Triggerfish, Grouper, Coral Reef, and Freddie the Free Diver. Box Size: 11" W x 4.75" H x 4" D (28 x 12 x 10 cm)

.

AD
---






Join all the fun down on the ranch with our attractive accessories that complement the Safari Ltd.® Farm collection. Complete with fences, hay, entrance gate and a water trough, this set makes a perfect companion with our Down on the Farm Barn & Stable in addition to our Safari Ltd.® Farm animals. Children can let their imagination roam as they simulate life on a ranch. All our products are phthalate-free and thoroughly safety tested to safeguard your child's health. Safari Ltd.® takes pride in providing breathtaking, innovative and value priced replicas for now over three generations.

.

AD
---






.

AD
---






This versatile 25-key piano measures 17" x 12" x 12" and is designed to grow with a child. The main unit, decorated with a whimsical animal's head, sits safely and squarely on the floor within easy reach of a toddler's hands. Later on, the sides with the animal's body can be attached, raising the piano to a comfortable height for an older child seated at the bench. The spacing between the keys is the same as that of a full-sized model, teaching proper finger placement and affording an easier transition to a large piano.

.

AD
---






This Schoenhut 30-inch Acoustic Guitar is a unique introduction to playing for the aspiring young musician. It offers not only great sound and playability, but an affordable price which is attractive to many first-time players seeking a "better-than-average" beginner guitar.

.

AD
---






.

AD
---






String-Along Shapes are first toys that encourage coordination, dexterity, imagination, and simple problem solving. This brightly colored set of 30 maple shapes includes two strings that turn blocks into a train, a caterpillar or a tower. The possibilities are endless and so is the fun. Shapes are approximately 1.25' wide each.

.

AD
---






This sturdy little dump truck belongs at every construction site. The chunky maple design includes a removable load. The truck measures 4.6" x 2.4" x 3.5". Ages 10 months and up.

.

AD
---






Everything tastes better when you've got the right accessories. These safe and simple toys revolve around food and cooking, to promote realistic role play, and encourage healthy eating. The Apron Set includes an elasticized chef's hat, quilted oven mitt and bright orange-trimmed apron. The mitt and apron fabric is exclusive to Hape.

.

AD
---






Music is a wonderful opportunity for little ones to expand their sensory and imaginative personality. Music helps them to understand rhythm and harmony, and also to express themselves and their moods. This set of percussion instruments from Sevi is an easy way to get kids started. It comes with 8 pieces, including a tambourine, castanets, a triangle, maracas and a noise maker. Produced by Sevi, Europe's oldest wooden toy company, this product contains parts and components that are recommended for children ages 2 and up.

.

AD
---






Noah's Ark Balance Game comes with pairs of brightly painted wooden animals and can be played either cooperatively or competitively by the entire family. Kids learn about weight distribution and how the shape of an object affects where it is able to be balanced. Played against an opponent, kids learn to place animals just so their opponent has difficulty finding a spot for their piece. Pieces are the perfect size for ages 3+. Kids can also work together to see how quickly they can stack all the animals on the rocking ark. Sevi is Europe's oldest wooden toy company.

.

AD
---
EAD PROFILES OF PARTICIPATING MANUFACTURERS:

SAFARI LTD.
SCHOENHUT PIANO COMPANY
HAPE


READ WINNING STORE PROFILES:

DOLL HOUSE & TOY STORE
JAKE'S TOY BOX
KAZOO TOYS


READ ABOUT THEIR GIVEAWAY PLANS:

KAZOO
JAKE'S
THIS BANNER IS AN AD:
---
---