---
Toy Expert Reyne Rice Remains Cautiously Optimistic for 2012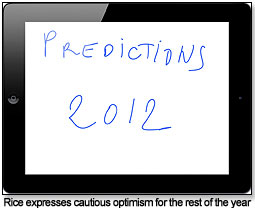 Reyne Rice, toy trend expert, sat down with TDmonthly Magazine to give us some insight into the trends that will be big this year, as well as a general outlook for the toy industry in 2012.

Ms. Rice has a long history of working in the toy industry, including work in advertising, licensing, international marketing, communications, manufacturing, design and development, and trend forecasting. She's worked for Mattel, the NPD Group, the Toy Industry Association, the Hong Kong Trade Development Center, the Nuremberg Toy Fair Council, and countless others.

Ms. Rice recently spoke at the Nuremberg Toy Fair, and attended the New York International Toy Fair and the Consumer Electronics Show. Below, she tells us what trends to look out for in 2012.

Q. What is the most innovative/groundbreaking new product/trend that you've seen this year?

A. There are three top trends that everyone is talking about.
The first is Apps-to-toys, toys-to-apps, and toys that are accessories for apps. A lot of the larger mass-market companies have adopted this trend, and smaller companies are beginning to follow (for instance, the Game Changer from Identity Games, and the iPhone Arcade from Discovery Bay Games).

There is a lot of variety in this category. For instance, Smartphones are taking the place of the controller for a lot of Remote Controlled toys, which actually reduces the cost of the product, since the consumer doesn't need to purchase the remote or transmitter. We're seeing apps that are being made into physical toys, like the Angry Birds Knock on Wood game from Mattel, as well as toys and games that are getting turned into apps.

In general, the Smartphones are becoming more important to families and kids because they aren't just used for phone calls anymore; they're being used to keep kids connected with their friends through game play.

Of course, there's still the question as to how many kids actually have a Smartphone, or are allowed to use their parents' phones. Many parents who are upgrading their Smartphones are giving their old ones to their kids, and the kids use them as mp3 players or to play games, and older kids use them for calls, texts, and photos, as well as games. As this becomes more common and the Smartphone becomes something the whole family uses, apps become more important as a connection tool for kids and their families.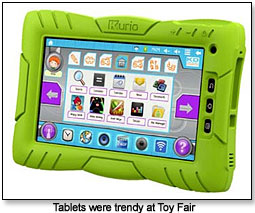 The second trend is tablets for kids. We saw about 8-10 tablets specifically for kids at Toy Fair. Some are based on the Android OS (like the Kurio from Techno Source), while others have their own operating system (like the Leappad from LeapFrog and Innopad by V-tech). This trend is becoming more wide spread, and the Leappad and the Innopad actually just launched in Europe this year.
At CES and at Toy Fair, other tablets we saw were the Meep by Oregon Scientific, Sachar has a Hellot Kitty Tablet, and there were a few more.

Tablets for kids are becoming more important for reading, playing games, and a lot of educational programs. They can also download pictures, stream videos, play music, and kids can use them to bring their homework with them. Kids feel sophisticated because these tablet computers have sophisticated operating systems, and parent's like them because they have access to various parental controls to monitor and restrict inappropriate content. Kids have grown up with this technology and they're very comfortable with it, and with most kids' tablets falling between $150-$250, parents see them as a wise investment.

These tablets are a game changer in many ways, but we will have to wait to see how it plays out. If parents see them primarily as an educational/tech purchase, they may continue to spend more on toys; however, if they see them as entertainment products as well, that may begin to cannibalize sales of traditional toys.

The third big trend at Toy Fair was fitness - getting kids out and moving, getting them off the couch. Racers, scooters, and performance and dance electronic games were popular. This is especially important as these products are appealing to the teen/tween 8-14 year old demographic, which has slipped in recent years. Toy companies are putting these tween products in the electronics department, crafts department, and outdoor goods, not just in the toy aisle. Older kids feel more comfortable buying them. Room decor and lifestyle brands are also important categories for breaking into the tween/teen market.

Q. Were there any other trends you noticed?

A. For infants and preschoolers, we saw a lot of hands-on developmental products with no tech or little tech. There were also fewer "watch me" toys, and more interactive toys. There was a very rich selection of products for infants and toddlers. A lot of toys were eco-friendly, beautifully designed products that just happened to be made from sustainable sources. Customers are becoming more willing to spend a little more for products they know protect the environment.

Q. How do you think the rise of the app will affect brick and mortar retailers?

A. Retailers and the specialty market should be able to embrace these apps. For instance, there might be a great Dr. Seuss app, but specialty retailers can push the physical book or physical toy as a tie in to popular apps. Parents and grandparents shopping for gifts are interested in items that provide a tactile experience, and promote one-on-one bonding time. Retailers should keep in mind the top-10 apps/characters/e-books, and suggest physical items that tie into those to customers.

Q. What categories do you think apps, Smartphones, and tablets will have the greatest affect on?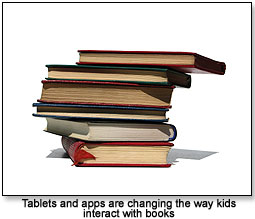 A. Games and books are both key with tablets. Game play is definitely on the rise for kids and adults alike. You see a lot more "game snacking," where people play a quick game when they have a few minutes free. There are also a lot of great educational games available for electronic devices.

The board game area has gone down somewhat in terms of NPD numbers, but people are playing more mobile games. Retailers can bring it back by saying, hey, you love this app, but with the physical version you can play with your friends and family in person too.

Strategy games are also becoming more popular. For instance, Minecraft is an MMORPG that connects kids, and in an age appropriate way; it's just for tweens/young teens. The tasks and missions are appropriate for kids development at that age. Skylanders is another age appropriate game. These games teach cooperation and teamwork - without kids realizing it. One of the most important 21st century skills is interaction and collaboration and working with peers, and these interactive games allow kids to do develop these skills.

Video games and games online also provide a trial and error opportunity that you don't have in real life. A gaming situation is a great opportunity for kids to keep trying and improving until they succeed. They encourage positive risk taking, and help kids be less shy and more confident in spite of the possibility of failure, and it's making kids more inquisitive in general.

Q. How worried should toy manufacturers be about the rising costs associated with operating factories in China? What factors other than price are involved?

A. One of the most important things to think of when looking for a factory is if they are already certified to meet US and European safety standards. There's a whole list on the TIA website. Thailand, Malaysia, Vietnam - there are a lot of alternativea to China, countries with different labor rates, transportation costs, and access to different materials.

For instance, if a company is manufacturing wood or bamboo products, they should look at Thailand, Brazil, or other countries where they have a reforesting program, so the resources are more economically viable for a small company, and more eco-friendly, which can help set their product apart. Thailand in particular is focusing on producing ecologically sound products, so manufacturers looking to make that switch can look to factories in that country, that already have the supply connections in place. Manufacturing in the countries with direct access to resources can save on transportation costs as well, which are on the rise in China.

Another thing to consider is language. If a company is producing products for America, but they have a Latin American connection, it might make sense to manufacture in South America and avoid a language barrier and the problems that can present.

Manufacturers need to look at their objectives and priorities, and then do research into what countries would be the best. It doesn't have to be just China.

USA manufacturing is a possibility as well. There's smaller production and smaller existing manufacturers, but it is going on, and it's a big selling point. Products manufactured in the USA appeal to American families, because they know the business is supporting their own economy.

Q. What are your predictions for 2012?

A. I am cautiously optimistic about 2012.

A number of manufacturers are now reaching beyond their core and doing research and development into evolving their products into other categories. For instance, Razor's Pony Royals line is branching into the girls market; Jada Toys and Bandai have moved into preschool with Tinga Tinga; and Uncle Milton is making outdoor products, like their fireworks for kids that are safe but fun. The fact that they are branching out shows they feel there is a potential for profit in other areas, and also that they've been successful in their own niche category.

Last year retailers wanted to buy cautiously because they weren't sure what to expect during the holidays, but by the end of the season many store shelves were cleaned out, which is a good sign. For example, even high-ticket items like the LeapPad sold well all year, and it even sold out several times, so there is a lot of demand. Now, the consumers who purchased that item will buy the add-ons for it, and now the line is expanding into Europe, so the popularity will only grow. Since so much stock was sold through, there is also more room for buying new products and bringing them into the store.

Licensing will help bolster sales throughout the summer and fall. Pixar's Brave will result in new products for girls, and the great thing is that licensed products from movies appeal to adult collectors as well as kids. Licensing is essentially on a five-year cycle, so we've seen things slowing down a bit, but since licensing brings a higher opportunity for visibility and recognition for brands, it's still going to be a positive factor.

We don't know exactly what to expect for the Holiday season in 2012, because a lot of the major manufacturers are holding back and waiting to launch their anticipated hits in the fall; they want them to still be exciting at Christmas time.

I think this year should be a decent one for the toy industry, but we aren't far enough out of the woods with the economy to say it will be great.

Writer's Bio:
Justina Huddleston graduated Magna Cum Laude from Emerson College with a BA in Writing, Literature, and Publishing in 2009. After graduating she was the on-site director of the Boston Children's Museum gift store for a year, selling educational, developmental, and creative activity toys that tied in with the museum's exhibits. Justina also interned at children's book publisher Candlewick Press before moving from Boston to Los Angeles, where she is now Editorial Director of
TDmonthly Magazine
.
Read more articles by this author
THIS BANNER IS AN AD:
---
---