---
Retailing Tips: Handling Rowdy Kids
"We try to distract children with the toys that are out in the store … giving them things to do." — Lisa McMartin, co-owner of Wonderment Inc.

Excited children are an everyday component of operating a specialty toy store, especially during Spring Breaks and summer vacation. But occasionally a child goes out of control — becoming dangerous to a business and its profit margin. Roughly a quarter of the 37 retailers surveyed by

TD

monthly Magazine said that, on average, children cause a commotion in their stores about once a month, while another 5 percent deal with such situations on a daily or weekly basis.

Here are nine tips for handling those moments in kid- and parent-friendly ways:

1. Make the Store Kid-Friendly. "We have a play area in the store — it has a pinball machine — and we have a movie going," said Dennis Hosteader, owner of the The Toy Store in Atlanta. "We ask the parents when they come into the store to take their children and let them enjoy our play area while they shop."

2. First, Calm Yourself. "You'll be less effective if you're angry or upset," Alison Miller, a psychologist and life coach in Chicago, told

TD

monthly.

3. Divert a Rowdy Child's Attention...make a sale. Nine of 38 retailers advocate taking toys out of the box to let customers experience them.

"We try to distract children with the toys that are out in the store to play with, giving them things to do," said Lisa McMartin, co-owner of Wonderment Inc. in Minneapolis.

"Some stores are timid about opening boxes," and mass merchants would never do that, but it works, said Marc Holcomb of Toys & Co. in Greensboro, N.C. Not only does it distract boisterous children — it can boost sales, too.

Shanna Frieling, owner of Giggles Toys & More in Bozeman, Mont., built a store with sizeable counters expressly for the purpose of toy demonstration, she told TDmonthly. Ray Goodhart, president of Ages & Stages Toy Box in Golden, Colo., agrees with that method, too.

"The more they can touch, the more you can sell," he said simply.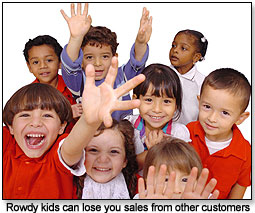 4. Never Speak Directly to the Child. Mary Porter and her staff at Curiosity Zone in Ashburn, Va., have found that speaking to a child in any sort of corrective way — unless the child is in imminent danger — does not go over well with parents. Danny Givens, owner of Little Dickens in Lynchburg, Va., just laughs it off. "We very kindly, with a huge smile, find the parent and make a joke about whatever it is the kid is doing," he told TDmonthly.

5. Don't be Right; be Compassionate. Most parents are doing the best they can, so don't judge them harshly, but find a way to help them, Miller advised. "Try to redirect the child's attention with the permission of the parent; but if that doesn't work, you can politely ask for the child to be removed until he [or she] can calm down."

6. Stay Alert and in View: "We make ourselves physically present, pretending to straighten shelves, etc.," Givens added. "Kids will act-out less when an adult is standing close by."

7. Let it Go. "We've learned over the years to relax and let it pass, that this is just part of the business and they will eventually leave," McMartin said.

8. Work with Your Staff. "We train them to handle it in a positive way, but it's really on-the-spot training. If we have a situation, we'll discuss it afterward to see if we can learn something," Eric Masoncup, owner of Geppetto's Toy Box in Oak Park, Ill.

9. The Customer is Always Right. Remember that old adage because it's true, said Kathleen McHugh, executive director of the American Specialty Toy Retailing Association. "You can't afford to offend the parents, so you need to learn to ignore a certain amount and remember that's why you have toys open in the store — to attract kids," she told TDmonthly. "But at the point where the child is a danger to himself or someone else, that's when you have to step in and find a way to talk with the parent."

Giving children things to play with, watching for destructive behavior, and keeping an eye on customers in your store can help prevent a sticky situation with an out-of-control child and a parent who isn't parenting.
This article was originally published in the April 2008 issue of TDmonthly Magazine

Writer's Bio:
Terri Hughes-Lazzell is a freelance journalist based in Ossian, Ind. After spending nearly a decade as a daily newspaper reporter, she has worked as a freelance journalist for more than ten years, writing about a variety of topics. Her work appears in newspapers, magazines and specialty publications nationwide.
Read more articles by this author
THIS BANNER IS AN AD:
---
---