---
The Dollar Stores –a factor in toys?
The three Dollar Store chains in the United States are becoming an increasingly important factor in the toy space, against a backdrop of stagnating toy sales and a dismal economy: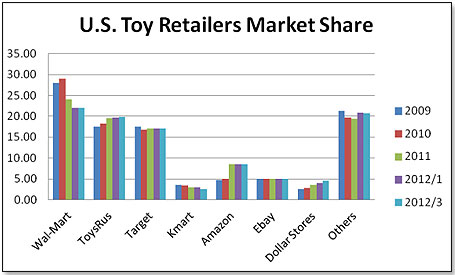 In other words, they are as a channel more important than Kmart, and the only one other than ToysRUs and Amazon that is growing.

In terms of toys, the three Dollar stores differ significantly from each other. Dollar General carries more well known brands than the other two –– but the main focus is on non-advertised brands in plush, games and puzzles. Their offering includes Hot Wheels, Cars 2 cars, Disney mini-dolls, Caterpillar mini-machines, Crayola, Moxie Girlz, Nerf, Jakks' TV games.

Family Dollar is the store most likely to carry the type of toy you would encounter at ToysRUs - Barbie Fashionista, Disney Princess Dress-Up Sets, Disney Princesses Favorite Moments, Fur Real Walking Pup, Munchkin Sleepy Baby or Soft Baby Doll, Kool Wheels Playset, Thomas Pull Back Racer, Mega Mini Blocks, Mega Maxi Blocks, Pirates Tic Tac Throw, Hot Wheels Playset, My First Trike or Mini Princess Bike - all at $10 or lower.



Dollar Tree, by dint of their $1 pricing, carries none of the principal toy brands but focuses on plush, coloring books, small games and crayons.

Toys represent a relatively minor part of their business – less than 2% of Dollar General's sales, 2.5% in the case of Family Dollar and 4% for Dollar Tree. In the case of Wal-Mart the percentage is very similar – 2.1% of their U.S. sales. In all of their cases, their toy department will prosper or languish depending on how the retailers fare overall. To determine this we need to compare the three Dollar chains against their main competitor, Wal-Mart.

By way of background, any number of reasons has been given to explain the sluggish sales picture of Wal-Mart USA: the failed Project Impact, the bad economy, and too many stores. However, the most reasonable explanation is simply that competitors have stopped Wal-Mart in its tracks. And one specific competitor at that – Dollar Stores, which are all doing exceptionally well, particularly if measured against the behemoth of all retailers, Wal-Mart.

This perception is clearly borne out by what the stock market thinks of Wal-Mart versus the three Dollar chains: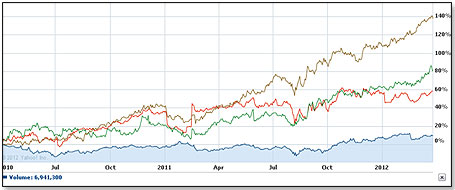 The analysts at least believe that the force is not with Wal-Mart but rather with the Dollar chains.

The oldest, Dollar General, was founded in 1939, followed by Family Dollar in 1959 and finally by Dollar Tree in 1986. The overriding characteristic of all three, at least until recently, was that all products in the store were available for one Dollar. This changed over time and now it is only the Dollar Tree that still sticks to this model.

The Dollar stores serve the basic needs of consumers mainly in the low- and middle-income brackets. The typical consumer profile looks approximately as follows:

55% have less than $40K annual gross income
24% have less than $20K income
34% are African American or Hispanic
The average transaction per consumer is less than $10
This profile is strikingly similar to that of the typical Wal-Mart shopper. In fact, a recent study stated, "Wal-Mart shoppers are most likely to shop at Dollar General, Family Dollar, and Big Lots." And shop they did. This is how sales results of the three Dollar Stores versus Wal-Mart progressed over the most recent eight years:


Note that Wal-Mart's sales numbers were divided by a factor of 10 to allow growth comparison

They also made it easy to find them. This is how the U.S. store count evolved: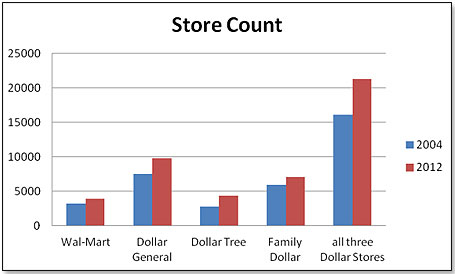 U.S.-based stores only

And they engage the interest of the U.S. consumer, if blog metrics are anything to go by: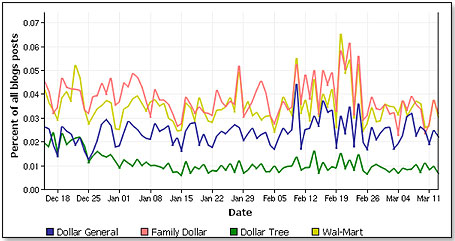 While this article has treated the three stores as if they were identical, they are not. And neither is Wal-Mart's response to them.

Wal-Mart considers Dollar General the primary competitor. Firstly, they are the biggest and have the highest number of stores. But even more importantly, Dollar General is trying very hard to beat Wal-Mart in the race for lowest prices for comparable products.

A study published by the Deutsche Bank on 12/1/2011 found clear differences in prices not only between Wal-Mart on one side and Dollar General and Family Dollar on the other, but also between locations. In their methodology they picked identical products across all three retailers in both locations.

First in Suburban New Jersey: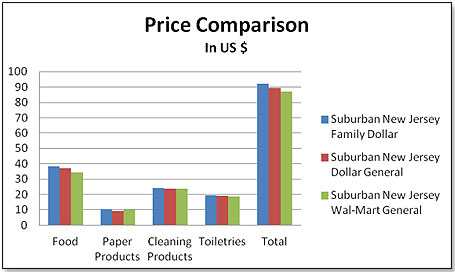 And then in Metro New York: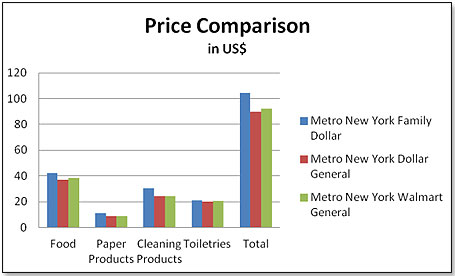 In both scenarios, Family Dollar is the most expensive. Dollar General wins in New York whereas Wal-Mart wins in New Jersey. The Dollar Tree chain is not included in this comparison since all their products sell at $1, which is far below what either of the three other stores can offer. Also, Dollar Tree also has a totally different product assortment as a result.



Wal-Mart is following a very focused product strategy in its competition against Dollar General. They will first try to go head to head against Dollar General in products where they have a price advantage – be that because they could negotiate a better deal than Dollar General did or because they adopt a loss-leader approach by which they sell the product at a loss to show Dollar General is the more expensive store. Where they cannot manage to do so, they will opt for an equally well-established brand competitive to the one carried by Dollar General, so as to make a comparison difficult. If they have to have the same brand and are unable to negotiate a price advantage, then they will try very hard to have a difference in size or strength so as to again make a comparison difficult. As the price comparisons above demonstrate, they are not always successful in these strategies.

Wal-Mart and Dollar General not only compete in brick-and-mortar but also in the digital world. Both have a very effective e-commerce site and they are clearly focusing on the part of retail that is in cyber space – now 9% of all transactions and expected rise to 11% by 2016.

This is how web traffic compares between the four contenders:


| | | | |
| --- | --- | --- | --- |
| Retailer | January 2012 Web Visits | Compare to December 2011 | Compare to January 2011 |
| Wal-Mart | 52,278,985 | Minus 32.8% | Plus 15.41% |
| Dollar General | 1,056,274 | Minus 15.5% | Minus 10.0% |
| Family Dollar | 1,027,518 | Minus 27.5% | Plus 22.6% |
| Dollar Tree | 1,168,429 | Minus 0.7% | Plus 13.4% |

While Dollar General has a great distance to go before they catch up with Wal-Mart, their traffic growth rates are impressive.

Of the other Dollar Stores, Dollar Tree is interesting. As I mentioned above, they sell everything for one Dollar and this includes such items as 19.2 oz Ajax Dishwashing liquid, a 14.75 oz can of Campbell's Chicken Noodle soup, a 18.5 oz VO5 shampoo, or two bars of Zest bar soap.

They are extremely effective in their e-commerce offering via their website and their Twitter and Facebook pages, where they have some 100,000 followers. Because of their pricing strategy they are well insulated from competitive pressures and, unlike Dollar General, are not in Wal-Mart's crosshairs.



One word about Family Dollar – it is generally regarded as the most vulnerable of the three Dollar chains. One reason is that their prices skew on the high side, which tends to be a major factor for the consumer group to which they cater. The second is that they do not have an e-commerce site, and are hence walking away from a major growth opportunity.

There are many who argue that the success of the Dollar stores is a function of the current economic climate, which forces consumers to go down-market and seek out the lowest prices, and that this will change as soon as the economy improves. This in my opinion is unlikely to happen. Once consumers have found an acceptable alternative at a more competitive price they tend to stay with it unless forced by circumstances to rethink their choice.

The one factor that could have a negative effect on the three Dollar chains is cost increases. All three produce all their products in China and are very exposed, as is Wal-Mart, to costs propelling retail prices upwards. Dollar Tree is in a particularly difficult spot – because of their $1 pricing policy they do not have the possibility of increasing prices when costs go up. And since their products, because of their small size and low price, are much more packaging-intensive as a function of overall costs, they are more vulnerable to increases in plastics and oil. However, all three retailers have shown themselves to be incredibly resourceful and I would trust them to find a way to offset these increases without jeopardizing the price advantage that is their single most important Unique Selling Proposition. And if the retailers prosper, so will their toy business.

Writer's Bio:
Lutz Muller is a Swiss who has lived on five continents. In the United States, he was the CEO for four manufacturing companies, including two in the toy industry. Since 2002, he has provided competitive intelligence on the toy and video game market to manufacturers and financial institutions coast-to-coast. He gets his information from his retailer panel, from big-box buyers and his many friends in the industry. If anything happens, he is usually the first to know. Read more on his website at www.klosterstrading.com.
Read more articles by this author
THIS BANNER IS AN AD:
---
---