---
2012 Tokyo Toy Show Highlights
The Tokyo Toy Show opened June 14th with an explosive, record-breaking display of 10,000 "stick bombs" — Popsicle sticks set up like dominoes that burst when triggered, according to Sky News Australia.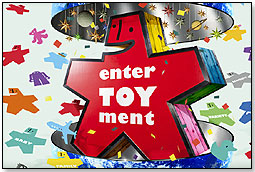 The Tokyo Toy Show, which has taken place in Japan since 1963, ran this year from June 14-June 17, 2012 at the Tokyo Big Sight Exhibition Center.

Video overview of Tokyo Toy Show:



The stick bomb trick was certainly impressive, but it was toys, of course, that stole the show.

Some products made international headlines, like Bandai's SmartPet. This robotic dog comes to life when an iPhone is connected, and the iPhone's screen becomes the dog's face. Children must look after the SmartPet, and its expression reflects its mood. According to an article in the Daily Mail, "Smart Pet can even sneeze and move around and, using Facetime or even Siri voice control, you can command Smart Pet to perform tricks, and he has over 100 expressions."

The SmartPet will retail between 5000 to 6000 yen ($62-75 USD), according to Sky News Australia.

Takara TOMY also turned heads with its i-Sodog robot. This dog performs tricks and dances, is controlled by app or remote control, and should be on the market by 2013.

Video of Takara Tomy's i-Sodog Robot:



Another TOMY product that seems bound to be a hit — literally — is the BattroBorg Battling Robots. Players hold two remotes, similar to those of the wii, and punch away while the robots duke it out in the ring.

Video of BattroBorg Battling Robots from Takara Tomy:



Is the robot violence a little too mature for most kids? What about a 3 person, electric car? At the show Toyota unveiled its design for the Toyota Camatte, an electric vehicle that can be customized like a toy, but works like a real vehicle.

MSNBC reported that the car could be Toyota's attempt to get young drivers excited about cars and driving, as interest in vehicle ownership in Japan has been decreasing.

Video of the Toyota Camatte:






Sources:

The iPet: Smartphones are the new toy, as teddy bears and dogs with iPhone faces become biggest hits at the Tokyo Toy Show

CNET — Tokyo Toy Show Goes to the Dogs (Product Slideshow)

Toyota Camatte concept unveiled

Tokyo Toy Show

International Tokyo Toy Show 2012 Photgallery

Tokyo Toy Show (More photos)

Writer's Bio:
Justina Huddleston graduated Magna Cum Laude from Emerson College with a BA in Writing, Literature, and Publishing in 2009. After graduating she was the on-site director of the Boston Children's Museum gift store for a year, selling educational, developmental, and creative activity toys that tied in with the museum's exhibits. Justina also interned at children's book publisher Candlewick Press before moving from Boston to Los Angeles, where she is now Editorial Director of
TDmonthly Magazine
.
Read more articles by this author
THIS BANNER IS AN AD:
---
---